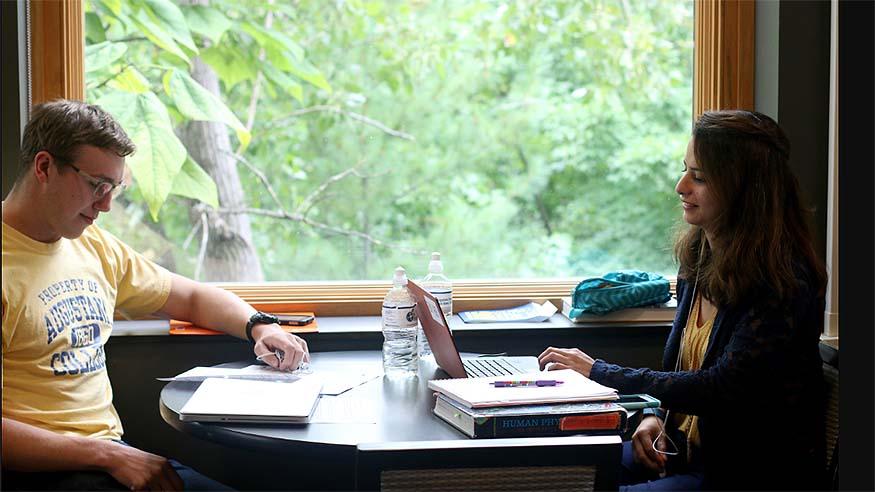 News
New minor in linguistics is for the curious
You probably have no problem saying "shilly-shally," "weeble-wobble," or "ding-dang-dong," but what about "shally-shilly," "wobble-weeble" or "dang-dong-ding"?
How about "the big red ball" versus "the red big ball," or the "small old truck" compared to the "old small truck"?
Augustana students can exercise their curiosity about questions like this with a new minor in linguistics, beginning in the fall of 2020.
Linguistics challenges students to question how we know what we know about language. Students realize for the first time that they have no idea how they have been doing something they've always done: talk.
This 20-credit minor engages students in the scientific study of language. Since it is an interdepartmental minor, students can approach language and communication from different angles.
Dr. Jeffrey Renaud, assistant professor of Spanish, helped to create the new minor.
"Linguistic study can improve abilities in written and oral communication, which are lifelong skills that benefit students in any major or career path," he said.
He had the opportunity to study language from a scientific perspective in college, and wanted Augustana students to have the same option.
"Language is, arguably, one of the few unique properties that make us human," said Dr. Renaud. "We take this ability for granted because we acquire it naturally without any explicit instruction. Rarely do we sit down to actually think about how and why language works, because we don't have to.
"This isn't true of math, literary analysis, or physics, for example. Consequently, nor do we ever consider what life would be like without language."
Dr. Renaud said we follow language rules our entire lives, but few people will ever notice them on their own, and fewer still will be able to explain them. Linguistics allows us to analyze the properties of language.