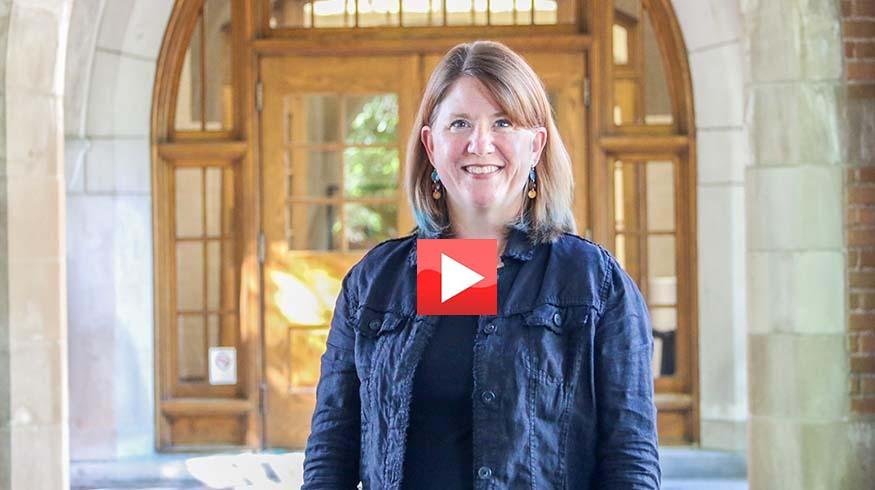 News
New pastor invites all to come and see
Though she was welcomed on campus last spring, Pastor Melinda Pupillo began her first full academic year this fall at Augustana College.She started her pastoral journey at a large Lutheran church in La Crosse, Wis. After 13 years in that community, she followed her call to Holden Village in Chelan, Wash.
In the Northern Cascade mountains, Pastor Pupillo was met with both love and challenge. Unlike a typical Lutheran pastor's congregation, around half of the staff at Holden Village were not of Christian faith. Still, as members of the community, they had a commitment to attend a daily reflection service.
This religious diversity pushed Pastor Pupillo to learn how to provide a variety of worship and meditative spaces that could support different faiths and spiritual backgrounds.
It was this familiarity and passion for religious diversity that encouraged Pastor Pupillo to enter into Augustana's campus community. She is excited to engage and support students from all religious backgrounds, and believes the entire community will benefit from inter-religious discussion and ecumenical worship.
"God is so much beyond any one person or group's understanding of who God is," she said. "I think we get a better and deeper understanding of God's grandeur by talking with different people from different perspectives."
Pastor Pupillo hopes students will embrace their curiosities and the opportunities around campus to explore different faiths and ask questions.
"I think we get a better and deeper understanding of God's grandeur by talking with different people from different perspectives."
One new place for worship and learning is the Wednesday night sacred gathering, 8:31. Similar to previous years, the ecumenical service features secular and religious readings and songs, and offers a quiet space for prayer and reflection. The new name, which makes it easy to remember when the service starts, also ties back to Romans 8:31, which says "If God is for us, who could be against us?"
Pastor Pupillo wants students to remember that God is for them, regardless of where they are in their faith journey. Megan Anderson '22, a member of the Campus Ministries Leadership Team, echoes the pastor's invitation for everyone to come and see.
"We want you to come as you are, and however that is, that's totally awesome, and Pastor Melinda totally embraces that," Anderson said.
Another opportunity Pastor Pupillo has created is the new Sunday worship service, Noon Church. Unlike most congregations, those who find themselves at Noon Church will be seated on couches and floors in Evald's Great Hall. While the service itself has a Lutheran-like structure, the location provides a casual and inviting atmosphere for worship. 
Those who gather for Noon Church are invited to a meal provided by Pastor Pupillo and Campus Ministries. The first Noon Church of the year featured bagels freshly baked by her husband, Greg Pupillo.
In addition to weekly services, Pastor Pupillo has helped organize meditation sessions in the newly opened Lindberg Center. This time for reflection offers a space for those of any faith to be present together. She also plans to hold special events during the year that offer opportunities for community to grow and reflect her passion for the outdoors, such as kayaking and canoeing. 
Whether it be 8:31, one of the new meditation sessions or at a reimagined Noon Church service, Pastor Pupillo hopes that anyone who wants to come feels welcome to participate as they feel comfortable.
"The only expectation is that you be fully who you are when you're there — that's it," she said.
By Abigail Larson '23, majoring in multimedia journalism and mass communication (MJMC) and religion