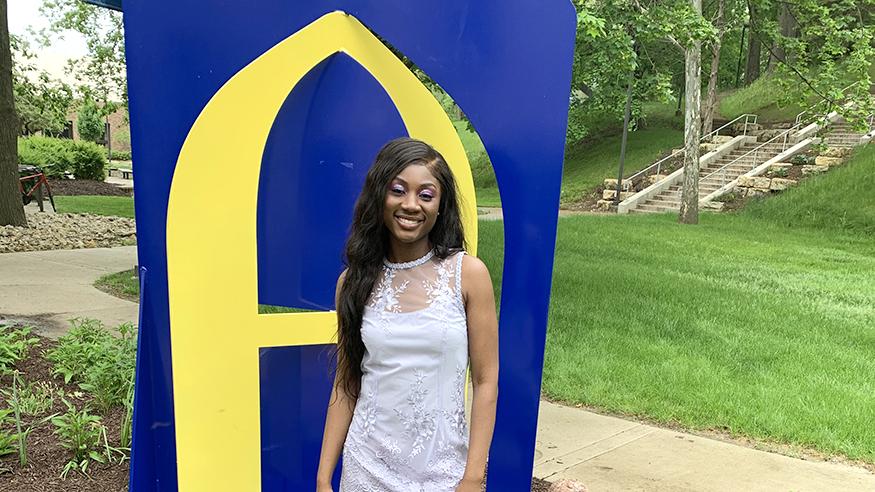 News
Nwatu '20 lands selective CDC public health fellowship
2020 grad Ruth Nwatu has taken her next career step, and it's a big one.
In August, Nwatu learned she was selected for the highly competitive Public Health Association Program (PHAP), a two-year, paid training program with the Centers for Disease Control and Prevention (CDC). She is now working in the Health Equity Office at the North Dakota Department of Health.
"We are beyond proud of Ruth and her commitment to addressing health disparities, and we look forward to seeing the impact she has," said Dr. Lena Hann, assistant professor in public health. "Her double major in public health and neuroscience, combined with her public health internship experience at Quad Cities Harm Reduction, has prepared her well to help communities in need."
"We are beyond proud of Ruth and her commitment to addressing health disparities."
As a PHAP associate in the Health Equity Office, Nwatu's responsibilities will include:
• assisting the Syringe Services Program to reduce hepatitis C infections, specifically in tribal areas
• leading a task force to formulate a plan to address immigrant needs in North Dakota
• assisting in applying for grants to aid local immigrant-related work
• creating training and communications plans for the Health Equity Office
• providing assistance to foster LGBTQ2S+ initiatives
An ambitious list, to be sure. But that's exactly why Nwatu applied to the PHAP — for the hands-on experience and training the selective program offers to recent college graduates.
"The resources and opportunities will help me learn more about the public health policies and laws that contribute to systemic health disparities," she said.
Beyond learning what drives systemic health disparities, Nwatu is eager to do the work.
"My goal is to work alongside public health experts to promote policies that reduce health inequalities and participate in interventions that create durable change," she said.
During her two-year PHAP fellowship, Nwatu also will be able to network and grow through training and educational opportunities offered by the CDC. After the fellowship, her next big step is to earn a Master of Public Health.