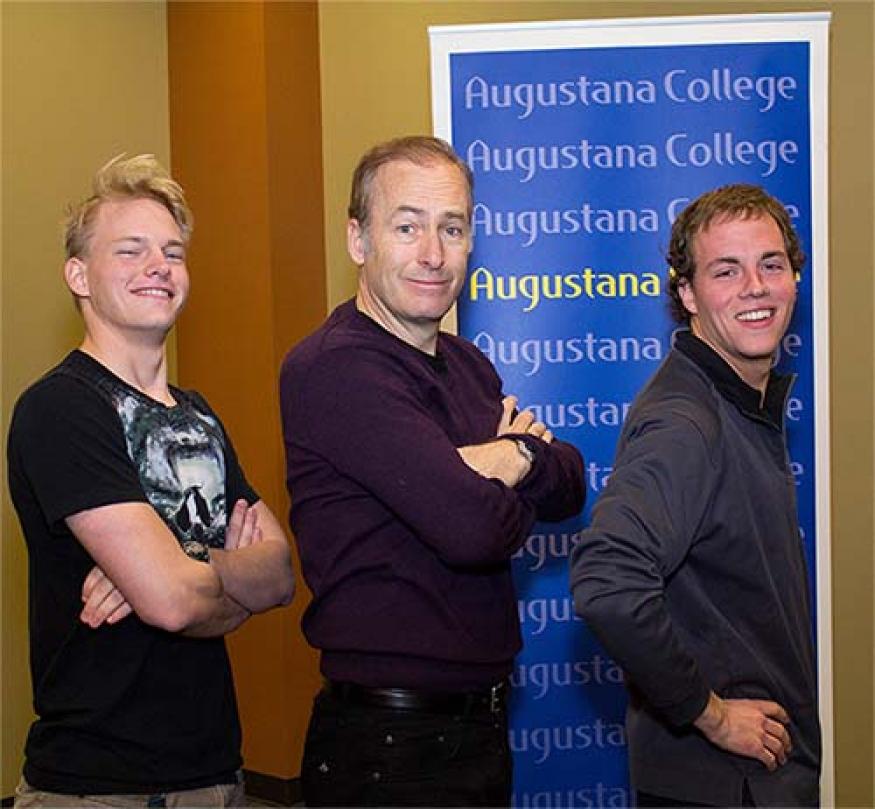 News
Odenkirk encourages theatre students to focus on improving
"Breaking Bad" star Bob Odenkirk Tuesday encouraged Augustana theatre students to concentrate on steadily getting better at what they do, and not so much on the "big break."
Odenkirk joined the students for an informal workshop in the Black Box Theatre on campus. Earlier in the day he had lunch with students, and on Monday evening talked to a general student audience at an event at the Center for Student Life.
The actor's visit was arranged by his nephew, Augustana senior Alexander Odenkirk. A second nephew at Augustana is first-year student Keenan Odenkirk.
Bob Odenkirk grew up in Naperville, Ill., and attended Marquette University in Milwaukee and Southern Illinois University at Carbondale before leaving college and moving to Chicago to try writing and improv. He worked as a writer for "Saturday Night Live" and occasionally alongside comedians and actors Robert Smigel, Conan O'Brien, Adam Sandler, David Spade, Chris Rock and Chris Farley.
After SNL, Odenkirk continued to write for numerous TV comedy projects. He was the co-creator and co-star of the HBO sketch comedy series "Mr. Show with Bob and David."
Odenkirk is perhaps best known for his role on the AMC series "Breaking Bad" as Saul Goodman, the corrupt criminal lawyer. He reminisced about that role when talking with the students.
"I got a phone call from my agent, and he told me, 'They are going to offer you a job. Don't say no, this is the type of role people win Emmys for.'"
He appeared in three episodes in the second season as a guest star, and after those performances, became a regular character on the series. A more recent spin-off series called "Better Call Saul" has been created as a prequel to "Breaking Bad," and focuses on Saul Goodman's past.
Speaking from experience, Odenkirk reflected that it is very easy to feel downtrodden when envisioned successes do not appear when expected.
"You may or may not get work as quickly as you want it or where you want it, but you can work on your talent and improving yourself every day," he said, and attributed that mindset to his own successes.
"You can't always think about how far you will get with a project or when you'll get your big break," he said. "You should be thinking about 'What work do I want to do, how can I get better at this thing I'm doing, what is the core of what I do?'"
Art and psychology major Giselle Gaztambide '17 from Oswego, Ill. took a lot away from Odenkirk's advice.
"He showed me that in order to succeed in the industry, one needs to be tenacious and determined to succeed, yet not be so blinded by the ultimate goal that he or she falls away from doing what's important — which is growing and learning and working to improve, simply for the passion and love of the craft."