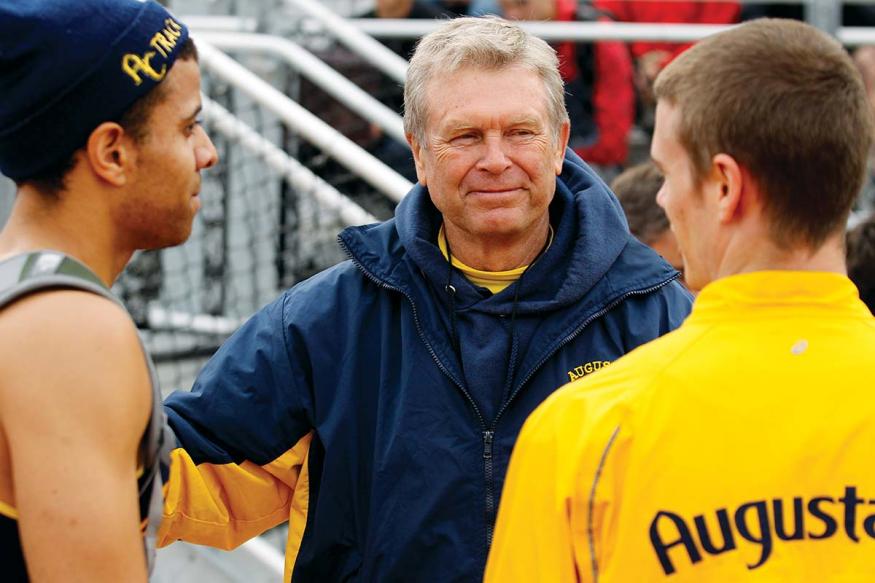 News
For Ols, the goal was always the journey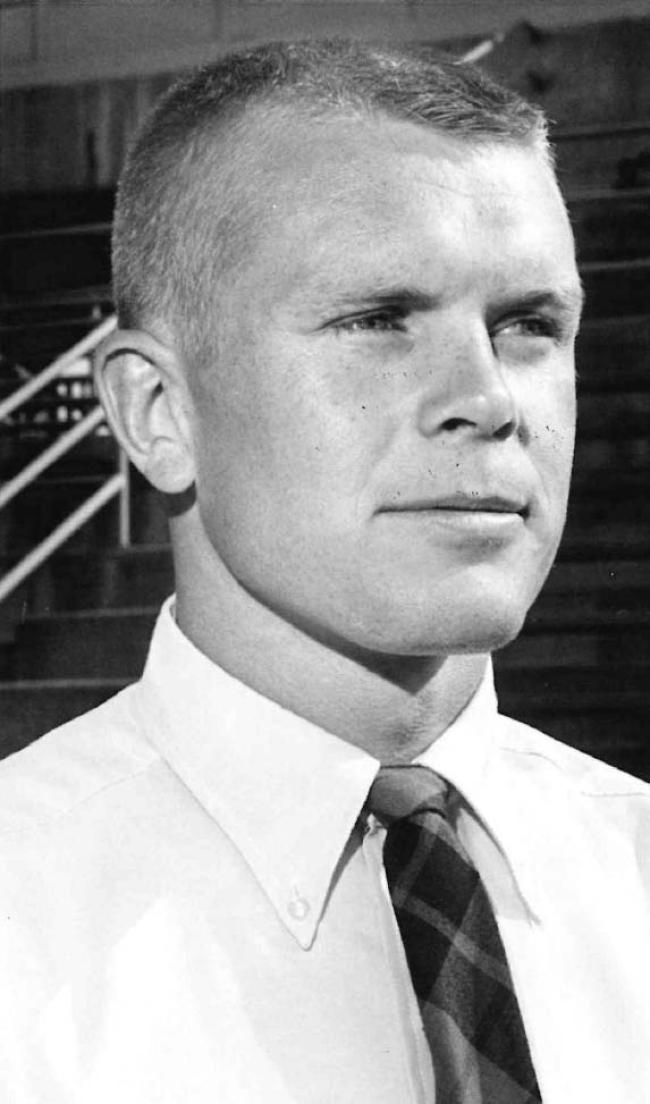 Written by Dave Wrath '80, associate director of athletics/media and alumni relations, who ran for Paul Olsen's cross country and track & field teams in the late 1970s. 
Like a tapestry, the photos fill the west wall (and spill around the corners) of the office in a corner of the Carver Center. The pictures are displayed with an order that is not quite master-carpenter precise, but not haphazard, either. Those photographs—some old and faded, others bright and bold—tell the story of the man who has created what can arguably be called the greatest legacy in Augustana's storied athletic history.
This is the domain of Paul Olsen, who will retire this June after being the head men's cross country coach at Augustana since 1966, and the head track & field coach since 1969. For 52 years, he has occupied a precious space in the lives of a few thousand runners, jumpers and throwers who have worn the Blue & Gold.
The photos tell a collective story, yet they cause the man everyone calls "Ols" to gaze up at the wall and recite individual tales about each picture. And the stories aren't about times or distances, but rather they are about the personality of the student-athlete in the photo. You hear about the trials, the tribulations, the failures and the success of each one. 
He points to a faded black-and-white photo, so worn that the subject is almost hard to find inside the frame. But Ols doesn't miss a beat as he relates a story about a youngster in his late teens or early 20s, and the struggles a young college student goes through. 
The tales go on, and each story is different. 
"All of this is really complex," he said with a sweep of his arm toward that menagerie of photographs. "All these people have asked me to absorb and enter into their lives. Think about it—they have all invited me into their world and have shared their stories with me."
That is Ols' point of view: he is the lucky one, the privileged one. The view from the other side—from those who have been counseled, mentored, coached and cheered—would be decidedly different.
Chris Dryer, a 1999 graduate, related a story from his senior year. "In my junior year, our 4x400 relay had qualified for the NCAA meet, but heading into the final meet of my senior year, we hadn't met the mark yet," he recalled. 
"Before the meet, Ols came up to me and said we had two teams in the race and I was going to anchor. Whichever team was ahead of the other coming down the stretch of the third leg was the one I was going to run with. He told me, 'Chris, you will take the baton from whichever team is leading, and you will qualify our team for nationals.' I was dumbfounded and scared but it was classic Ols. He had more faith in me than I had in myself." what happened?
Talk to any of the myriad of athletes down through the years and you will find a similar theme. 
At some point in their collective careers, the athletes under Olsen's tutelage received that word of encouragement, that talk or that reassurance that "everything is going to be ok." 
All this from a guy who came to Augustana in the late summer of 1966 and agreed to coach the cross country team with the promise that he would be moved to football as soon as possible.
"After one day of coaching the cross country team, I knew I belonged with that sport," Ols said. "I understood the kind of impact I could make on the lives of people in that sport."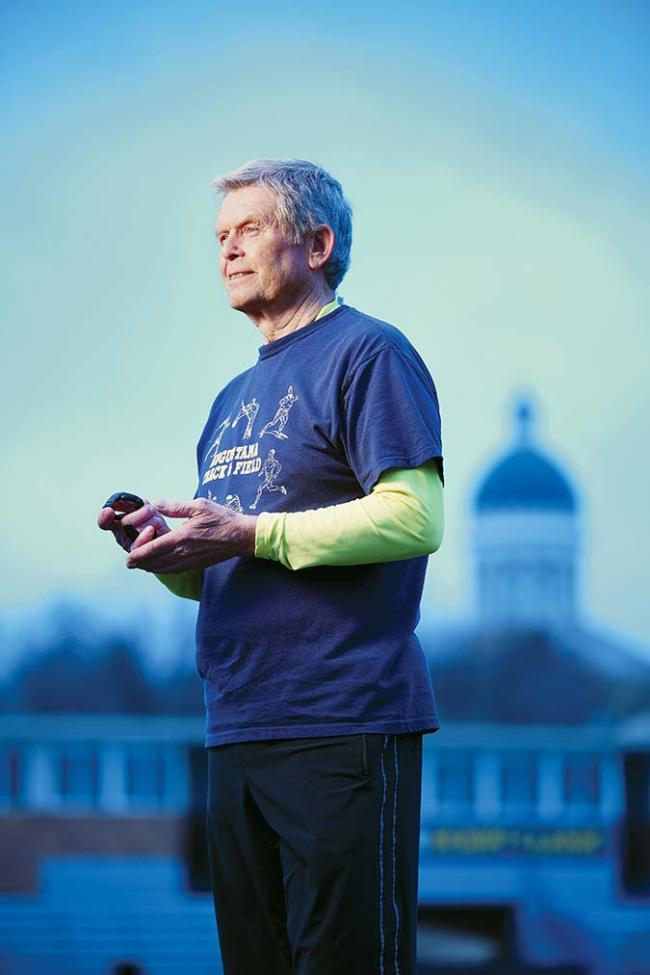 Impact
Impact is probably the underlying fabric of the tapestry that adorns Olsen's wall. The stories he can tell about each one are undoubtedly reinforced by his ability to connect with college-aged athletes and students. Even today, after more than a half-century of teaching and coaching, his ability to connect with young people is legendary around the Carver Center.
It could be those pole vaulters who used to finish midnight vaulting sessions in Carver by sprawling out on the pits and discussing life, all while eating M&Ms from Ols' seemingly endless supply. 
Or the high jumper who was in the choir, so Ols made time at 10:30 a.m. for the weekly technique session.
How about the captains who would meet every Monday to discuss which athletes would win the Whitey's Ice Cream gift card as the Runner/Jumper/Thrower of the Week?
Each story would reveal much about this man who never hesitated to bring an academic influence to his coaching. His team meetings and pre- and post-meet talks often included some reference to literature or history. He was never shy about bringing social issues to the forefront. Nor was he reluctant to share his views on controversial subjects. Olsen used the framework of the track and cross country course as his classroom, and few have done it better.
"I don't know how conscious a decision that was," he said about peppering his talks and speeches with academic references. "But I do know that I did it from the very beginning. I believe that it is all interwoven."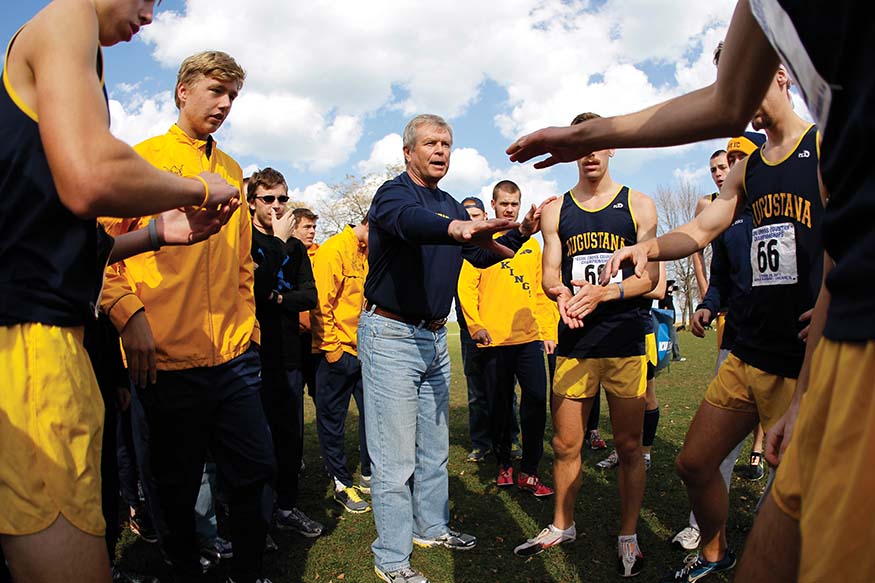 Putting beliefs into practice
As is fitting for someone who made as big an impact on the academic side of Augustana as he did in athletics, Olsen's athletes excelled in the classroom as well as on the field of competition. Of the 38 Vikings who have earned NCAA Postgraduate Scholarships down through the years, 14 have been members of the track & field/cross country teams. Augustana ranks first in all three NCAA divisions in the number of Academic All-Americans in track & field/cross country, with 44.
"I have been blessed by working in what many perceive to be two very different realms of life, the academic and the athletic," said Olsen, who one time turned down the head coaching position at the University of Wisconsin to stay at Augustana. "I see it all as one. No athlete competes or trains in a vacuum. Life is complex. Sport competition is complex, and every race or throw or jump is a consequence of how one handles that complexity. Literature and language enrich our experiences and they help to navigate us through all the complexities of our journeys."
The staple of his program throughout the years has been a unique ability to take a sport made up of individual events and mold it so those parts fit together. Ask anyone who has ever competed for Ols, and he will tell you that it is about the closeness, the brotherhood. Olsen says it isn't orchestrated, but the process of including everyone on the team is certainly intentional and purposeful.
He has a special capacity of meeting each individual among his 100-member track teams where they are. He doesn't ask for his athletes to bend to his beliefs, but he certainly has never shied from putting the wheels of thought into motion.
Tony Hurd, who was the team captain of two teams (1980 cross country and 1981 track & field) that finished second in the nation, was inducted into the Tribe of Vikings Hall of Fame in 2010. During his speech he had this to say: "Someone once asked me why I started running. I replied that I wanted to find a sport where the coach didn't decide who competed and who didn't—a sport where the coach didn't make a difference. It's pretty ironic that I came to Augustana to run for Paul Olsen, a coach who made ALL the difference in my life."
Later in that same speech, Hurd said something probably echoed by everyone who has had Ols as a coach, a teacher or a friend: "Ols has many gifts, but I think the greatest of those is that he makes it impossible for you not to believe in yourself."
To this day Hurd keeps a laminated card in his wallet with this quote from the "Eternal Smile" by Par Lagerkvist, read by Olsen during a team meeting his sophomore season: The wealth of life is boundless. The wealth of life is as great as we can grasp. Can we ask for more? When, nevertheless, we do ask for more, then all the incomprehensible exists as well, all that we cannot grasp. As soon as we are able to reach out our hands for something, as soon as we get the feeling that something is, immediately it is. Can we ask for more?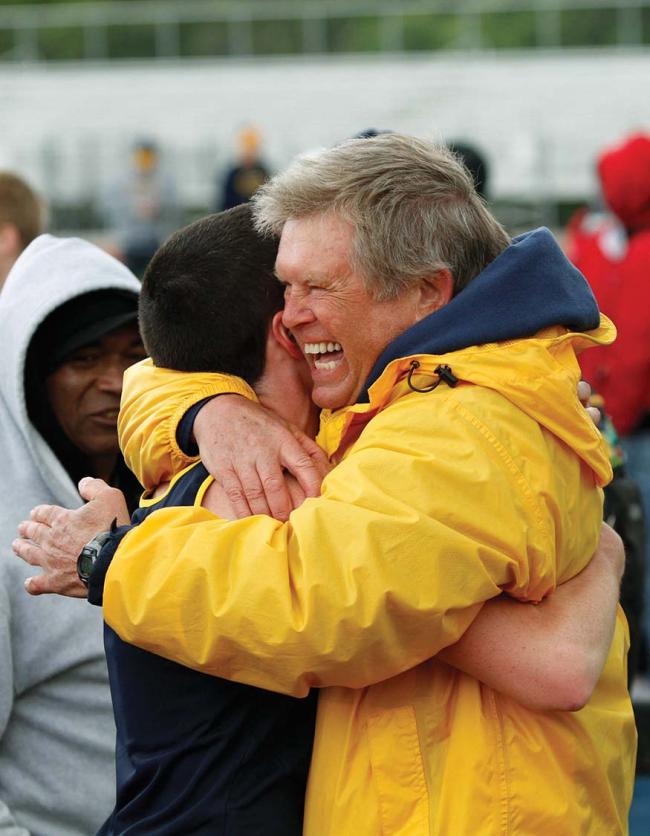 The success of Coach Ols
Yet it would be a mistake to think Olsen is just a cheerleader who wanders around practice every day telling his athletes that everything is grand. There certainly is a lot of that, but technically speaking, he knows how to teach the events and has the numbers to prove it. In fact, they jump off the page.
At Augustana, Olsen's teams have earned 31 NCAA DIII Top 10 finishes: 20 in track & field (outdoor and indoor) and 11 in cross country. The Vikings have won 14 conference championship titles in outdoor track & field, one in indoor track & field and two in cross country.
The testimony to the success and consistency of his teams, however, can be shown with this one statistic: of the 118 CCIW meets in which the Vikings have competed with Olsen as head coach, they have placed first or second in 94. They have never finished lower than fourth place in any CCIW competition under Olsen's direction.
Sometimes his success as a coach gets lost because his ability to build relationships is so overwhelming, but his name appears in five different Halls of Fame. He was named the NCAA DIII National Coach of the Year once, and the Regional Coach of the Year twice by the United States Track & Field/Cross Country Coaches Association.
"I really do believe in our philosophy that the goal is the journey," said the man from the central Minnesota town of Onamia. "And what a journey it's been, in every respect. Through it all we have used another philosophical axiom as we 'celebrate life.' We celebrate all the time—for what our teams have achieved AND, more, for what we get to do with the people we love being around."