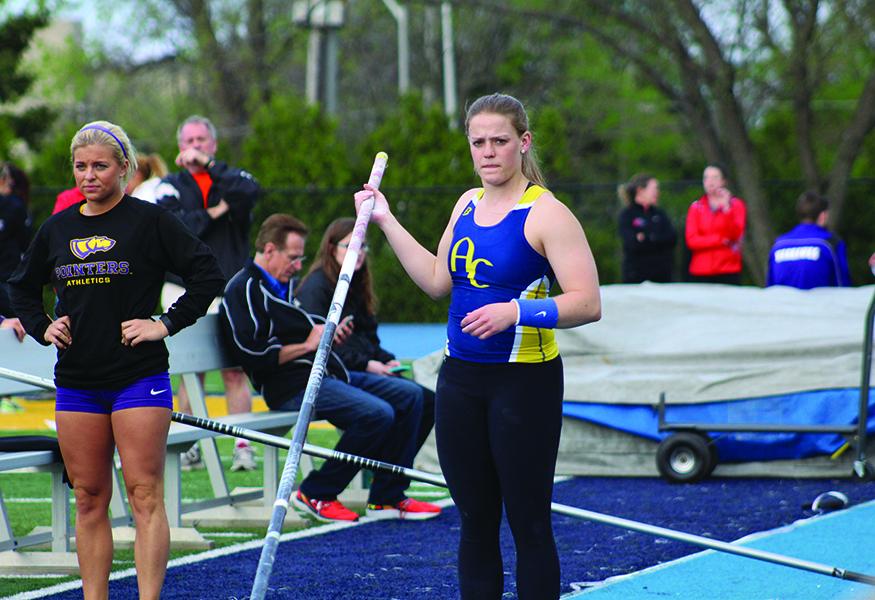 News
Pole vaulter balances academics, activities and athletics
It hasn't taken Mackenzie Butcher long to reach great heights at Augustana.
Butcher, a first-year pole vaulter from Colorado Springs, Colo., qualified for the NCAA Division III Indoor National Championship this season after a tie with her CCIW conference competition. She cleared 11 feet, 7 ¾ inches to tie for 12th at the indoor nationals.
Her record height is 12-2 ½ — the third-highest pole vault in Augustana history.
A gymnast for 13 years, Butcher began pole vaulting as a high school junior.
"We didn't have pole vaulting at my high school, so they sent me to a different place to practice," she said. "But my head coach at my high school was really supportive and helped me through it a lot."
As a student-athlete, Butcher enjoys a well-rounded college experience. Off the field, she is involved with Best Buddies and Intervarsity Christian Fellowship.
"(Best Buddies) is fantastic," Butcher said. People with disabilities are some of the nicest people ever. My buddy actually works in Carver, so I go and visit her sometimes before practice. She goes to Rock Island High School. She's awesome and sassy and I love her!"
Butcher is grateful that her gymnastic background has taught her valuable time management and prioritizing skills, as now she feels prepared to conquer challenging academics at Augustana.
She plans to use her biochemistry degree to attend med school.
"Gymnastics brought a lot of injuries and I had some serious ones…(but) I had one of the greatest surgeons ever," Butcher said. "She mentored me and everything. I just want to be like her. She was a big inspiration for me."
Butcher thanks her coaches for their continuous encouragement and humor.
"They make fun of me relentlessly for how much I eat, but other than that, they're awesome," she joked.
— Josie Fioretto '16 (video) and Rachel Reiter '18 (story)