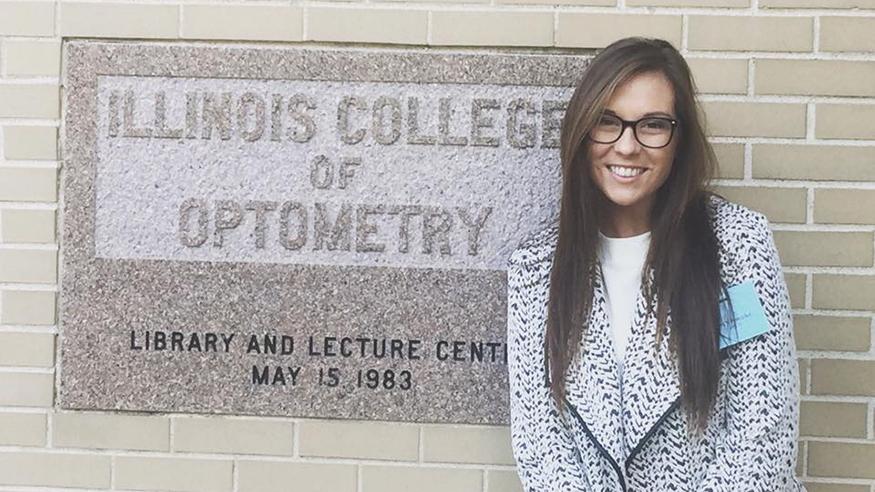 News
Pre-optometry grads score 100% placement rate
As a child, Macy Koepke '18 suffered vision problems and made countless visits to her optometrist's office. As early as the sixth grade, she knew she wanted to become an optometrist. That longtime dream was behind her decision to attend Augustana, mainly because of its special agreement with the Illinois College of Optometry (ICO).
Koepke's optometrist is acquainted with Dr. Mark Colip, ICO's vice president for student, alumni and college development. When she was a junior in high school, Koepke met with Dr. Colip and toured the school. "He told me there are lots of good options for pre-optometry, one of them being Augustana," said Koepke, of Cary, Ill. "Since I was already looking at Augie, I continued to look more and fell in love with it. Then everything started to fall into place."
This fall 12 aspiring optometrists will begin professional school, the largest cohort Augustana has seen since Dr. Dara Wegman-Geedey began keeping track 20 years ago. Nine of the 12, including Koepke, will attend ICO in Chicago.
The Bureau of Labor Statistics predicts optometry will grow by about 27 percent, or 11,000 new jobs, through 2024.
Augustana's 3:4 program agreement with ICO allows qualified pre-optometry students to enter ICO following their third year at Augustana. After their first year at ICO, the students transfer back their first year of optometry school credits and return for Augustana's graduation ceremonies, then finish the remaining three years of optometry school (seven years total instead of eight). It saves time and money.
However, if a student decides that leaving Augustana after three years is simply one year too early, ICO encourages the student to complete their senior year at Augustana and apply during that fourth year. Of Augustana's nine students headed to ICO this fall, six are juniors in the 3:4 program and three are seniors. 
Dr. Wegman-Geedey, who has coordinated Augustana's pre-optometry program since 2008, reports a consistent increase in the number of students interested in optometry as a career. It's not surprising. Typically, it's a 9-to-5 job with no middle-of-the-night emergency calls, and patients are not stressed or in pain—unlike other health care jobs. The optometrist's median salary is close to $104,000 a year. Plus, the Bureau of Labor Statistics predicts the profession will grow by about 27 percent, or 11,000 new jobs, through 2024.
One factor behind this job growth is the number of baby boomers who are living longer and more likely to have vision problems or conditions such as macular degeneration. Optometrists also provide pre- and post-operative care for cataract patients.
"Most people think of optometrists as the ones who examine your eyes and prescribe contact lenses or glasses, which they do, but they do so much more," Dr. Wegman-Geedey noted. "The retina is a window to your health, and optometrists can detect abnormalities."
An optometrist can detect eye diseases and see clues that indicate high blood pressure, diabetes, multiple sclerosis (MS), heart disease and other potentially serious health conditions. And those with diabetes may count on an optometrist to monitor and treat how their disease affects their vision.
Although aging adults may account for the expanding job market for optometrists, Koepke is looking forward to caring for younger patients. "I knew from when I was little that I wanted to help kids with a similar problem to what I had so I will probably specialize in pediatrics," she said.
The Illinois College of Optometry features successful alumni "Made at ICO" on its website. Read about Augustana's Dr. Millicent Knight '82 and Dr. Erik Mothersbaugh '08.