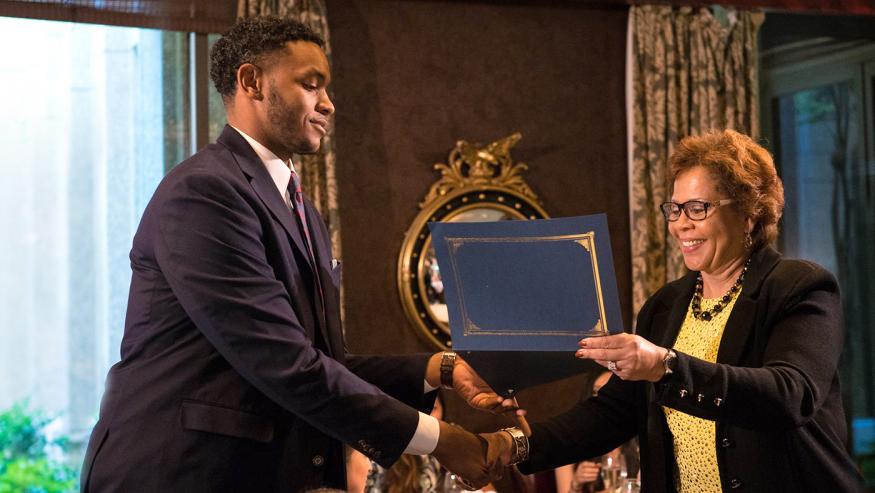 News
Prepared to do good, and do it well
Avery Pearl '18 didn't expect to be among the few chosen for the American Political Science Association (APSA) Ralph Bunche Summer Institute (RBSI) at Duke University. He soon learned, however, that not only could he hold his own against his peers from Ivy League schools, he felt even more prepared.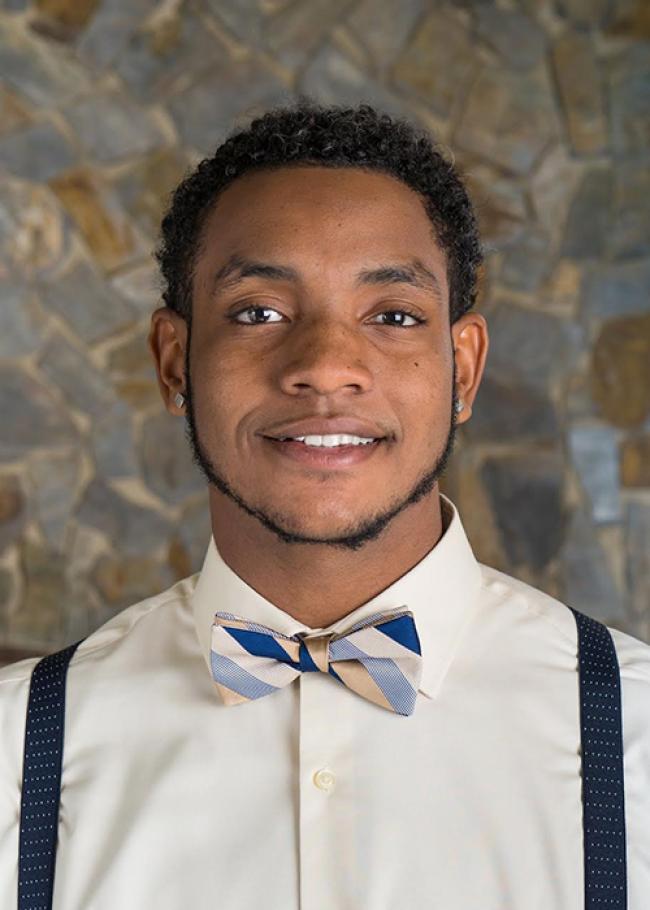 Named for political scientist and Nobel Prize-winner Dr. Ralph J. Bunche, the intensive five-week program encourages undergraduates from racial and ethnic minorities to pursue careers in political science by introducing them to the world of doctoral study. Each year, the APSA RBSI selects 20 students from a national pool. Pearl, who is majoring in political science and Africana studies, learned of the program from his advisor Dr. Christopher Whitt, an associate professor of political science and chair of Augustana's department.
The intense application process meant a hectic beginning to the year. But he got his application in at the last minute, and the work was worth it. Pearl received a phone call on his birthday informing him of his acceptance.
At Duke, he felt out of place at first, one of only three students from small liberal arts colleges, surrounded by young men and women representing The University of Wisconsin, Michigan, Harvard, and other large research universities. He quickly learned, however, that his Augustana education had prepared him well.
"At Augustana, it's more personal. We have this great one-on-one interaction with teachers," he said. That student-faculty interaction set him on a perfect track for the closer relationships of graduate school and the RBSI program, Pearl explained. Additionally, taking classes "across the spectrum" in a liberal arts program equipped him with information from fields like sociology and psychology, which he could incorporate into his arguments.
Then there was the research paper. Pearl had written a 20-page paper at Augie, but the 30-page goal for the RBSI paper "seemed crazy" initially. Though it was a struggle, he is happy with the result and now knows he can do more than he thought.
His paper, "Black Perceptions Toward Black Lives Matter," looks into specific factors that affect black people's perceptions of the movement, including political views, level of education, income, gender and age. In September he presented his research at APSA's annual conference in San Francisco.
'At Augustana, it's more personal. We have this great one-on-one interaction with teachers.'
"I essentially met and networked with the current biggest names in political science," he said.
Pearl believes no student really knows their potential until they do something they didn't think they could.
"I'm not worried about my senior year coursework now," he joked.
Giving a voice to the voiceless
Now back on campus, Pearl is widely involved. He is vice president of Augustana's NAACP chapter, president of the Multicultural Men's Association, a member of the President's Student Advisory Council and the Sexual Health and Violence Prevention Committee, a member of Phi Omega Phi—and he has created multiple workshops focused on perspective and diversity.
His participation in these groups has broadened his perspective. The "intersectionality of groups," he said, allows him to better understand what life is like on the Augustana campus for different people. For example, his work on the Sexual Health and Violence Prevention Committee helps him to better understand what it means to be a woman on campus. 
"Since I know a lot of people through different organizations, I wish to—though I fall short often—be a voice for people who feel their voices aren't being heard," he said.
Pearl wants to attend graduate school after Augustana and pursue a Ph.D. in political science; since his RBSI experience, he is being recruited by schools. As an advocate for the disenfranchised, his goal is to better comprehend political power structures to understand why and how people are underrepresented, and give them voice.
"I feel as though it's my duty to give back to where I come from, and use my platform as a college student to assist those less fortunate than myself," he said.
He credits Dr. Whitt for introducing him to the "life-altering" RBSI program. "The professors at Augie are well connected and renowned nationwide," Pearl said. "They are really some of the best teachers in their areas, and I can't thank Dr. Whitt enough."