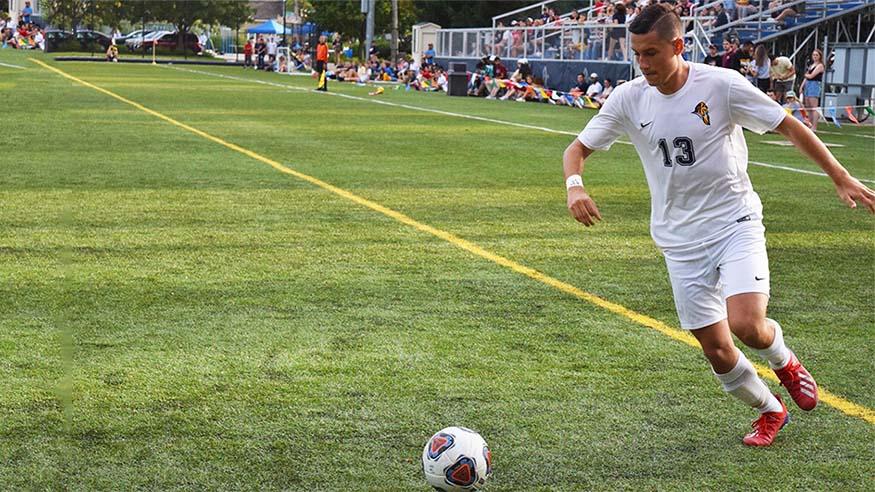 News
Scholar-athletes thrive at Augustana
Augustana College is renowned for attracting serious athletes who regularly put the college in contention for conference titles and, every so often, national championships.
But coaches and faculty always work together to make sure success in the classroom comes first. Some 45 faculty members serve in a program that ensures every athletic team on campus has a faculty mentor.
And Augustana ranks in the top 10 nationally in Academic All-American scholar-athletes, with 175 and counting. 
It's a high honor that's also attractive to employers, who often ask about Augie graduates who played a sport.
"Employers are looking for leadership ability, teamwork, communication, time management, analytical abilities; those are things that we teach in the classroom and our athletes certainly learn those same things playing a sport," says Dr. John Delaney, chair of the Accounting Department, director of the college's Faculty Mentorship Program, and currently the faculty mentor for the men's and women's golf teams. "Almost half of our accounting majors are varsity athletes." 
Jen Sears, a softball player with a double major in business administration marketing and management, is quick to say she's proud of the team's GPA. "We hold each other accountable to go to classes and do our homework."
Daniel Artman, who plays soccer with a double major in accounting and business administration, says the goal is a well-rounded person. "That's what matters at Augie," he says. "You have to take care of your body, but you also have to take care of your mind, and being able to balance those is really important."
The balance of mind, body and spirit reflects a formal mission statement at Augustana, where faculty not only keep athletes on track, they create mentorships and learning opportunities for every student on campus.