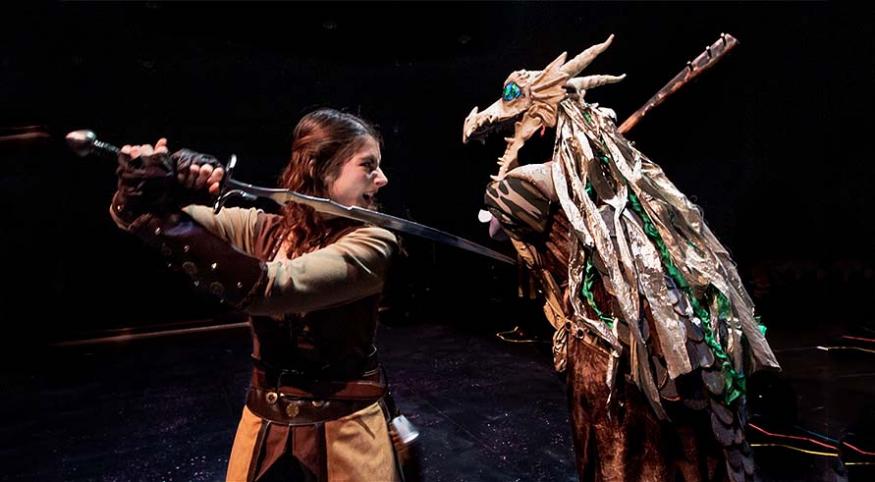 News
'She Kills Monsters' takes audience on a quest
Augustana College will present "She Kills Monsters," a dramatic comedy in the world of fantasy role-playing games, Nov. 14-17.
Performances are at 7:30 p.m. Thursday-Saturday, and 1:30 p.m. Sunday.
"She Kills Monsters" tells the story of Agnes Evans as she leaves her childhood home after the death of her teenage sister. When she finds a notebook containing a game scenario her sister had written., Agnes enlists a "dungeon master" to help her play the quest, and she discovers the sister she never really knew.
"This is a different kind of production for us: part fantasy, part drama, part comedy; with a heavy emphasis on the fantasy," said show director Jeff Coussens, chair of theatre arts at Augustana.
... kind of dopey and kind of invigorating and kind of remarkable. It will slash and shapeshift its way into your heart."
"The script presents unique challenges in having to create the two "worlds" of the play: the Dungeons and Dragons world and the 1990s realistic world, neither of which is completely familiar for our students."
He said the play incorporates many different theatrical techniques, such as masks, puppetry and stage combat.
"I love doing stage combat, and this piece has given me the opportunity to work with some non-traditional weapons in a believable way," Coussens said. 
The cast includes Augustana students Jacqueline Isaacson, Elise Campbell, Keenan Ellis, Erich Fang, Noel Huntley, Chloe Onken and Lauren Larson.
Students Katherine Olechno and James Wheeler serve as stage manager and assistant director, respectively. Susan Holgersson and Gary Holmquist are scenic and lighting designers. Mark Lohman is the  technical director and Ellen Dixon is the costume designer.
Tickets are $15; $12 for senior citizens and Augustana faculty/staff; $10 for students and
children 12 and under; and free for Augustana students with ID. Tickets can be purchased online 
through the Augustana Ticket Office, at 309-794-7306, or at the door.