News
Students take the stage off-campus for credit
When the curtain opens on "The Sound of Music" this weekend, Augustana students will be earning credit off campus through a partnership with the Spotlight Theatre in nearby Moline, Ill.
Dr. Jennifer Popple, professor of theatre arts and chair, said many students have been performing and working with Spotlight, and this partnership allows them to receive internship credit for the work they are doing on and off the stage.
"It's a tremendous step forward for the Augustana theatre arts department in our own connections to the community and provides invaluable experience for our students," she said.
Jon Jaworowski '23 is the show's music director. Joining him from Augustana are choreographer Michael Tarchala '22 and lighting designer Noah Hill '22. Katie Griswold '19 is the assistant music director.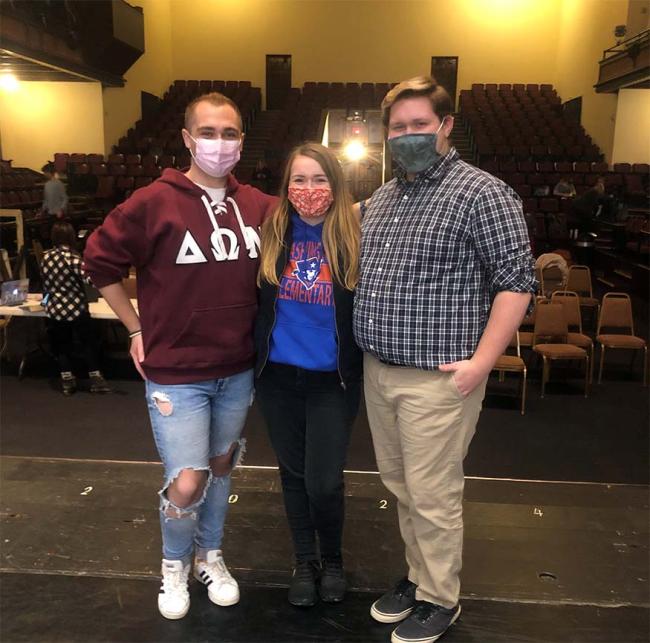 An assist from faculty
For junior Jaworowski, working on "The Sound of Music" is a long-held ambition since he was first cast in a production of it at the Starlight Theatre in Rockford, Ill., in 2014.
"I instantly fell in love with the music and the show in general," he said. "Since that production ended, it had been added to my list of dream shows to direct or music direct."
After learning of the Spotlight production, he applied for the music directing position, with help from Augustana faculty.
"Thanks to the incredible music and theatre departments at Augustana, I have felt prepared since our first production meeting for the show," Jaworowski said. "They have given me the tools needed to run a successful rehearsal, find and correct errors in a group of singers, pronounce the Latin text, and much more."
Although the partnership for credit internships is new, Augustana students have been working at the Spotlight for some time. Hill starred last June in the title role of "You're a Good Man, Charlie Brown." Augustana students also were in the orchestra for "Little Shop of Horrors" this fall, with music directed by Griswold.
Hill will direct the February 2022 show, "The Lightning Thief," which will be his Senior Inquiry project.
The Spotlight Theatre occupies the former Scottish Rite Cathedral at 1800 7th Ave., Moline.