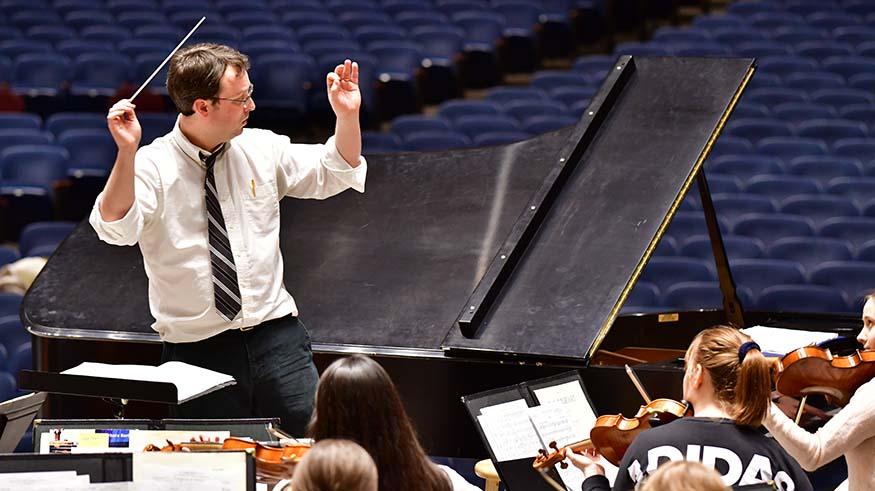 News
Symphony orchestra invites community to join in
Musicians of all ages are invited to join the Augustana Symphony Orchestra on Nov. 7 to play the themes from some of Hollywood's most popular films.
It's the first of two Orchestra Reading Nights, in which musicians sight-read the score together without previous rehearsal.
And it's the first time the Augustana ensemble has invited the community to participate. Director Daniel Chetel says it will be a great event for his students, as well as the Quad Cities musical community.
"For our current orchestra members, the opportunity to engage with additional repertoire and practice the skill of sight-reading is valuable and a fun change of pace," he said. "We frequently work on a program of music for five or six weeks, so diving right in for a one-night experience feels completely different."
Dr. Chetel dubbed the Nov. 7 event as John Williams Movie Night.
"We'll explore selections from three tremendous film scores by the incomparable John Williams," he said. These will be scores most audiences will recognize, including music from "Jurassic Park," "Harry Potter" and "Star Wars."
"Our goal will be to engage with these works and experience the joy of collective music-making," Dr. Chetel said.
How to participate
The event will take place beginning at 7:30 p.m. in the Ensemble Room inside Bergendoff Hall of Fine Arts.
Participants should register; there is no charge. Music will be provided. Participants should bring their instruments (and a folding music stand if possible).
"I hope that members of our musical community, both here on campus and throughout the Quad Cities, will join our current orchestra for these sessions," Dr. Chetel said. "Augustana students who are not currently in orchestra are welcome; fellow music educators are welcome; high school music students are welcome; retired musicians are welcome; professional musicians are welcome; students who are considering applying to Augustana College are welcome."
Instruments will include flute, oboe, clarinet, bassoon, French horn, trumpet, trombone, tuba, percussion, violin, viola, cello and double bass.
Another reading night will be offered April 16, 2020, at the same time and place. The music will be Antonín Dvorák's Symphony No. 9 in E minor, op. 95 "From the New World."