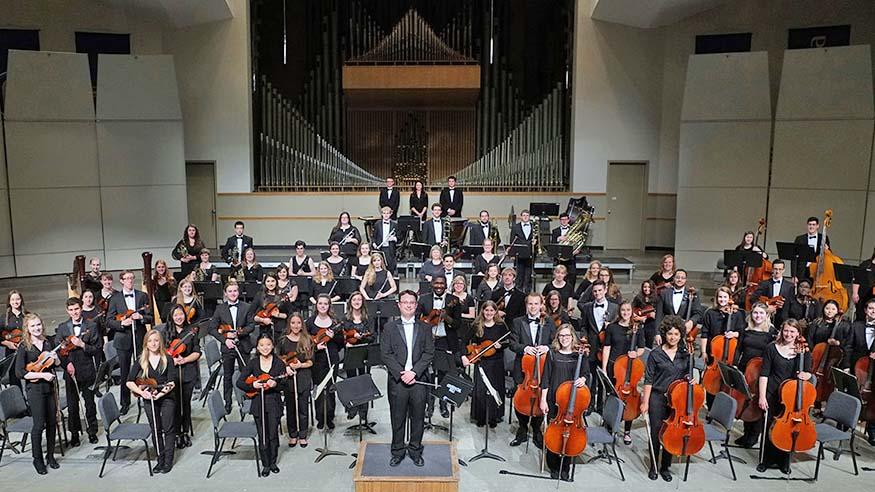 News
Symphony Orchestra taking first tour
For the first time in its history, the Augustana Symphony Orchestra will take its act on the road, performing concerts in the Chicago area Nov. 3 and 4.
Concerts and receptions
A reception will be held after each performance.
Friday, Nov. 3, at 7 p.m. Messiah Lutheran Church, 25225 West Ivanhoe Road, Wauconda, Ill.
Saturday, Nov. 4, 7 p.m. Wicker Park Lutheran Church, 1502 North Hoyne Ave., Chicago
"Both the band and choir programs here have a long history of touring," said Dr. Daniel Chetel, an assistant professor of music and Augustana's director of orchestral activities. "There's a really strong touring history going back 50, 60, 70 years, and I'm excited for the orchestra to join in on that."
The orchestra's first tour also is an opportunity to share its work with Chicago-area prospective students and families, and with alumni.
The first tour concert at Messiah Lutheran Church in Wauconda will be a joint performance with the Lake Zurich High School Orchestra and Palatine High School Orchestra — both of whose directors are Augustana alumni: Nathan Sackschewsky '06 at Lake Zurich, and Dung Pham '94 at Palatine.
During the day, the Augustana Symphony Orchestra will work with the high school programs before all three combine for the evening's performance.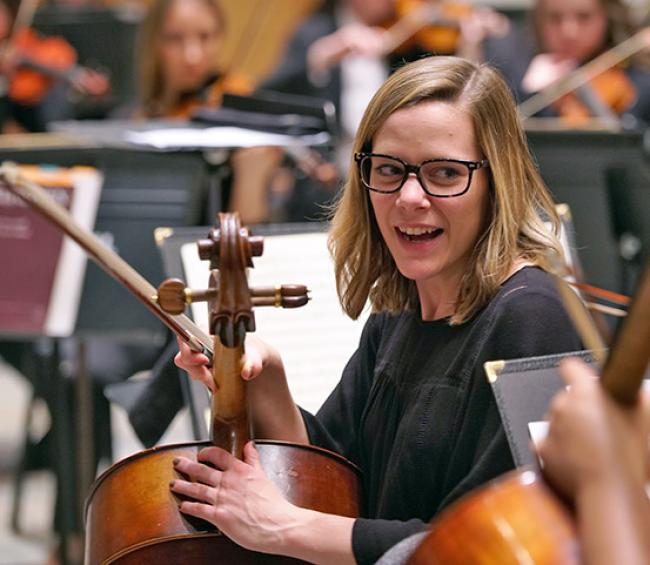 New experiences, new audiences
Dr. Chetel looks forward to the new experiences that touring will bring students.
"For one thing, it's really exciting to be able to perform the same program multiple times," he said. "That sounds like a very simple thing. But you know, we work for seven or eight weeks, and we perform for one evening, and then we put that music away.
"And sometimes it's nice to say, 'No, actually, we can continue the process of improvement, and continue the process of learning and engagement with our own experience, over multiple performances.' That can really be satisfying."
It's an opportunity eagerly awaited by Augustana senior and viola player Kathryn Krajewski, a native of the Chicago suburb Downers Grove.
"I'm glad the orchestra finally gets the chance to go on a tour and I'm excited to be able to perform the music we're working so hard on in front of an audience that we would normally never encounter," she said.
"The music we play is not easy, and while it can be challenging to learn all of the music we're given, it has definitely caused people to practice more — something that has allowed all of us to grow as musicians at a faster pace than I would have thought possible," Krajewski said.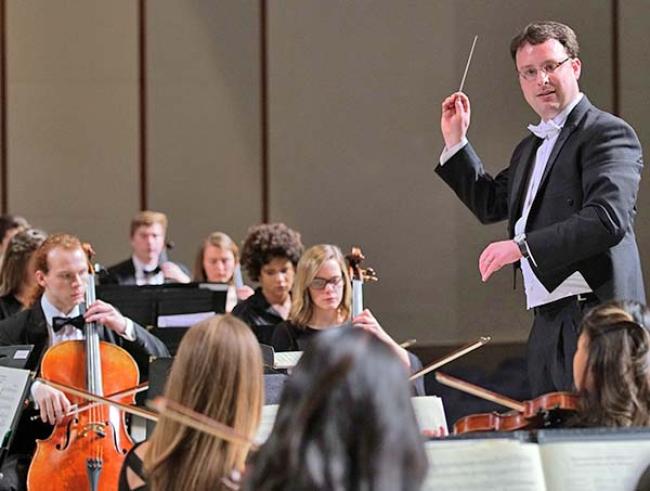 And with a little extra Stravinsky, please
The tour concerts carry the theme of "Avant-Garde Fantasies."
"Typically, I try to put together some kind of theme, and this program is primarily music from the early 20th century that's French and Russian-inspired," said Dr. Chetel.
"For the first half, we'll be doing Debussy's "Prelude to the Afternoon of a Faun," which at the time it was composed was a revolutionary, impressionistic work. Then Erik Satie's beautiful score to his ballet "Parade," where the music is sweet and also funny….
"Then, in the second half, we're going to do the suite from Stravinsky's "Firebird," which is probably the most impressionistic of the three big ballets he's known for, and tells this wonderful Russian folk story about the young princess who's captured by the evil king. What we hear is the great fire dance of the king, and then the beautiful lullaby and finale."
The Firebird suite is one of the compositions that Augustana junior Joshua Iyer, a violinist from Aurora, Ill., is particularly looking forward to performing.
"I have always been in love with Stravinsky's set of ballets: "Firebird," "Petrushka" and "The Rite of Spring," " he said. "And Firebird is such a wonderful and tricky piece.
"All of the music, this term especially, has been particularly engaging to me, and I find myself really listening around the orchestra during rehearsals — more than I used to," Iyer said. "It's pieces like these that really make me feel strong in my part of the big orchestra."
Dr. Chetel said the orchestra is going to "throw in a little extra Stravinsky for fun." This is Stravinsky's "Circus Polka," originally performed with 50 ballerinas and 50 elephants, "so as you can imagine, there's a lot of tuba and bass," he said.
Connecting with art
Beyond the opportunity to take their tubas and basses and other instruments of all sizes out on the road, the orchestra will visit the Art Institute of Chicago. They'll enjoy a guided tour led by Dr. Cathy Goebel, a professor of art history at Augustana.
"The Art Institute has this amazing modernist collection, and Dr. Goebel is going to give the students a tour of the visual art that correlates to this music — pieces that were created in Paris at the same time as the compositions," Dr. Chetel said. "I think that's going to be a really exciting and enriching opportunity for our students.
"You know, when you go on a tour like this, so much is focused on the outward appearance — that we're playing for audiences, and for prospective students…. And that's all wonderful. But it's really nice to also have an opportunity for these students to get an experience that we can't share with them on campus."