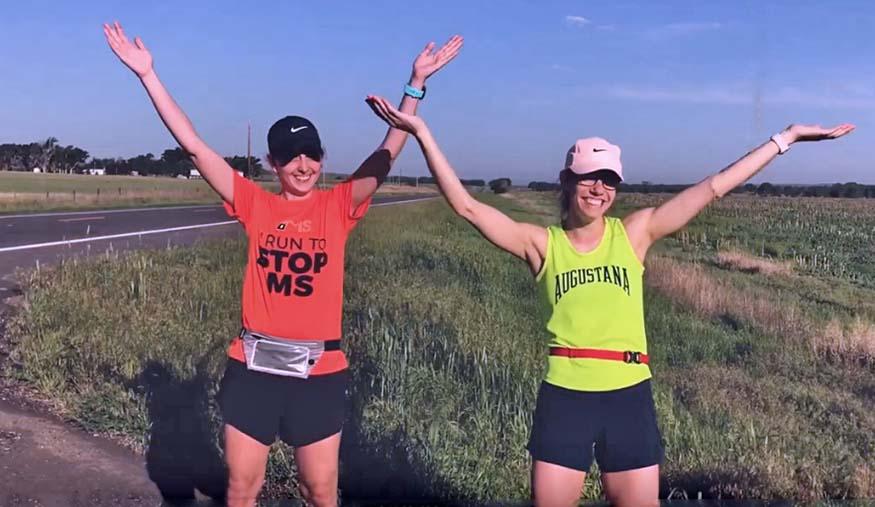 News
Teammates go the distance to fight MS
With an Augustana teammate at her side, Nikita Rohr '14 ran 166 miles in six days, despite her multiple sclerosis.
She ran one segment of the MS Run the US relay from Wray, Colo., to Holdrege, Neb. The relay, called America's first and only 3,260 mile ultra relay run, raises awareness and funds for MS research.
"I was interested in it because it was kind of insane, kind of crazy," Rohr said told KWWL in Coralville, Iowa. "Usually, about a mile in is when I don't feel my legs. But I've trained myself to learn to run on legs that I can't feel.
Rohr successfully interviewed to get a leg on the relay, but with her disease, she couldn't do it alone.
So she reached out to Allison Nagy '14, who was her cross country and track teammate at Augustana. They have been running together ever since, including several Chicago Marathons and other road races in and around Chicago and the Quad Cities.
"It was kind of up to her if I was going to be able to run it or not," Rohr said.
And so they did.
Full of admiration for her friend, Nagy said that, although MS can take away the ability to run in an instant, Rohr has run three marathons since her diagnosis. And on their MS run in June, Rohr also had to contend with six days of heat.
"I am so lucky to have been able to run alongside her as her catcher for all 166 miles and be her legs when she physically couldn't," Nagy said. "Our teammate relationship has changed from competitive running at Augie to a whole new mindset and different end goals now as together we take every step to stop MS. 
 
"I feel that this is the kind of perseverance and service that Augustana instills in students, as she runs for those who can't."