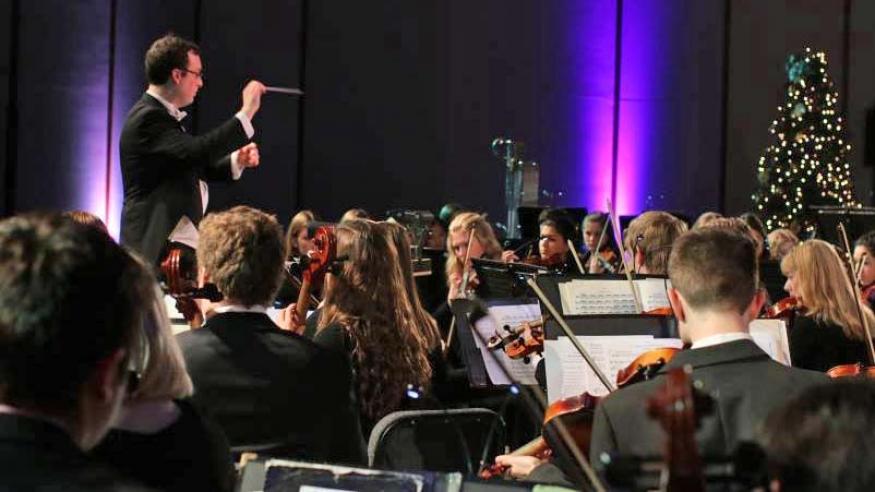 News
"Through the Forest" concert to bring warmth in winter
The Augustana Symphony Orchestra's winter concert, "Through the Forest" will give listeners an artistic treatment of the natural world, including darkness, power, fear and excitement.
The free concert begins at 8 p.m. Feb. 11 in Centennial Hall.
The program will begin with a prelude from a fairy tale opera, then follow a hunt, moonlight and mighty river through Bohemia. The final piece, based on a Czech folk tale, tells an exciting and dramatic love story.
"Amidst this chilly winter season it has been a pleasure to work on a program of music of such romantic warmth," said symphony director Dr. Daniel Chetel.
Hansel and Gretel
German composer Engelbert Humperdinck (1854-1921) collaborated with his sister on the plot of the opera Hänsel und Gretel (1893). The Augustana Symphony Orchestra will play the Act. 1 Prelude. This opera departs from some of the more sinister elements of the original story to create a happier ending. Humperdinck seems to be inviting the audience to view the story through the eyes of the children themselves with earnest wonderment, energy and occasional moments of trepidation.
Má Vlast (My Country)
Bedřich Smetana (1824-1884) spent five years composing his symphonic tone poems "Má Vlast" (My Country). The six movements use folk-inspired melodies to celebrate Czech culture and history, including major battles, mythological figures and the great Vltava river which runs for 270 miles throughout Bohemia.
The Augustana Symphony Orchestra will perform the second movement of "Má Vlast," depicting the course of the river from its two sources in the south, represented by the pairs of flutes trading passages at the opening of the piece. The work continues with a hunt in the forest with horn fanfares, a peasant wedding, a moonlight dance in the woods, and stormy river rapids. The work comes to a close as the river flows proudly through the Czech capital of Prague and beyond.
Golden Spinning Wheel
The Golden Spinning Wheel is the last of Antonín Dvorák's four tone poems based on dramatic Czech folk tales. This tale involves love at first sight, deception, murder, resurrection and the punishment of evil-doers.
Dvorak's tone poem depicts this dramatic story quite directly with martial horns, the clip-clop of horse hooves in the low strings, fortissimo "screams" from the woodwinds and music of celebration at the end.
Contact:
Connor Kealey, manager of performance tours and arts promotion, 309-794-7323