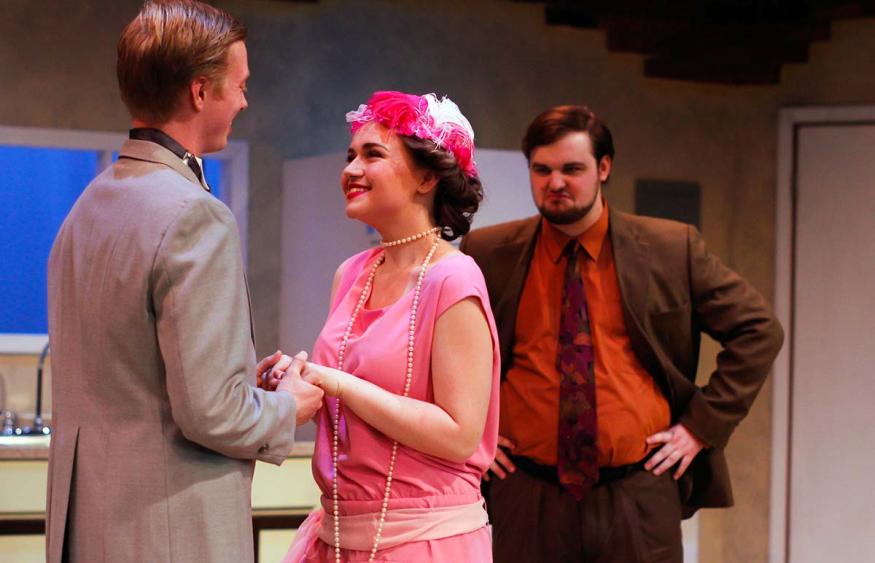 News
Upcoming 'Drowsy Chaperone' makes gentle fun of musical theatre
Augustana College will present the musical "The Drowsy Chaperone" April 27-29 and May 4-6, a Jazz Age show which pokes fun at the cliches of musical theatre.
Winner of five Tony Awards, the show centers on a middle-aged, asocial musical theatre fan and his favorite musical, the (fictional) 1928 hit "The Drowsy Chaperone." As he plays his recording of it, the show comes to life onstage while he comments on it.
"It's a new show, but an old show – a show about what musical theatre is for people," said Dr. Michelle Crouch, music director. "I think that meta-narrative is really clever and cool!"
She said the musical is likely to evoke feelings of nostalgia in people who participated in high school, college or community theatre.
"In a cool way, this show will remind them of a lot of shows they remember because of the nostalgic element built into the plot," she said.
Shelley Cooper, assistant professor of theatre arts, will make her debut as a choreographer and director with "The Drowsy Chaperone." Cooper, whose resume includes professional musical theatre work across four continents, said she had this musical in mind after frst meeting Augustana students.
"They were all these kinds of individual, quirky, funny people – and I thought 'The Drowsy Chaperone' could really work for them," she said. Augustana students are never afraid to stand out in a crowd, she added, just like some of the characters in the musical.
Cooper said the show is a great teaching tool because it employs many different techniques, "such as learning how to tap dance, how to do the big 1920s energetic showstoppers, and those big 11 o'clock number ballads." She said the production is the most "dance-heavy" show Augustana has taken on.
Crouch agreed. "Not only will people think the singing is great and the students have done an excellent job in stepping into the roles of such dynamic characters, but there really will be no shortage of things to enjoy because the dancing is huge as well."
The cast includes Augustana students Jaryd Whitmore '19 (Man In Chair), Jessica Holzknecht '18 (The Drowsy Chaperone), Katie Grisword '20 (Janet), Daniel Williams '19 (Robert), Jonathan Meir '20 (George), and Rami Halabi '19 (Adolpho), with Samantha Flipp '20 and Cheyenne Powell '20 serving as stage manager and assistant director, respectively, and Ashley Massey '19 as both dramaturg and dance captain.
Augustana alumna Emma Brutman '17 is the scenic designer. Andy Gutshall is the technical director and lighting designer, and Ellen Dixon is costume designer.
Performances will be at 7:30 p.m. April 27-28 and May 4-5, and at 1:30 p.m. April 29 and May 6 in the Brunner Theatre Center. Tickets are $14; $12 for senior citizens, children ages 12 and under, students, and Augustana faculty/staff. Free for Augustana students with ID.
Tickets are available at the door beginning one hour before showtime, or in advance through the Augustana Ticket Office at 309-794-7306 or online.