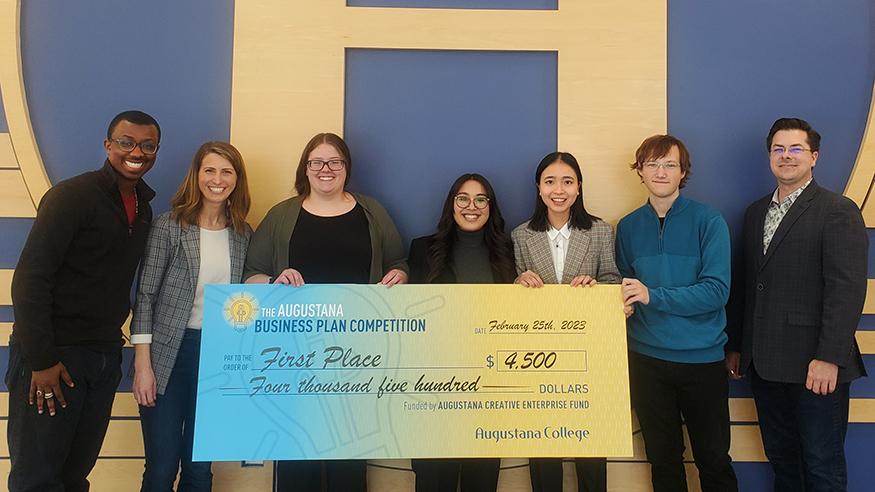 News
Vacation app wins Business Plan Competition
Fun Travel, an app that helps people plan vacations by sharing new and exciting events and locations in the cities they are visiting, was the winner of Augustana's seventh annual Business Plan Competition.
The Business Plan Competition allows teams and individual students to present their business ideas and plans to a panel of business professionals for the opportunity to win a share of $9,000 in prize money.
The plan for Fun Travel was presented by a four-person team:
Erica Ansburg '23 is a business administration-management major from Mokena, Ill. Amber Johnson '23, from Crystal Lake, Ill., is majoring in business administration-marketing and management and communication studies. Chi Vu '23 is a business administration-marketing and communication studies major from Phan Thiet, Vietnam. Greg Warner '23 is a business administration-management major from Homer Glen, Ill.
The Fun Travel team won $4,500 for first place.
The $3,000 second-place prize went to Meghan De Young '23, a creative writing major from Tinley Park, Ill. Her plan was for Serenity Sound, headphones that broadcast at a low frequency, which has been shown to calm people, particularly those with attention deficiencies.
Craig Shelton '23, a business administration-management major from Lyons, Ill., won third place and $1,500. He presented a plan for a mesh fabric guitar pick holder that can be placed discreetly on a guitar without influencing the sound of the guitar.
Three Augustana alumni judged this year's competition: Kris Kizer '18, venture associate at VU Venture partners; Melissa Flowers '09 Pepper, chief strategy officer at Russell Construction & Development; and Randy Micheletti '98, CEO of Incubate IP law firm.
The annual Business Plan Competition is funded by the Augustana Creative Enterprise Fund, which is donor supported. Winners may determine how they use their prize money.