Q&A with President Steve Bahls
President Steve Bahls talked about his tenure at Augustana with Debbie Blaylock, editor of Augustana College Magazine, as his retirement plans were announced.
Q: What are the highlights in your life story before Augustana?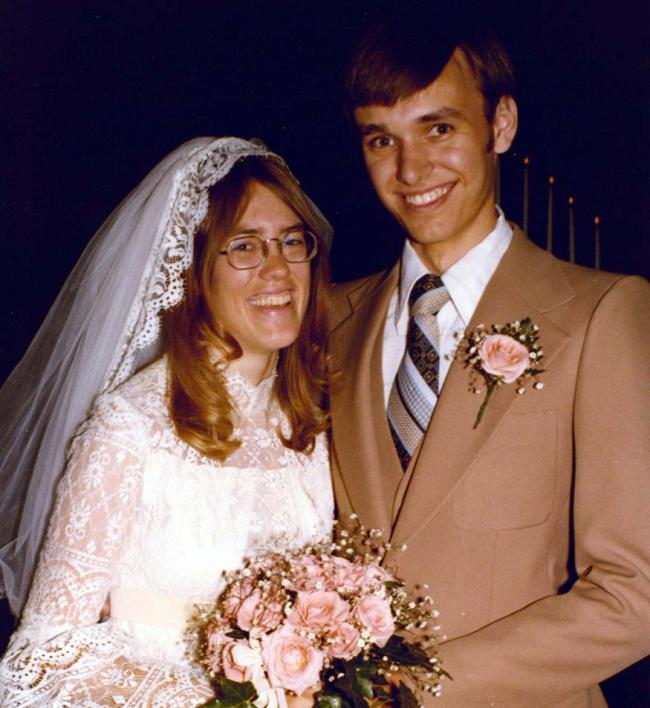 A: I've been so blessed to have many highlights before Augustana. Most of the highlights have been personal: my decision to ask Jane Easter in the 1970s to the Des Moines Metropolitan Opera for a date, which ended up in our wonderful marriage three years later; the birth of our children; the privilege of raising our children; and now six grandchildren.
But the professional highlight was to leave the practice of law in 1985, about 35 years ago, and join the legal academy. I had been a guest lecturer in a class at Marquette University School of Law, and I found that I enjoyed teaching more than I enjoyed the practice of law, so Jane and I made the decision to leave the Midwest and move to the mountains and start an academic career.
It's one of the best decisions I've ever made.
Q: What prepared you to be president of Augustana?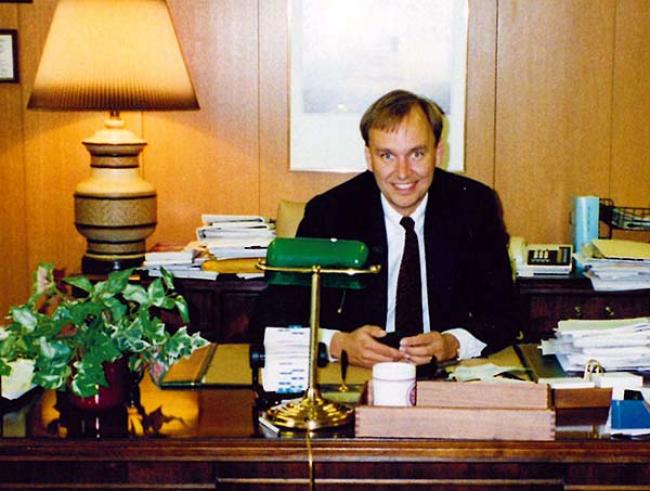 A: I should note that you could never be fully prepared to be a college president. Little did I know that we'd have a COVID crisis; we'd have one of the greatest economic meltdowns; we'd be discussing some very difficult and contentious social issues…. But I learned about leadership in non-profit institutions as dean of Capital University Law School. I had the privilege of serving as dean there in Columbus, Ohio, for nine years.
Like Augustana College, it's an ELCA college, and I learned through that process that the goal of ELCA-affiliated colleges is to help students grow in mind, body and spirit. It's about more than a transaction — you pay your tuition, you get a degree. It's about helping students truly grow.
Q: What do you remember about your first year on campus?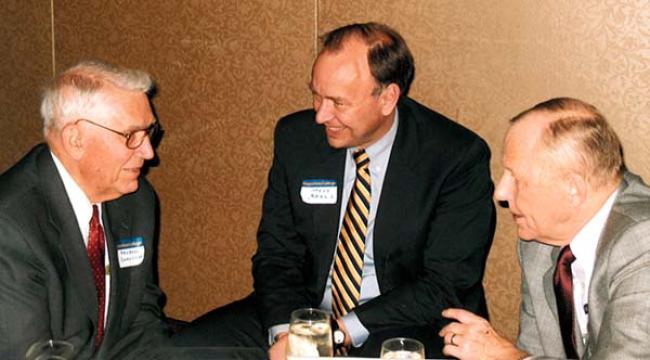 A: My first year clearly was a memorable year. Dr. Tom Tredway, my predecessor, said, "You know, get to know the institution before you make too many decisions." He said that the people here will embrace you but they also want to be listened to, and they want to be partners in the future of the college. So I made an effort to talk to every faculty member in that first year, most administrators in the first year, and tried to visit each and every member of the board.
My fondest memory, however, is with Brenda Barnes, then chair of the board. Brenda had been CEO of PepsiCo, later to go on to be CEO of Sara Lee, and she said, "Steve, you know Augustana has never had much of a marketing plan, and we've always relied on word-of-mouth marketing, which is the best way, but in today's world, you really need a marketing plan."
I said, "Well, Brenda, I'll talk to the team about that, and I'll get back to you within six months," and she said, "Well, Steve, let's just talk about it now."
We were having lunch in Naperville. She turned over the paper placemat and sketched out a marketing plan that served as the blueprint for our marketing plan for 10 years. It was a memorable experience to be affiliated with such a bright and dedicated alum like Brenda Barnes, but there are stories, many stories like that, of people stepping forward and really making my job easy.
Q: What part of your job as president is the best part?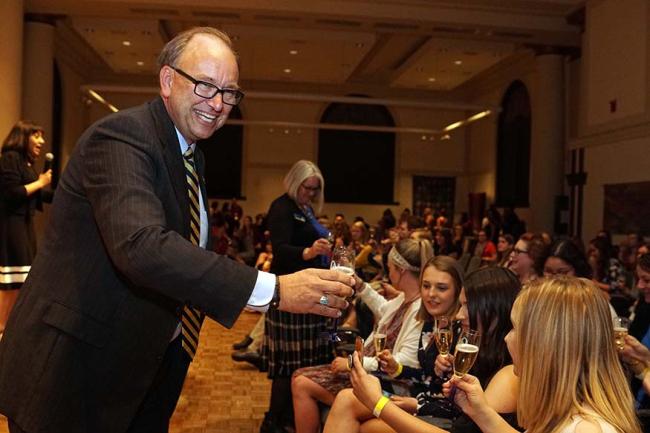 A: Working with the students. So this term I've been able to teach a class — first time in eight years — but I'm regularly engaged with students, whether it's Student Government Association or the Student Advisory Council to the President. These Augustana students are wonderful students. They are doers, not observers. They're intellectually curious. They're optimistic about the future. They want to build a better Augustana. 
One of the secrets I've learned is that having contact with young people, particularly college students, has kept me young. They've influenced how I've thought about various issues. They brought me along in issues of diversity, equity and inclusion; issues of protecting our environment; and issues of making Augustana great for everyone.
The favorite part of my job is working with students, but a close second is working with the faculty and staff. What a wonderful workforce this is, and it's wonderful because we're aligned in this mission of helping our students grow in mind, body and spirit. So it's a privilege. It's a privilege to be with students, and it's a privilege to be with a workforce so committed to our students.
Q: How has this job changed you as a person, or has it?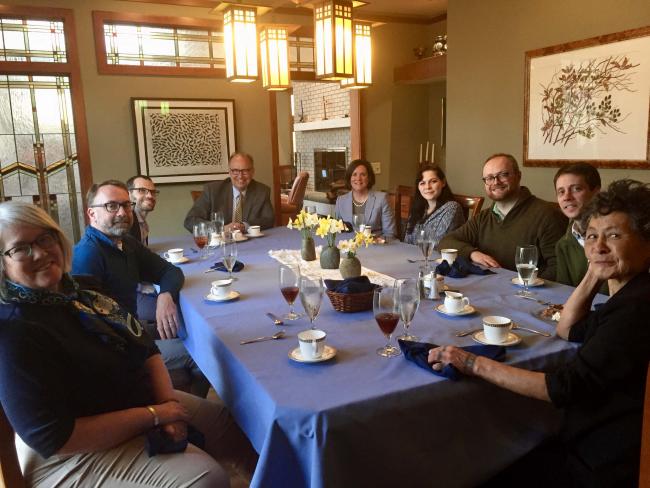 A: This job has caused me to be much more reflective. When I came into this job, having been a successful dean at a law school that was quasi-independent from its university, I was pretty confident that I could hit the ground running at Augustana College.
That hasn't been the case. This is such a more complex organization than a law school, a much more deeply spiritual organization, an organization committed to student growth. I've learned that I need to do a better job of listening, and I've worked on that over the last 18 years.
Likewise, it's changed me to help me know my limitations. I can't work my way out of every problem. My wife tells me I'm a little bit of a workaholic, but there are so many days when there just are no more hours in the day, meaning I have to rely on other people. And I've learned that we ought to hire good people at Augustana and then allow those good people to do their jobs.
How can you not be more reflective as you, week after week, listen to great lectures by guest speakers, faculty members? And students have caused me to question my assumptions and be a little less sure about what the absolute truth is and understand that truth can be approached from many different angles.
Q: What are you most proud of?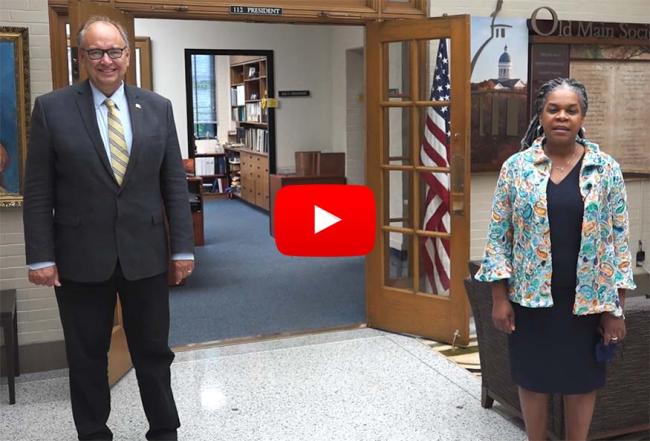 A: I'm most proud of the people at Augustana and the team that we've assembled. It truly is a team of exceptionally talented individuals, whether they be faculty or staff, wanting to serve our students and align with the goal of helping these students have an Augustana experience that is among the four best years in their life.
I don't like to talk about achievements because achievements, of course, are achievements of the community, not achievements of the president. But the change that we've seen, which I think is the most dramatic change in my years at Augustana, is the dramatic increase in the diversity of our student body. 
I'm very, very proud of that because I believe that for a high-quality education we need to have students from all backgrounds, that it is fundamental to our mission to welcome all into this wonderful community, to create a robust marketplace of ideas in the classroom. And when we have students from different backgrounds and different life experiences, we together can develop a shared life experience here on campus.
Q: What was the best day of your presidency?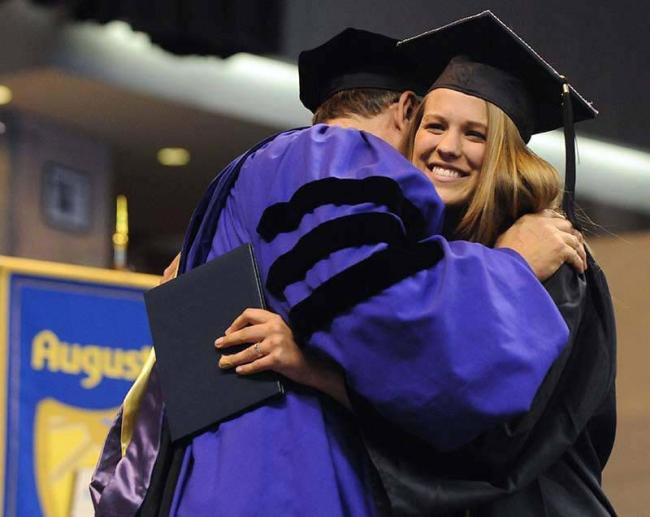 A: The best day that I've had at Augustana, hands down, is graduation in May of 2013. I got to watch my daughter Angela walk across the stage, see that huge smile on her face, hand her her diploma, and she gave me a big hug.
It was a dream come true to be the president of a school where your daughter graduates. What made the dream come true is I watched her in four years move from kind of an uncertain high school senior to a self-assured professional. She's now a speech-language pathologist in Indiana and just had her first baby.
But to give a daughter a diploma is a privilege that few people have. I will forever treasure that day.
Q: Where do you look to find sources of support?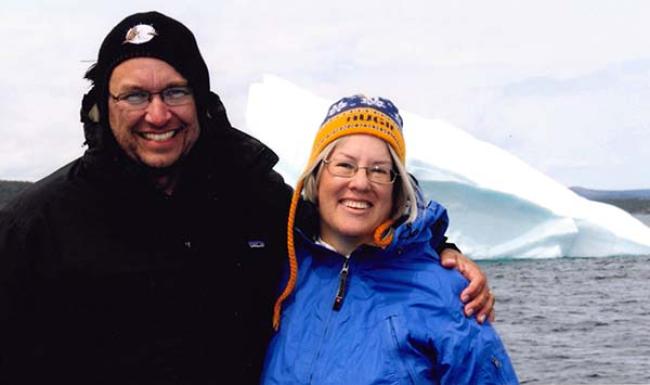 A: Certainly my religious faith is a key component of who I am, and the belief that we've been put in this world to do justice, love mercy and walk humbly with God. That inner strength has allowed me to understand that I can only do my best in service, and as long as I am focused on our students and the good of the community, I have realized my goals.
But on a more practical level, my largest source of strength outside my faith is my wife Jane. She has been fully engaged in this presidency, traveling with me, proofreading document after document, offering encouragement after a long day at work. Those are my sources of support.
Q: What was one of the most important initiatives you've worked on at Augustana?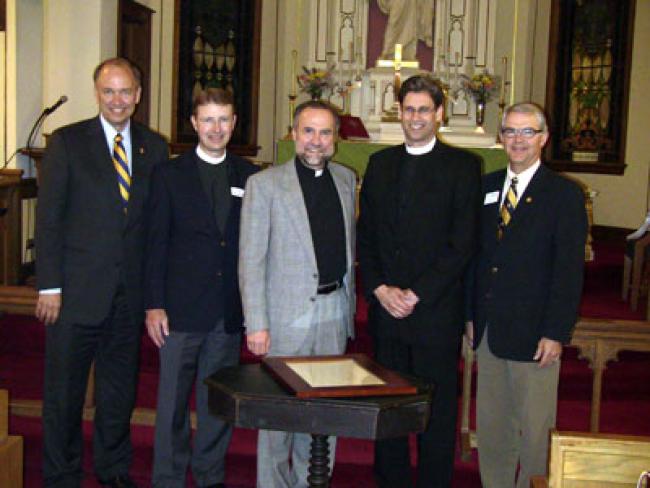 A:  As I was interviewing for this position, I remember asking faculty members, board members, and students: What does it mean to be at a school related to the ELCA, the Lutheran Church? And there was significant disagreement about that. It was a issue that had not been settled.
Now that's very Lutheran in a sense to disagree with what our Lutheran-ness is. I understand that, but there was a call by faculty leaders and the board to explore what our Lutheran relationship is because it's a precious relationship, and once we let go of that relationship, it's hard to reclaim.
What followed was a campus-wide discussion of the relationship, which culminated in a document titled the Five Faith Commitments. This document has guided our programming; how we help students grow in mind, body and spirit; how we look at justice issues; how we look at diversity, equity and inclusion; how we look at campus ministry. 
In fact, the board of trustees amended the mission of the college two years ago to embody those values. So we've been brought together, thanks to this document, in a common understanding of what it is to be rooted and open within the Lutheran tradition as defined by the Five Faith Commitments.
Q: Any area where you would like to see more progress… a bit of unfinished business?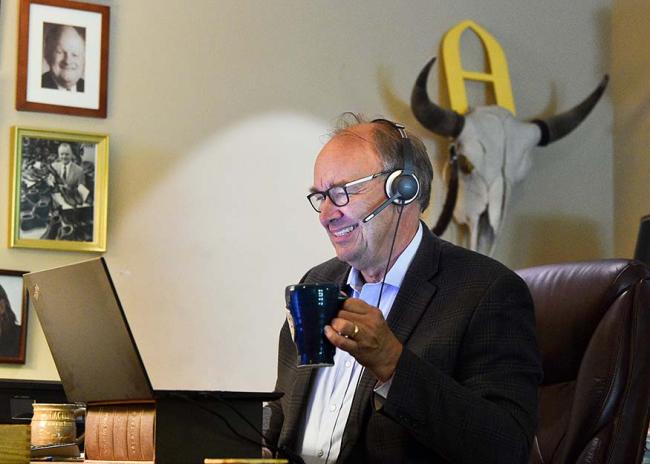 A: I do think that I've moved Augustana along since I've taken the presidency, but clearly there's much more work to be done.
Augustana continues to grapple with issues of diversity, equity and inclusion—creating common experiences for all.
Augustana struggles with diversifying its workforce. We've made progress, but we've only started the journey.
Augustana has become a greener institution in my years here, but much more work needs to be done.
We've strengthened the college finances to provide much more scholarship money to our students, but there are still students who cannot attend because we can't provide enough financial aid.
I think Augustana's best days are ahead as we become a college that is truly open to all, notwithstanding economic circumstances, as we do a greater job of modeling for our students diversity, equity and inclusion; commitment to the environment; and commitment to the community.
Q: What was the best piece of advice you got as president?
A: The best piece of advice I've ever received, believe it or not, came from a Sunday school teacher at Westminster Presbyterian Church in Des Moines. I was wrapping up middle school and going into high school. That Sunday school teacher was Bill Bump; he was an attorney.
I admired him, and one of the reasons I became an attorney was because I admired the way he thought — his kind of precise thinking. But he said that he was always guided by the Prophet Micah: Micah 6:8 "What does the lord require of you but to do justice, love mercy and walk humbly with God."
Jane has reminded me of that throughout my presidency, and it is wonderful advice to help our students. Seek justice. That's core to our mission. Why do we have colleges and universities? We want to prepare our students for a better world. 
But to love mercy, also. Let's not judge each other by our worst moment. Let's understand that some of us have greater privilege than others, and we ought to give a helping hand but walk humbly with God.
This presidency is not about me. This presidency is about Augustana College. I've done my best to be a servant leader.
Q: What are your top goals for your final year?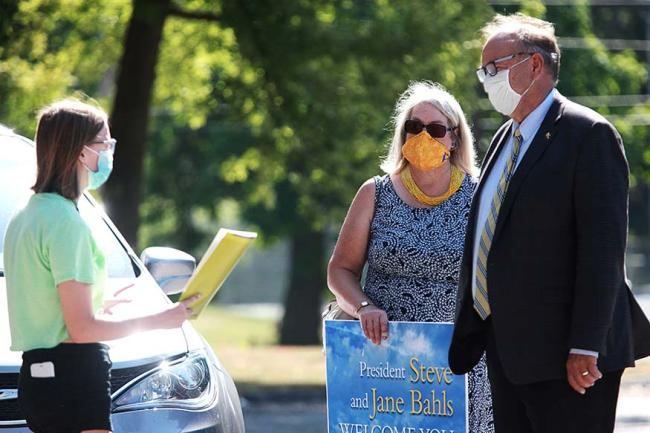 A: The most immediate goal for the next six months is to continue to live responsibly with COVID, to keep our students as safe as we can, whereas at the same time provide them with a high-quality face-to-face education. Not many schools have been able to do what we've been able to do — hold most of our classes live — and it's because of the extraordinary commitment of our students, in particular, to be safe.
Beyond that, the COVID crisis has taken a toll on the finances of Augustana College, so I'll be working to rebuild those finances in the coming year. We'll be working to give the next president a strong financial set of circumstances at Augustana College, so the next agenda can move forward with some of the damage that COVID has done already repaired.
Now, the damage that COVID has done to our finances is very repairable. We need to continue to enroll good-sized classes. We need to continue to ask our friends to support us as we make Augustana accessible to our students, and we need to continue with our efforts for new program development: bring that Lindberg Center online, bring men's and women's water polo online, build up our kinesiology major and prepare to offer an engineering major.
Q: If you left a note on your desk for the next president, what would it say?
A: It would be a very simple note: Enjoy the journey. It is a journey. It's not a sprint. Rather it is a marathon. Savor the opportunity to welcome eager new students at opening convocation. Savor the wonderful feeling of seeing students grow during their time at Augustana College and handing them their diploma. There are going to be bumps in the road, but savor the journey.
Q: So what will retirement look like for you and Jane?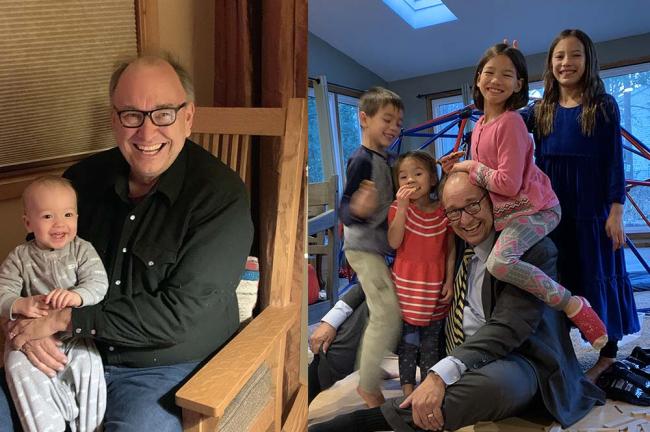 A: Jane and I will spend the next 17 months talking about what retirement looks like, and will be guided by the advice that I've received from 50th reunion classes. They are a little older than I am, but their advice is that finding your calling in life is a lifelong endeavor.
So Jane and I are going to look for our next calling. I have plenty of energy left, plenty of desire to serve, but this is a nice time for a transition. I'm hoping that one piece of it, however, will be to teach a course each year at Augustana College.
Sure, we're going to want to spend more time with our grandchildren. We're going to want to spend more time in the beloved American West, which has become our adoptive home together with Rock Island, but I do want to continue that precious connection with students and hope to teach at Augustana part-time in the coming years. 
Q: What will you miss most after you leave Augustana?
A: I will miss a lot, but what I'm going to miss the most is the hustle and bustle of Augustana. That hustle and bustle has been less during these COVID months, but I'll miss the basketball games, the student theatre productions, going to faculty lectures, walking the campus in the early morning on my way to work.
I'm going to miss the administrative team, the faculty and the students, but it's that hustle and bustle of a college campus that keeps you young and engaged.
I won't forget the Dahl President's Home, which was such a wonderful contribution by the Dahl family to Augustana. Jane and I, pre-COVID, were able to entertain twice a week in this home…typically a guest speaker, a dignitary. We would have them at the dinner table with students, faculty and community members, and talk about deep and important issues. 
I'll miss that level of engagement with students, faculty and leaders in our community.