Careers and internships
Developing fluency in any language is "the hottest job skill," according to a CNN Money article about language fluency.
About 25,000 jobs will open up for interpretors and translators between 2010 and 2020, according to estimates from the Department of Labor.
Proficiency in the German language and familiarity with the culture are practical in combination with a career in business, the sciences, tourism, philosophy, political science, the arts, education and more.
Recent graduates
A sampling of what recent graduates are doing: 
Tony TouVelle '15 is using his language skills as a flight attendant for United Airlines.
Sean Wegge '11 is a tech solutions advisor for CDW, Chicago area.
Louis Bertenshaw '11 completed a master's in international education at New York University; is now an elementary ESL fourth grade teacher in Dallas, Texas.
Robert Self '11 is a product and communications manager at Messe Düsseldorf North America.
Michael Carlyle '13 is a customer support associate with 1Password.
Sierra Thomas '12 is a business process analyst at Oracle in Bozeman, Mont.
Distinctions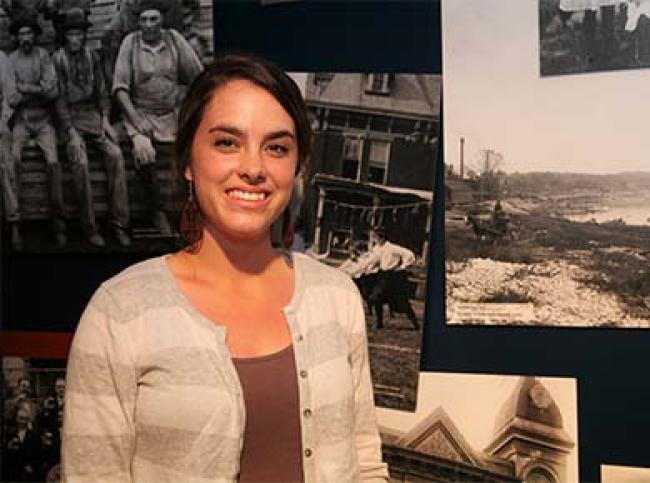 Augustana offers a 27-credit major in German studies; a 32-credit major for teaching German for students who wish to teach in the secondary schools; and an 18-credit minor in German studies.
Along with the German language, courses cover a range of cultural topics, including literature, film, politics and business. Many students of German combine this major with another of Augustana's nearly 90 majors and related academic programs. 
German language and culture classes are small, which allows students to work closely with faculty and discuss topics at length. 
The three full-time faculty teach in both German and Scandinavian studies, and all are fluent speakers of German. The department regularly hosts a German Club for conversation and screenings of German films.
Studies in Germany
For more than 40 years, Augustana has offered study programs in Germany. Options include a four-week summer program at the Catholic University of Eichstätt, or a semester or year at the Universities of Eichstätt, Passauor Regensburg — all medium-sized cities in picturesque Bavaria. A fall term program in "Lutherstadt" Wittenberg also is available on a rotating basis. All German majors are strongly encouraged to participate in a study or internship experience in Germany; students can use their $2,000 from Augie Choice to help pay for it.
What students say
Louie Bertenshaw '11, German and political science major; completed a master's in international education at New York University; now teaching English in Japan
"My peak experiences probably happened while studying abroad (TWICE!). It's one of the most exciting, challenging, frustrating and rewarding experiences I think anyone can have. One of the most amazing realizations I had was that this little campus in the heart of the Midwest can offer such life-changing, personal experiences that are truly invaluable.
"I've always had an interest in language and majored in German. I also had an interest in "international... something" and majored in political science. While I don't regret my majors, I've since learned that I truly have a passion for understanding other cultures and learning through other cultures. As a result, I decided to pursue graduate school options in international education and teaching — a decision that came halfway through my final year at Augustana!"
Robert Self '11, German and communication studies major; now product and communications manager at Messe Düsseldorf North America
"In my job, I get to use my German language skills and my communication/PR skills simultaneously. I credit so much of my success to studying abroad and receiving one-on-one attention from my professors. All of them were influential, attentive and encouraging. "Due to the German department, I was able to study business German. Due to the communication studies department, I left with a portfolio of work from my Senior Inquiry project and attended Illinois State for my M.A. in communication. Due to both departments, I landed the dream job."