Careers and internships
Experience in both practical application and observation is essential for strong medical school applicants. Augustana's pre-med students gain clinical experience at local hospitals, private practice clinics, rehabilitation centers and/or geriatric care facilities.
Through internships, students can earn college credit while gaining clinical experience. Some students take positions as research assistants in university labs around the country during the summer. One example is Augustana's intensive internship program with the Texas Medical Center in Houston, one of the nation's top cancer medical research centers, where students conduct research with mentors who are leaders in areas ranging from cancer to molecular genetics.

Augustana's medical school placement rates are excellent: 65%, compared with only 46% nationwide.
Recent Augustana pre-med graduates are at the University of Illinois at Chicago College of Medicine; Southern Illinois University School of Medicine; Rosalind Franklin University of Health Science, Chicago; University of Iowa Carver College of Medicine; Rocky Vista University College of Osteopathic Medicine, Colorado;-Des Moines University Osteopathic Medical Center; and Chicago College of Osteopathic Medicine of Midwestern University.
Recent graduates:
Jennifer Banach '12 will receive her master's in food safety from Wageningen University in the Netherlands. She also is an intern at the H.J. Heinz R&D Center in Nijmegen.
Christopher Carter '13 will attend graduate school at Indiana University to study philosophy/bioethics.
Manisha Kumar '13 is attending the University of Iowa Carver College of Medicine.
About the program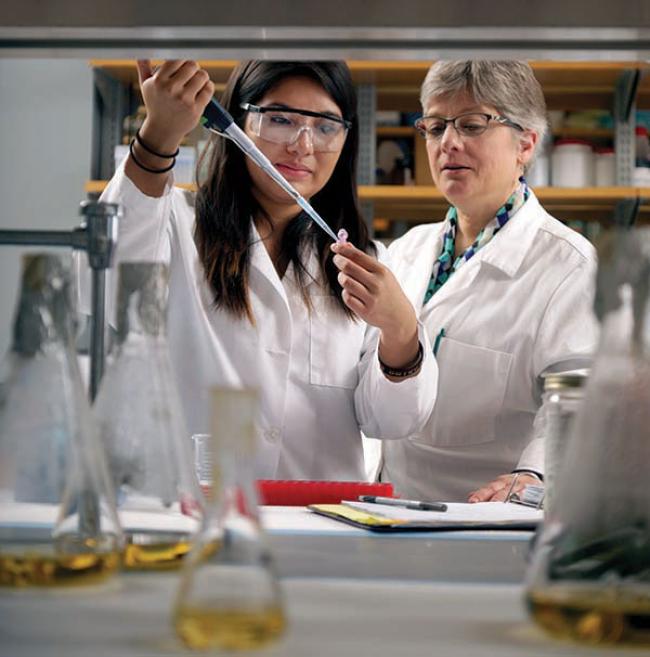 Augustana's undergraduate program in pre-medicine is designed to provide a strong foundation in the sciences, to satisfy the entrance requirements of most medical schools, and to prepare students for the Medical College Admissions Test (MCAT). With the help of their faculty advisor, all pre-med students complete the MCAT and medical school admissions process after the junior year.
Besides taking challenging coursework in biology, chemistry and physics, Augustana pre-med majors are encouraged to take advantage of the college's strong liberal arts foundation by taking classes in other areas. Beyond their requirements of a bachelor of arts degree and strong science curriculum, medical schools may give consideration to students with a broader, well-rounded education.
Class sizes are small, with highest numbers around 60 students. All professors teach both the lecture and lab portions of their classes, ensuring continuity and connection between theory and practice.
The 114,000-square-foot Hanson Hall of Science houses the departments of biology, chemistry and physics, promoting cross-disciplinary study and research among students and faculty. Special facilities include high-tech individual labs for anatomy and physiology, cell biology, genetics, zoology and human cadaver dissection, among others.
What students say
Rabia Jawed '13, biology/pre-medicine and neuroscience; attending Midwestern University doctoral program in osteopathic medicine
I've always known I wanted to be a physician, but I never could have imagined how much my experiences though Augustana have changed me, both as a student and as a person. Traveling to Rome in 2011 and participating in the Texas Medical Center Internship Program were life-changing experiences. In Rome, I was able to see the history I studied in the classroom come to life, all while experiencing a different culture. Because of Rome, I have a greater appreciation for history, Catholicism and the Italian culture. In Texas, I learned what it meant to be a practicing physician and conduct research. Because of Texas, I became a better researcher, a better thinker, and I am sure the skills I learned will help me become a better physician.
Eric Pease '13, pre-medicine and neuroscience; attending doctoral program in osteopathic medicine at Kansas City University of Medicine and Biosciences
Augustana was always on my radar. There were several teachers at my high school who were alumni and encouraged me to look into Augie. As I began to explore Augustana and other colleges, I found the academics and reputation of Augustana in preparing students for medical school was well ahead of so many others. Traveling to Houston, Texas, for an internship at the University of Texas MD Anderson Cancer Center has been the highlight of my Augustana career. Working at MD Anderson challenged me in ways I never imagined, and from those challenges, I gained a deeper understanding of myself and a greater desire to pursue a career in medicine.
Josh Eisenberg '14, biology/pre-medicine and biochemistry; Attending Loyola Stritch School of Medicine
"Spending the summer in Houston, Texas, while completing the Texas Medical Center Summer Research Internship at Baylor College of Medicine [was a peak experience]. During this experience, I was completely surrounded by the medical culture, language and lifestyle, which truly confirmed that I was on the correct career path to become a physician."
Sarah Martin '14, biology/pre-medicine; Attending DePaul University's Master's Entry to Nursing Practice, Chicago, then planning to pursue a doctorate and career as a nurse practitioner
"I wanted a college that offered a challenging curriculum that I would work hard for and be proud of. The professors push students to become independent in a way that students can think about life, culture, communication, education and much more. The proudest moment of my college career was my Senior Inquiry proposal. It was my chance to prove to myself that my time at Augustana was a success. The project incorporated everything that I had been working so hard to master, including immunology, anatomy, physiology, microbiology, chemistry and physics. It was my opportunity to showcase my knowledge and finally be recognized for my efforts as a maturing biologist."