Augustana offers a 28-credit major and a 16-credit minor in Scandinavian studies.
Scandinavian studies is a skills-based liberal arts education, anchored in language study, translation experience and practical applications, such as history and archival work.
Along with the Swedish language, courses cover a range of cultural topics, including literature, drama, art and film — classical to contemporary. Many students combine the major with another of Augustana's nearly 90 majors and areas of study.
Careers and internships
Developing fluency in any language is "the hottest job skill," according to a CNN Money article about language fluency. The article reports that about 25,000 jobs will open up for interpreters and translators by 2020, according to estimates from the Department of Labor. In the private sector, Asian and Scandinavian languages "offer the highest return."
Scandinavia is also known as a marketplace for innovative technology and design, and for progressive, sustainable societies. 
Scandinavian studies complements virtually any other field of study. Combining the major with another humanities field in particular can position students well for graduate studies. Some Augustana graduates have worked for Scandinavian companies or pursued graduate studies in Scandinavian countries. 
Working with faculty and with Augustana's CORE staff, students can find internships for credit and/or pay. Some internship possibilities include, but are not limited to: 
Swenson Swedish Immigration Research Center at Augustana
Bishop Hill historic settlement, Bishop Hill, Illinois 
Akvavit Theatre Company, Chicago 
Swedish-American Archives of Chicago Swedish-American Museum, Chicago 
University Library, University of Illinois at Urbana-Champaign
Augustana students also have interned at the U.S. Consulate, the Grand and Sheraton hotels, and the Swedish UNESCO office, all in Stockholm. 
Some recent graduates:
Brett Mignin '16 is a master's student of Scandinavian studies at the University of Wisconsin-Madison.
Ethan Harrod '16 is a master's student in psychology at the University of Chicago.
Kitty Depa  '16 is a master's student in psychology at the University of Uppsala.
Rebecca Knapper Wells '16 is an assistant at the Magnum Project Library, Harry Ransom Center, Austin, Texas.
McKenna Burns '17 is a graduate student in Ecology, Evolution, and Environmental Biology at Miami University.
Dhaneesha Tharakie Pahathkumbura '17 is a researcher at The Arka Initiative, Chicago.
Distinctions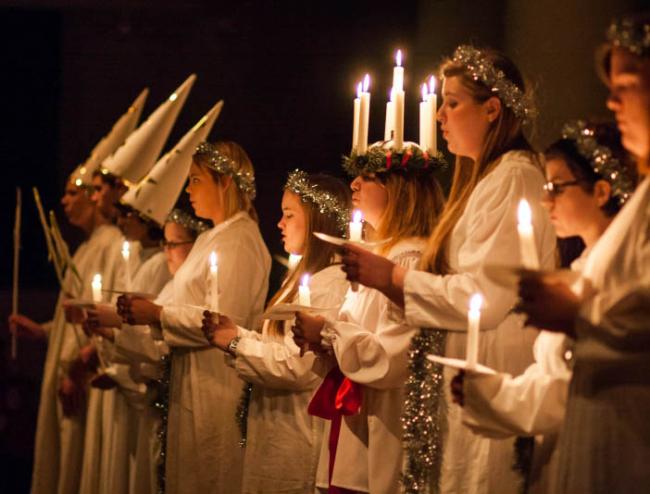 Founded by Swedish graduates of the universities of Uppsala and Lund in 1860, Augustana College is the oldest Swedish-American institution of higher learning in the United States. Augustana is one of the very few U.S. colleges and universities to offer a program in Swedish language study, along with Scandinavian literature, film, art, culture and history.
The flexible major and minor allow students to cultivate their interests through courses in Swedish language and topics in Scandinavian literature, film, art, and history. The faculty teach in a range of topics and collaborate with other departments, including history, religion, theatre arts, geography, and women, gender and sexuality studies.
Whether discussing a work by a Scandinavian author or film director, comparing cultural movements of today and a century ago, or conversing in Swedish, students can learn the language and culture in more depth when they work closely with professors in a small-group setting.
Students of Scandinavian studies often participate in the Swedish conversation table, Scandinavian Club and the annual Sankta Lucia festival. Students also join in activities with the local American Scandinavian Association.
The Swenson Swedish Immigration Research Center, a national library and archives for the study of Swedish immigration and Swedish-America, is on campus. These resources for Scandinavian studies are among the finest in North America, with a collection of about 20,000 books, many in Swedish. Courses facilitated by the center's staff give students hands-on experience handling and interpreting multimedia resources. 
Study abroad
Augustana has exchange programs with Uppsala University and with SVF-Vättern College, a classic Nordic folk high school in Jönköping, Sweden. Augustana students may study abroad for a semester or a year, paying normal tuition at home while receiving their education at the partner institution. Three-week J-term courses in Norway or Sweden are also options.
All Augustana students have access to $2,000 for study abroad through Augie Choice, plus other grants for international study. Study in Scandinavia is an excellent way to complete up to 12 credits toward the major or minor.
What alumni say
Amanda Schar '19, Scandinavian studies and psychology; outreach aide for Project HOME, Philadelphia
I used my Augie Choice to study abroad in Uppsala, Sweden, for a semester. It was one of the most incredible experiences of my life! I got the chance to travel, make wonderful friends... and experience living in a small European city. It definitely brought my Scandinavian studies major to life and showed me I was more independent than I thought.
Bex Fernandez '19, Scandinavian studies and psychology; working towards a license in American sign language interpretation
My older sister attended Augustana, and I loved visiting her. She took me to campus events, and I would hang out in the Brew while she was in class. I already felt like a part of Augustana... In the end, the meetings with faculty made my decision. The professors I spoke to here were so friendly and helpful, and I decided on Augustana!
Katie Laschanzky '18, biology major, biochemistry minor, and supporting coursework in Scandinavian studies; pursuing a master's in molecular biology at Lund University, Sweden
Being a first-generation college student, I had no idea what to look for when choosing a school. But after visiting Augustana and seeing how personally invested all of the faculty and staff were in helping their students become the best that they can be, I knew I didn't want to be anywhere else... All of the Scandinavian studies faculty helped me find a way to take my passions abroad and find a second home in Sweden.
Erek Bell '14, Scandinavian studies and geography; completed master's in physical geography at Lund University; manager at Matsmedjan I Skåne AB, Lund, Sweden
The Swedish program taught the language in such an easy, understandable way — but also challenging, through the immersion system. Eventually I started to dream in Swedish. For six months I studied at Uppsala University north of Stockholm, and it was a really great way to practice the language, travel and immerse myself in another culture.
Lisa Huntsha '10, Scandinavian studies and sociology; currently archivist and librarian at the Swenson Swedish Immigration Research Center at Augustana
Augustana gave me the opportunity to pursue my many interests fully, which has shaped my passions and pursuits for the future. My experience here had also given me opportunities to hold leadership positions and grow personally, not just academically. Studying abroad in Grebbestad, Sweden, in the summer of 2008 was an irreplaceable opportunity. It was a fun and educational trip that gave me a chance to put my Swedish language skills to use, and to experience another culture.