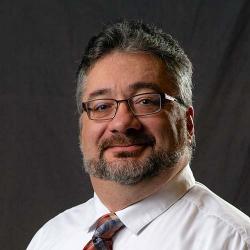 Allen P. Bertsche
Director of International and Off-Campus Study
I came to Augustana as a Generalist, with a background primarily in Modern Spain, and this has held true throughout my career.  
In addition to courses in beginning and intermediate Spanish, I also teach courses on the culture and history of modern Spain, as well as literature courses on 19th through 21st century Spain.  
However, as a Generalist, I also work quite a bit with Latin American Studies.  I have served as the director of the Fall Term in Latin America since 1998, and this year lead the program again as well as teaching a World Literature course on Mexican identity through literature.
My research varies between my literary interests, particularly the influence of the Gothic novel and other Gothic literature on Spanish Romanticism in the 19th Century, and my interests as a Department Chair, such as my studies of the role of Culture & Civilization courses in undergraduate Spanish Curricula across the country. 
I am currently interested in an examination of the theatre of Antonio Buero Vallejo, as well as a possible translation of the prose works of Gustavo Adolfo Bécquer, my favorite of the Spanish Romantic-Gothics.
Of all my roles at Augustana, I perhaps cherish most the chance to travel with students and to help students travel to both Spain and Latin America.   In addition to the Fall Term in Latin America, which routinely takes 50-70 students to Peru, Ecuador, Brazil, Mexico and many other fabulous places, I have been able to create new programs for students in Spain, such as our Summer Spanish in Salamanca program and our affiliated Winter/Spring program in Sevilla. 
As a travel buff, and as a scholar of Spanish and Latin American culture, literature and language, I cannot think of a greater learning experience than to leave one's home and one's comfort zone to explore a new place.  It expands the mind, opens the heart and alters the soul in magnificent ways.  Many of my students have returned home with a new vision of the world and a new appreciation of their place in it.  That is transformative, and it is what makes their education relevant to the rest of their lives.
Specializations: Spain, 20th-Century theatre of Spain, International travel, Study abroad, Spanish Romanticism, Spanish Civil War and the Franco Regime, CORE
Education
B.A., Indiana
Ph.D., Wisconsin