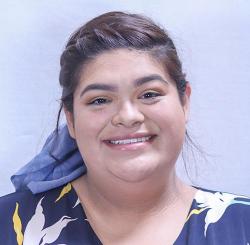 Alma Pizano-Onofre
Admissions Counselor
Hometown: Belvidere, Ill.
Current town: Bettendorf, Iowa
College attended: Augustana College
Majors: Psychology and French
What did you do before Augustana? After I graduated in 2020, I moved to Indiana to work in an ABA Autism center as a registered behavior technician providing behavioral therapy to children ages 3-10. 
What is your favorite time/tradition of the Augustana school year? All four seasons at Augustana are beautiful, however, I get excited for the fall and spring! In the fall I love to see how the leaves of the trees change colors and campus starts to feel cozy. In the spring, I love to see how everything starts to come back to life; the trees, flowers, the student body. I love both seasons because the campus is bustling with activities and the feeling of excitement and joy floods Augustana.  
What have you learned from Augustana students? I have learned that Augustana students are impactful individuals. They are talented, zealous, and truly a force to be reckoned with! Augustana has developed a sense of adventure and openness in each student with all the amazing on campus and study abroad opportunities offered. I learned that Augustana students are doing amazing things in the world, and seizing each opportunity presented to them no matter where they are!
What advice do you have for students who are searching for the right college for them? Give yourself time to REALLY do your research on potential schools but also think about what YOU want in your college experience to be like. Acknowledge what academic program do you want to study? What sports/activities/organizations are important to you? What is your ideal distance from home (in case you get home sick the first weekend on campus)?  How much one-on-one attention from faculty do you want or need? Finding a school that suits your "must haves" will put you on the track to success.
Every college or university, like every community and family, has its own culture, and you should look for a school whose cultural values are consistent with your own. By visiting campus you can assure yourself that you are in fact choosing the right school for YOU. There's no greater feeling than stepping foot on a campus and just knowing that you can see yourself calling it home for the next four years. Find a school that will love, honor, and want you!
Territories: Carroll, Jo Davies, Lee and Ogle, Stephenson, and Whiteside counties in Illinois, Iowa, Wisconsin, Michigan, Kansas, Minnesota, Nebraska, North Dakota, South Dakota and Oklahoma
 
Specializations: Admissions