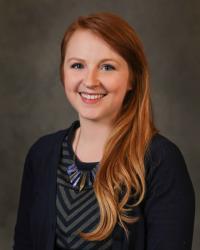 Amanda Spurgeon
Digital Content Specialist
Amanda Spurgeon started at Augustana in November 2018. 
She is a self-proclaimed data nerd with a passion for digital storytelling. She is responsible for the content creation and strategy for Blogustana, the college's digital storytelling platform for new and prospective students, web analytics and digital advertising. She also lends a hand in social media strategy and planning.
Before coming to Augustana, Amanda spent four years as the Digital Content Strategist for IH Mississippi Valley Credit Union, where she managed content production, email automation and social media. She also served as writer and editor for all public-facing collateral, including brochures, newsletters, marketing campaigns and more.

A captive Quad Citizen since early childhood, Amanda lives in Davenport, IA. When she is not working, she can be found reading (science fiction/fantasy novels and cooking magazines, mostly), making a mess in the kitchen or binging Netflix with her dogs, Marge and Bruce. 
She aspires to one day compete on Jeopardy! and auditions every year.
Specializations: Communication and marketing, Digital Marketing, Marketing Analytics
Education
B.A., St. Ambrose University