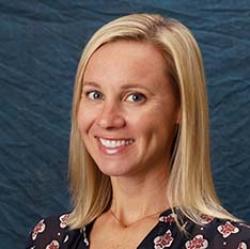 Amy Calderone Blommer
Teaching Fellow, Communication Studies
Amy Calderone-Blommer is an Augustana alumna, graduating with majors in communications and Spanish.
She earned a master's in Communication Studies from Northern Illinois University.
Calderone-Blommer is an Emmy Award winning sports journalist and has covered everything from local high school sports to Chicago Bears' training camps and the San Jose Sharks. Ask her about covering the Iowa Hawkeyes during the coldest Orange Bowl championship in history.
Her areas of interest are sports journalism, the effects of technology on interpersonal communication, and leadership.
Specializations: Sports journalism
Education
B.A., Augustana
M.A., Northern Illinois