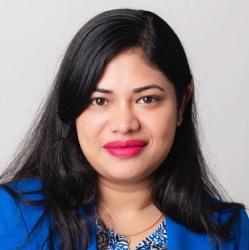 Boby Akhi
International Admissions Counselor
Boby Akhi worked at St. Ambrose University in graduate admissions before coming to Augustana. She has an enthusiasm for communicating with international students, and guiding them in their admission and immigration process. 
She enjoys working with young people and academia, and in this case, students. Her role helps her keep in touch with students and guide them in issues regarding admissions, future career preparation, and immigration.
Her advice for students who are searching for the right college is to choose a college that will positively impact their long-term career goals. Also, students should consult with their career/admission counselor, who can provide them with information and guidance. 
Akhi comes from Rajshahi, Bangladesh, and now lives in Moline, Ill.
Specializations: Admissions
Education
University of Rajshahi, B.A., M.S., philosophy
Bangladesh University, LLB, law
Upper Iowa University, MBA, human resources management
St. Ambrose University, M.S., organizational leadership