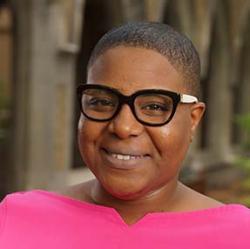 Christian Brown
Assistant Director of Admissions, Chicago Region
Schedule a meeting with Christian
Hometown: Chattanooga, Tenn.
Current town: Chicago
What did you do before Augustana?
My last two years of undergrad were spent working as a student worker within the office of admissions at my alma mater. Upon graduation I was offered the opportunity to work as an administrative assistant, which I started only a few days after graduation. That position turned into a recruitment role shortly after, and in 2014 I became the first Chicago-based regional recruiter for the University of Tennessee Knoxville. I joined Augustana in June 2018.
Why did you decide to work in this field and/or at Augustana?
I am a first-generation college student and an only child. While this may seem like the perfect recipe for a college search disaster, it turned out to be completely opposite! I credit much of my positive search process to the amazing college access program that my parents placed me in freshman year of high school. The folks who ran that program not only served as lifelong mentors for me, but also helped me carry out a successful college search. This made a huge impact on my life, so much so that I found my way into college admissions and see it as a way of fulfilling my passion for helping students from all backgrounds have a great college search experience. 
With Augustana's intimate campus size, culture of acceptance, and access to programs such as Augie Choice, what better place to continue serving within the higher education community!
What's great about the Quad Cities?
I wasn't at all familiar with the Quad Cities before coming to Augustana. As a resident of the third-largest city in the United States, I really wasn't sure what to expect either. I figured it may lack certain amenities that are offered in larger cities, but decided to visit with an open mind. To my surprise, I was able to find everything I would find at home and even some local treasures that are unique to the area.
If you're skeptical about leaving your larger community for a smaller one, remember you're not giving anything up, just swapping your hometown favorites for Q-C favorites. My favorite dessert spot in Chicago is Brown Sugar Bakery, but when in Quad Cities it's Whitey's!
Specializations: Admissions
Education
B.S., Legal Assistant Studies, University of Tennessee at Chattanooga
Master of Public Administration, University of Tennessee at Chattanooga