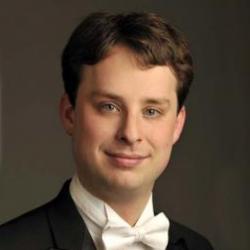 Daniel W. Chetel
Assistant Professor of Music; Director of Orchestral Activities, Augustana Symphony Orchestra, Conducting, Music Appreciation
Daniel Chetel is the director of orchestral activities and assistant professor of music at Augustana College, where he directs the Augustana Symphony Orchestra and the Augustana Chamber Orchestra.
Dr. Chetel moved to the Quad Cities in 2016 after concluding his five-year tenure as the music director and conductor of the Central Kentucky Youth Orchestras in Lexington, where he also taught at the University of Kentucky School of Music. 
 
He has conducted youth, collegiate, and professional orchestras and opera companies across the United States and has traveled to Acarigua, Venezuela, to work with a nucleo of the nationwide Venezuelan Youth Orchestra System, El Sistema. While living in the Quad Cities, Dr. Chetel also has served on the staff of the Quad Cities Symphony Orchestra as interim conductor of the Youth Symphony and Youth Philharmonic Orchestras, the two most advanced orchestras of the Quad Cities Symphony Youth Ensembles.
 
Dr. Chetel's music interests include opera, American music, and the exploration of an inclusive vision for music making that engages with and honors diverse musical traditions. At Augustana, he teaches a First Year Inquiry course entitled When Do I Clap?!?! that examines questions of race, class, and gender in both Western and non-Western traditions of musical presentation to unpack the historical, cultural, and technological underpinnings for what is seen in concert halls, opera houses, and fourth-grade piano recitals across the world.
Throughout his career, Dr. Chetel has worked for programs that foster an equitable access to high quality music education, including the Boston Youth Symphony Orchestra's Intensive Community Program and the Central Kentucky Youth Orchestras' El Sistema-inspired string training program, North Limestone MusicWorks. 
 
At Augustana, Dr. Chetel leads the Augustana Orchestra program, which consists of the 70-80 player Augustana Symphony Orchestra and the 15-25 player Augustana Chamber Orchestra. The Augustana Symphony Orchestra presents three major concert programs each school year, performs as part of the annual Christmas at Augustana production, hosts student Concerto and Composition Competitions, and engages with high school orchestra programs throughout the region through annual performance tours and on-campus events. The Augustana Chamber Orchestra collaborates on annual, fully staged operatic productions with Augustana's OperX Ensemble and performs additional chamber repertoire written for a smaller orchestral ensemble.
 
Originally from Massachusetts, Dr. Chetel holds a B.A. from Harvard University, an M.M. from the University of Maryland School of Music, and a D.M.A. in Orchestral Conducting from the University of Kentucky School of Music, where his doctoral research addressed the publication and performance challenges of Hans Krása's children's opera Brundibár.
Specializations: Opera, American music
Education
A.B., Harvard
M.M., Maryland
D.M.A., Kentucky