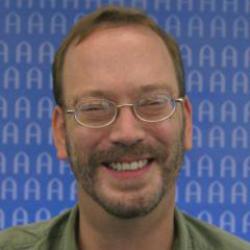 Emil A. Kramer
Professor of Classics, English, and History
I was born in Plainview, Texas, and grew up on an agricultural research station - hence I'm probably one of only a few classicists with extensive experience in driving tractors! In the course of my career I've lived in eight states across the nation (I've lived in every time zone in the forty-eight states - all of them but one twice!). I've been married to my wife Susan for twenty-six years now. When I'm not attending to the business of the College I love working on restoring our beautiful 113-year-old house in Davenport.
Though I began my study of Latin in High School, it was actually a Humanities course during my senior year that brought me into the field. We read Homer's Iliad and Odyssey and Vergil's Aeneid - and I was hooked! In college it was the breadth of the field that attracted me. I was interested in history, philosophy, literature, archaeology, and religion, and with Classics I knew I didn't have to choose just one of those areas of study. Oddly enough I didn't realize at the time how much I loved language; like many undergraduates I've seen over the years, I didn't realize that how much I enjoyed a linguistics class during my first year might be a clue to finding my vocation. Ultimately, what I find most fascinating - and rewarding - about the discipline is getting into the minds of some of the most brilliant and sophisticated people who have ever lived. And I love the challenge of the discipline too - Classics truly offers a lifetime's worth of learning!
I received my B.A. in Classics from the University of Texas (1986), my M.A. from the University of Georgia (1991), and my Ph.D. in Classics with Emphasis in History from the University of Cincinnati (1999). During my Ph.D. work at Cincinnati I participated in the summer program of the American Academy at Rome.
I began my teaching career at Marist School in Atlanta, Georgia, immediately after receiving my B.A. I taught Latin (and occasionally Greek) throughout my graduate studies. My first full-time college teaching position was at Auburn University (1998-2000), and after Auburn I taught at the Utah State (2000-2001) and the University of Oregon (2001-2002) before coming to Augustana in 2002.
I discovered my fascination with History as a literary genre during my Master's studies, and my thesis explored the literary influence of the Roman historian Sallust on the later historian Tacitus' first historical work. My dissertation was a general examination of the historiography of the Roman historian Velleius Paterculus, our only contemporary historical source for the early Roman Empire. Most of my research has explored the ways our understanding of how ancient histories were written impacts our understanding of the history of both the Greeks and Romans. In accordance with the reason I went into Classics in the first place, other recent research projects have delved into Archaeology (Roman glass), Art History (Raphael's School of Athens), and Philosophy (Plato).
Specializations: Ancient philosophy, Greek, Latin, Ancient historiography
Education
B.A., Texas
M.A., Georgia
Ph.D., Cincinnati