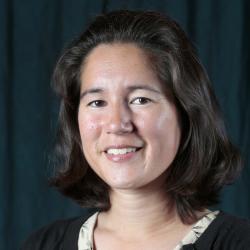 Emma Lincoln
Instructor and Special Collections Librarian
Holding both a Master of Science in Information Studies degree and a Certificate of Advanced Study in Preservation Administration, Emma Lincoln's specialization is in the preservation and conservation of library and archives materials.  
Pre-program experiences at the National Archives and Records Administration and the Smithsonian Institution's Archives of American Art and early career opportunities in the preservation departments of the University of Illinois at Urbana-Champaign Library and the Library of Congress all helped her to cultivate a deep commitment to the preservation of the cultural record.
Her career took a sharp turn in 2010 when she left librarianship to start a small-scale, diversified, pasture-based farm with her husband. Before coming to Augustana, she spent six years raising chickens, ducks, sheep, pigs and cattle on a small farm in rural Livingston County, Ill. While farming, she also worked part-time as a reference librarian at the University of St. Francis in Joliet, Ill. 
She currently serves as the Special Collections Librarian at Thomas Tredway Library, overseeing the college's archives and rare book collections. Lincoln was born and raised in the Washington, D.C., area. Her husband, Kiyoshi Mino, is originally from Chicago. He is a fiber artist who creates sculptures out of wool using the technique of needle felting.
Specializations: Library
Education
B.A., Asian Languages and Civilizations, Amherst College
M.S.I.S. and C.A.S., Preservation Administration, University of Texas at Austin