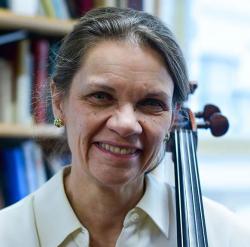 Janina Ehrlich
Professor, Cello, Music History
Janina Ehrlich is professor of cello and music history at Augustana College where she has taught since 1979.
Teaching is at the core of her life as a musician; guiding students to higher levels of expression is her greatest passion. In her music history course, Dr. Ehrlich introduces students to the glories of Western music; in her J-term course ("From Ashes to Immortality: The Arts and the Holocaust") she encourages students to ask challenging questions about the arts, their own humanity, and the need for empathy and goodness as they live their lives.
An active performing schedule allows Dr. Ehrlich to explore the vast cello repertoire. Projects have included John Tavener's "The Protecting Veil" as soloist with the Augustana Symphony and, with faculty pianist Charles Schmidt, a program of music by Jewish composers. Her current research project is titled "Cello Repertoire by Jewish Composers: An Annotated Bibliography".
Preparing future teachers is a primary concern in the string area at Augustana College. Dr. Ehrlich lends expertise to this mission by mentoring her cello teaching assistants and their pre-college cello students, as well as maintaining a pre-college class of her own. Her music majors move on to important public school teaching positions or graduate schools; many of her non-majors teach and perform in regional orchestras all over the US. Even more important, many former students have encouraged their children to play cello.
For 15 years, Dr. Ehrlich was the music director and teacher recruiter at the SBC Music Academy, a non-profit academy that provides music lessons to children from the economically challenged families in the Quad Cities. During that tenure, more than 70 Augustana College students volunteered their time to teach instrumental and vocal lessons.
Dr. Ehrlich is the founder and faculty advisor to the Augustana student ASTA chapter. She also served as president and secretary for the Illinois chapter of the American String Teachers Association. From 1998 to 2000, she organized the first IL-ASTA Teacher Enrichment Workshops which continue to this day. In 1999, was presented with the state's Distinguished Service Award and in 2020 with the Outstanding Studio Teacher Award.
Since 2015, Dr. Ehrlich has served as the Director of the Center for the Study of Judaism and Jewish Culture and the faculty advisor to the Augustana Hillel chapter. Generous endowments have facilitated these organizations to grow, offering scholarships to Jewish students, bringing scholarly and musical programs to campus, and offering a student competition "Responses to the Holocaust."
 
Specializations: Chamber music, Music history, Cello
Education
B.M., Drake
M.M., Indiana
D.M.A., Iowa