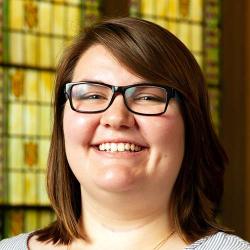 Jennifer Darby
Admissions Counselor
Hometown: East Moline, IL 

Current Town: Rock Island, IL 

College attended: Augustana College

Major:  Business Administration with a Concentration in Management and Spanish for Professional Use

What do you most love to tell prospective students about Augustana? 
I love sharing all about the many opportunities Augustana students have to grow and develop not only a resume, but their vocation. Augustana offers the perfect balance of time to focus on your major areas of study while also leaving plenty of time to explore groups on campus that might not be related to your major, like Viking Pups or Quidditch. 

What's great about the Quad Cities?  
Most definitely the size. While the QCA is not a large as Chicago, it's not small either. There are many large organizations here, like John Deere and the Rock Island Arsenal. Also, there is a wide variety of food choices and restaurants - anything ranging from a local breakfast stop to Thai and Indian can be found in the QC. 

Why did you decide to work in this field and/or at Augustana?  
Augustana was my home for four years during my undergraduate studies. Being able to serve at my Alma mater was my dream because I wanted to help foster and grow the Augustana community that I benefited from during my time here! 

What do you like to do around the community?  
I love exploring new events in the QC. It seems that there is always a new culture or music festival each year. This year, the Floreciente neighborhood created an event called "El Mercado on Fifth" which brought together local Hispanic vendors who sold a variety of goods and food items while live music played! Let me tell you, the tacos with carne asada and the elotes were out of this world! 

What is your favorite time/tradition of the Augustana school year?  
I love Augustana year-round. In the fall, the campus will start to change colors and we will have events like Welcome Week and Homecoming. Winter time brings a beautiful snow covered campus with our famous events like Christmas at Augustana and Christmas bingo (once you experience it, you'll get it). And in the spring the campus is begins it's regrowth and we host our Celebration of Learning, which is an event to showcase student research, and Commencement. 
Specializations: Admissions