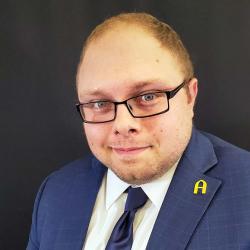 Joseph Giffen
Career Coach
Joe Giffen graduated with a master's of science in education (college counseling and student affairs) from Youngstown State University in June 2019.
During his graduate years, he worked as the veteran career liaison and was the graduate intern for the Office of Career and Academic Advising at YSU. 
Previously, he worked in college and professional sports within ticket operations and sales for seven years. His most recent athletic position was as the territory manager for Dixon Golf in Northeast Ohio and Western Pennsylvania, where he managed the sponsorship of more than 200 charity golf events.  
Originally from Boston, Giffen grew up in Toronto and Ohio. He enjoys traveling abroad, board and card games, and exploring his new city. 
Specializations: Careers, CORE
Education
B.A., Educational Leadership and Administration, Kent State
M.A., Student Counseling and Personnel Services, Youngstown State