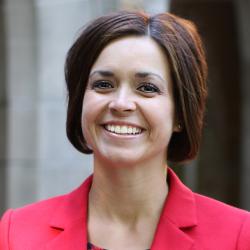 Karen A. Dahlstrom
Executive Director of Admissions
Hometown:  Aledo, IL

Current town:  Moline, IL
College attended:  Augustana College
Major(s):  Business Administration, concentrations in Marketing and Finance  
What do you most love to tell prospective students about Augustana? I love to tell prospective students about the diverse opportunities to pursue (or discover) their passions at Augustana, both inside and outside of the classroom. I also love to share how friendly and welcoming our community is. Our students feel at home here and develop lifelong relationships. 
What's great about the Quad Cities? I would need a book to share everything I love about the Quad Cities! For our students, I think the greatest advantages are access to quality internships, affordable cost of living and outstanding recreational and entertainment activities.
Why did you decide to work in this field and/or at Augustana?  To put it simply, I love working with families. The college search is an exciting time, and I am honored to play a small role in helping students move into the next chapter of their lives.    
What advice do you have for students who are searching for the right college for them? Make time to visit, visit, visit!  Going to a college is the only way to truly understand if it fits your needs, so schedule visits to a variety of schools to see the differences (and similarities) that will help you make your choice.     
What do you like to do around the community? I enjoy a wide variety of things in the Quad Cities - minor league sporting events, outdoor concerts, Mississippi River bike paths, golf and local restaurants are some of my favorites! There is so much to do here! 
Do you do volunteer service in the community? Where?   I participate in various activities through United Way and Big Brothers Big Sisters. I also served as the 2015 chairperson of the American Heart Association's Go Red for Women luncheon. My favorite volunteer experience each year, however, is at the John Deere Classic PGA golf tournament which is held in the Quad Cities each summer.
Specializations: Admissions