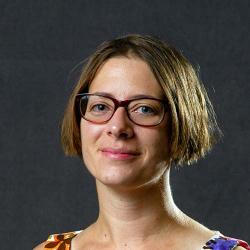 Kristina Kosnick
Assistant Professor of French
Kristina "Kiki" Kosnick teaches courses in French language and 20th- and 21st-century literatures and cultures of the French-speaking world.
She received her Ph.D. in French and Gender and Women's Studies from the University of Wisconsin-Madison, where she wrote a dissertation on performativity and presence in the autofictional work of Nina Bouraoui.
While in Madison, she also developed and facilitated multiple community-based projects focusing on life writing and LGBTQ identities.
Prior to joining the Augustana faculty, she taught for three years at Grinnell College.
Dr. Kosnick's research explores the relationship between narrative and linguistic innovation, trauma, and identity. Currently, she is writing an article on the various ways individuals and communities are advancing non-binary gender options in the French language.
She grew up in northern Michigan's Straits of Mackinac area, and she has lived and worked abroad in France and Switzerland.
Dr. Kosnick also serves as Augustana's LGBTQ+ Safe Zone coordinator. Contact her if you would like to contribute to this work.
Specializations: French, Language education, Francophone Literature , Queer Studies, Gender and feminist theory, Postcolonial literature
Education
B.A., French, Michigan State University
B.S., Physiology, Michigan State University
M.A., French, University of Wisconsin-Madison
Ph.D., French and Gender and Women's Studies, University of Wisconsin-Madison