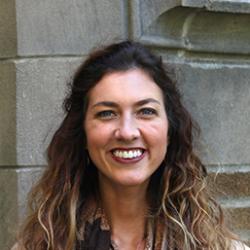 Madison Logan
Prof. Faculty, Instructor and Clinical Supervisor, Communication Sciences and Disorders
From the moment I was introduced to the world of CSD at my first visit to Augustana College, I knew what I wanted to pursue. Unlike others who knew from a young age that they wanted to be speech-language pathologists, I was not aware of its existence until Dr. Jakielski excitedly handed me a brochure that fateful morning at the Academic Fair. I knew in that moment what I would be majoring in the coming fall and have never looked back! 
Austrian philosopher, Ludwig Wittgenstein, states, "The limits of my language mean the limits of my world." The opportunity to enhance and empower others through expanding their speech and language abilities is a great privilege and responsibility. I am very grateful to be working in a field that promotes connection with others, and provides a lifetime of opportunities to learn and grow.
As an Augustana alum, I am excited to be returning in this new role. I was voted by my CSD graduating class as "most likely to return as a professor," so I suppose it was meant to be!
Before returning to campus, I provided one-on-one speech-language therapy to children on the autism spectrum at Cornerstone Autism Center in West Lafayette, Ind. I have a passion for this population and am excited to continue working with these individuals here at Augustana.
As a Quad Cities native, I am also happy to be returning to my hometown surrounded by family and friends. In my free time, I enjoy spending quality time with loved ones, staying active, making music, serving in my local church, and traveling.
Specializations: Child language, Autism spectrum disorders
Education
B.A., Communication Sciences and Disorders and Psychology, Augustana College
M.S., Speech Language Hearing Sciences, Purdue University