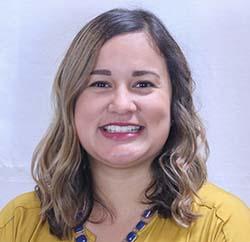 Maira Rodriguez
Associate Director of Admissions, Chicago Region
Make an appointment with Maira
Hometown: Mundelein, Ill.
Current town: Grayslake, Ill.
College attended: St. Norbert College; Marquette University
Degree: Bachelor of arts, St. Norbert College; M.Ed., Marquette University
Majors: Spanish and sociology with a concentration in human services
Q: What did you do before Augustana?
A: Prior to working at Augustana, I worked at Marquette University in the Office of Undergraduate Admissions and recruited students from the Chicagoland area. 
Q: Why did you decide to work in this field and/or at Augustana?
A: As a first-generation student, I found the admissions process to be overwhelming. Although my parents were very supportive and encouraged me to pursue higher education, they did not know where to start since they never applied to institutions. I am incredibly thankful for the college admission professionals I encountered during my search process who answered all my questions.
Because of my personal experiences, I decided to work in admissions. I have also found admissions work to be enjoyable because I thrive in a fast-paced environment where attention to detail and optimism are a must. 
I chose to work at Augustana because I believe in this community and their mission to serve students. Although I did not attend Augustana as a student, I feel like my experience is very similar to an Augie graduate's undergraduate experience. I attended a small, private liberal arts and sciences institution where I was able to pursue academic excellence and be an athlete at the same time. I love that students are able to find balance and continue their passions at Augustana.
Q: What do you enjoy most about your job?
A: Interacting with students and families! I have the most fun when I'm out on the road recruiting students and learning about their passions and dreams. I am committed to ensuring students' interests, ambitions, and goals are a good fit for Augustana. 
Q: What advice do you have for students who are searching for the right college for them?
A: Choose a school where you feel like you matter. Choose a school where you know you will grow professionally and personally. Choose a school that can provide you with unique opportunities. Choose a school that makes you happy.
Finding your "college fit" is NOT always easy when you have to think about academic fit, financial fit, and personal fit. Give yourself some grace when searching for the right college. You have phenomenal college admission professionals who want to help you every step of the way. Remember, we were once in your shoes!
 
Specializations: Admissions
Education
B.A., St. Norbert College, sociology and Spanish
M.Ed., Marquette University, student affairs in higher education