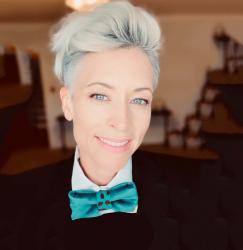 Michelle Wolff
Assistant Professor of Religion
Michelle Wolff was a 2016-2017 American Association of University Women (AAUW) dissertation fellow and completed a Ph.D. in Christian theology and ethics, certificate in College Teaching, and certificate in Feminist Studies at Duke University in 2017. 
Dr. Wolff teaches courses on ethics, religion, Christian theology, race, gender, and sexuality. South African born, and U.S. raised, Wolff was a first-generation college student (they/them pronouns).
Peer-reviewed publications:
Dr. Wolff's book manuscript, "Intersex scholar-priest and activist Sally Gross (1953-2014)," is currently under review. 
"A Diptych Reading of Christ's Transfiguration: Trans and Intersex Aesthetics Reveal Baptismal Identity," Theology & Sexuality, 2019, Vol. 25, No. 1-2, pp. 1-12 DOI: 10.1080/13558358.2019.1636173
"Karl Barth's Christology and Jan Christian Smuts' Human Rights Rhetoric," Stellenbosch Theological Journal, December Vol. 5, No. 1
"Madonna and Child of Soweto: Black Life Beyond Apartheid and Democracy," Political Theology, 2018, Vol 19, Issue 7, pp. 572-592 DOI: 10.1080/1462317X.2018.1450468
Courses:
Students enrolled in Christian Ethics 203 with Dr. Wolff work in small groups to produce creative projects based on one of the following womanist methods: radical subjectivity, traditional communalism, redemptive self-love, critical engagement, or appropriation and reciprocity. Informed by course readings, each group utilizes womanism to address contemporary concerns of race, gender, and class. 
Cece Vu and Thao Chu, Wolff's students, turned their class project into a book that is being published by Wipf&Stock titled: "Womanist Dictionary: Womanism as a Second Language" 
Students enrolled in Dr. Wolff's Sexual Ethics course (Religion 323) write papers about technology, intimacy, and the economic politics of sexual ethics. All papers engage the required reading for the course, and some papers focus on the films viewed during the course.
Students enrolled in Race, Ethnicity, & Religion 313 with Dr. Wolff historicize constructions of race and religion from the modern period to the present. In addition to reading theory, we engage in place learning by exploring the Quad Cities, visiting the Black Hawk Historical Site and Figge Art Museum, and mining Augustana College's Special Collections.
 
Education
B.A., Westmont College
M.T.S., Duke Divinity School
Ph.D., Duke University