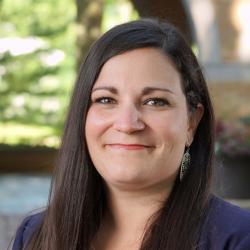 Rachel O'Connell
Assistant Director of Admissions, Chicago Region
Schedule a meeting with Rachel O.
Hometown: Orland Park, Ill.
Current town: Mokena, Ill. 
College attended: University of Iowa where I earned a bachelor of arts in communication studies, a minor in business and a certificate in entrepreneurial management 
What did you do before Augustana? 
After I graduated from the University of Iowa, I went to work in corporate America. I learned, very quickly, that it wasn't for me. So, I went back to what I knew and loved during college: working in the Office of Admissions. I held two jobs in Iowa's admissions office while I was a student and I loved every second of it. Which is why I have made admissions my chosen career since 2009. I have worked in admissions for three other institutions; Lewis University, Arizona State University and Missouri University of Science & Technology before joining Augustana in June of 2018.
Why did you decide to work in this field and/or at Augustana? 
Helping students find the perfect fit during their college search is so rewarding. I worked in Iowa's Office of Admission during my undergrad years and absolutely loved every aspect of the college search process. I had amazing admission counselors at Iowa who continue to serve as mentors to this day. Which is ironic because my dad used to drag me to college visits when I was in high school. Now, every student I meet I encourage them to visit campus to make sure the school they select feels like home. College is the best four years of your life where you'll make lifelong friends and have once-in-a-lifetime opportunities. It is so rewarding helping students into this chapter of their lives. 
I decided to come work at Augustana because it has a history in my family! My sister and brother-in-law met while students at Augustana and I always loved visiting her. The beautiful hills, scenery and opportunities for students make it an incredible place to work! 
What do you most love to tell prospective students about Augustana?
How welcoming this community is! Also, Augie Choice, which gives $2,000 to every student for an internship, research or study abroad experience. Take advantage of something like this!
What's great about the Quad Cities?
I really appreciate all that the Quad Cities has to offer! I love all of the local cuisine and am never bored eating out. Whitey's is a "must-visit" for anyone coming to campus. I was a bit skeptical, because there is a local ice cream shop near my hometown that always has a line out the door but, to my surprise, Whitey's was just as good, if not better!
I also think that the opportunities available to students within the Quad Cities is definitely something to note. The population is right around 400,000 and Augustana is the only liberal arts college in the area. So, the opportunities for students are incredible. Fortune 500 company to intern at? Check! Music and theater? Check! Adventure? Check! I truly feel like there is something for everyone.
What advice do you have for students who are searching for the right college?
Visit. And then visit again, if you can. Most people don't buy a car without taking it for a test drive, so don't pick a college campus without visiting. Sit in on a class, try the food, talk to students and the faculty. Make sure this is going to be a place YOU can call home and feel comfortable in for the next four years.
Specializations: Admissions