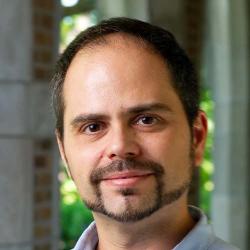 Rafael Medina
Assistant Professor of Biology
I am a botanist interested in the exploration, description, and conservation of biodiversity, my own research is focused on bryophytes (mosses and allies).
I earned my Ph.D. at Universidad Autónoma de Madrid (Spain) working on the delimitation of new species within the genus Orthotrichum using a combined approach of classical taxonomy and molecular phylogenetics.
During my postdoctoral experience at the University of Connecticut, I used next generation sequencing to clarify the evolutionary history of the family Funariaceae and trained several students in their early research experiences.
Science communication is another of my drives. I am associate editor of Principia, a popular science website and journal in Spanish. This project is possible thanks to a multidisciplinary team of scientists and creatives that integrate rigorous texts with original artwork.
At Augustana, my objectives are to develop in my students an understanding and appreciation for biodiversity and a citizen responsibility for environmental issues. I work with them to exercise their critical thinking and a scientific worldview.
Currently, I am interested in the role and consequences of genome duplications in the emergence of new species. This project will use living cultures of mosses as models. I am also interested in the moss flora of the Driftless Area and the digitization and imaging of the herbarium of Augustana.
Specializations: Botany, Bryophytes, Taxonomy, Phylogenetics, Phylogenomics
Education
B. Sc. M.Sc. Ph.D. Universidad Autónoma de Madrid