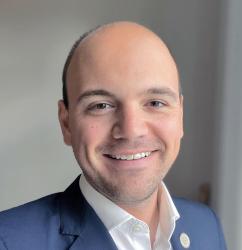 Samuel F. Schlouch
Assistant Vice President of Institutional Advancement – Chicagoland and Director of Planned Giving
Sam Schlouch has served as Assistant Vice President of Institutional Advancement – Chicagoland and Director of Planned Giving since 2020. His primary duties include engaging with alumni and donors in the Chicagoland region and several other key markets around the country and working with donors who have included Augustana in their estate plans.
Schlouch graduated from Augustana College, Rock Island, in 2010 with a bachelor's degree in accounting and business administration-management.
Upon graduating from Augustana, he worked in the marketing department at Mississippi Valley Regional Blood Center, Davenport, Iowa, where he launched the blood center's social media presence and oversaw the organization's fund development efforts.
Schlouch returned to Augustana as manager of arts events and communication in early 2012. Some of his major projects included producing music department events, including the college's Celebration of Christmas and band and choir tours. He led communication and marketing efforts and events for Augustana Arts and assisted with the greater public relations and communication work of the college. 
In 2014, he was appointed director of public relations, when he started to lead the media relations work of the college as well as the office of performance hall management, ticket office and ensemble tours. Schlouch was named senior communication director in 2016, adding social media and campus scheduling and events to his portfolio of responsibility.
Schlouch moved to Augustana's advancement team in 2017 as major gift officer. He was recognized for his service to the college as a Jaeke Award recipient in 2020.
Specializations: Advancement