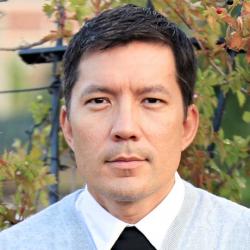 Taido Chino
Conrad J. Bergendoff Visiting Fellow in Religion
After completing his studies at the University of Aberdeen, Dr. Taido Chino was awarded a teaching fellowship at the University of Tübingen in its Institute for Hermeneutics and Cultural Dialogue.
His research interests span a range of topics related to modern Protestant theology, including theological anthropology, theology's interdisciplinary engagements, contextual theology, neo-orthodoxy, and the doctrine of scripture.
Dr. Chino's published work can be found in the International Journal of Systematic Theology, the International Journal of Philosophy and Theology, and the Neue Zeitschrift für Systematische Theologie und Religionsphilosophie.
His doctoral thesis on the doctrine of scripture according to Barth and Warfield is contracted for publication with Legxington/Fortress Academic. Recent work on the 19th-century German philosopher Ludwig Feuerbach resulted in an invitation to contribute to the St. John's College Video Timeline Project.
Specializations: Theological anthropology, Contextual theology, Neo-orthodoxy, Doctrine of scripture
Education
B.A., Hendrix College
M.Div., Trinity International University
Th.M., Regent College
Ph.D., University of Aberdeen