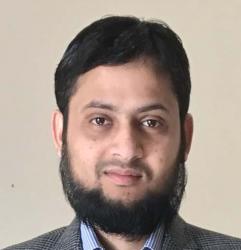 Tauheed Khan Mohd
Assistant Professor of Mathematics and Computer Science
Tauheed Khan Mohd worked for three years as software engineer in HCL Technologies, India, followed by four years at a French multinational company SOPRA.
He worked onsite for three months at AIRBUS in Toulouse, France, and managed its onboard application called Network Server System.
Mohd worked as a research assistant on an NSF-funded project called INITIATE, which helps attract high school students to STEM subjects.
His areas of research are human-computer interaction, multimodal input, autonomous vehicles, and micro-controller devices, including Arduino and Raspberry Pi.
Education
B.Tech., Computer Engineering, Jamia Millia Islamia
M.B.A., International Business, IIM Calcutta
M.S., The University of Toledo, Ohio
Ph.D., The University of Toledo, Ohio