September 2017
Summer news you may have missed…
… And looking ahead, some winter news
Slough update from Kirk Anderson '93, CFO and VP of finance
As students return from winter break in early January, everyone will see changes to one of Augustana's cherished landmarks, the Slough. From Dec. 15 through Jan. 7, construction crews will be busy removing excessive sludge from the bottom of the Slough and constructing retention areas along the pathway.
Later in the spring we also will install a new sidewalk with lighting. The retention area will extend from the base of the library to the Dahl bridge, while the new pathway and lighting will extend up to campus housing (Arbaugh).
During this timeframe, we ask you to be aware of a couple items. First, the biology department will be working in and around the Slough area over the next couple months to ensure the preservation of turtles. Second, the Slough will be partially to fully drained prior to Dec. 15 to ensure the top layer of sludge freezes (to ease the process of removal). Lastly, please do not enter the Slough and be mindful of the surrounding area as construction zones can increase the risk of unforeseen accidents.
A special thanks go to the Office of Advancement and more than 120 donors who made this opportunity possible through their Slough enhancement gifts this summer!
A change to the Messiah performance schedule 
The Handel Oratorio Society's Messiah will no longer be performed in December, but instead will be performed during the Easter season every few years. The next performance will be on Palm Sunday, March 25, 2018, in Centennial Hall.
There are a couple of major reasons for this change. First, the college's calendar change from trimesters to semesters, which will be in place by fall of 2019, impacts performance as well as academic schedules. In December, students will be on campus for one weekend only, during which they will perform Christmas at Augustana. This year's Christmas at Augustana performance will be Dec. 2 in Centennial Hall.
Choral director Jon Hurty notes the change will open up opportunities for students. "As an institution of higher education, providing students with variety in the choral repertoire is important from a pedagogical standpoint," he said. "I anticipate introducing students to a range of choral-orchestral works during the years when we perform works other than Messiah."
Dr. Hurty said that with the spring Messiah performances, patrons can look forward to hearing some beloved and well-known choruses, and sections on the Passion and Easter, which haven't been performed in many years.
Attendance has been stable at Messiah over the past 10 years, so he hopes patrons will make the adjustment to the Easter season, which many consider to be more appropriate for Messiah. Handel's oratorio was first performed in Dublin in April of 1742. At Augustana, records show that from 1881-1916, Messiah was almost exclusively performed in the spring.
Field Notes – Haley Kornfeind '19
Here are excerpts from the reflection Haley Kornfeind (biology, pre-med) sent to CORE after participating in the Joining in Education Through Service (JETS) health care program in Nicaragua this summer. Kornfeind worked with the Praxis clinic, and was particularly inspired by Dr. Solis, the doctor she assisted.
At the young age of five, I started telling people that I wanted to be a doctor when I grew up. Until traveling to Nicaragua though, I thought being a "doctor" only entailed helping a person with sickness or pain. After the experience of working with the Praxis group, I realized this occupation I had been striving to do required so much more.
The first day of clinic I asked strictly the questions on the pre-examination form for the patient and I wrote down in my notes for the day, "doctor asks a million questions but not on form → takes up time, could have more patients." It was day three of clinic that these questions hit home with me.
A little boy came in with bracelets on and Dr. Solis started asking questions in regards to them…. I thought, what a waste of time, just treat him already. When the patient left, Dr. Solis explained what the bracelets meant and that they had been a part of that family's cultural beliefs. Beliefs that usually mean some type of herbal remedy was used to try and treat the patient. Dr. Solis told us that it was important to know what type of remedy was used because it potentially could have been something harmful or that he could tell the family to continue using so that they wouldn't have to go against their cultural beliefs and use medications.
This was a moment that I could clearly see the connection Dr. Solis made with his patients and supply their proper needs…. I had a major eye-opening moment knowing I had been selfish to not consider people's cultural backgrounds and differences. I had been selfish to not realize it means the world to patients when you ask about their lives and make them feel important. You should not make them feel as if they are just another source of your income.
I knew in that moment that I wanted to be a physician who knew details about the lives of her patients, not just I am here because "I fell off the monkey bars and broke my wrist." I want to create an environment where people feel welcome and can look up to me as more than just a doctor.
New Face on Campus – Dr. Kristina "Kiki" Kosnick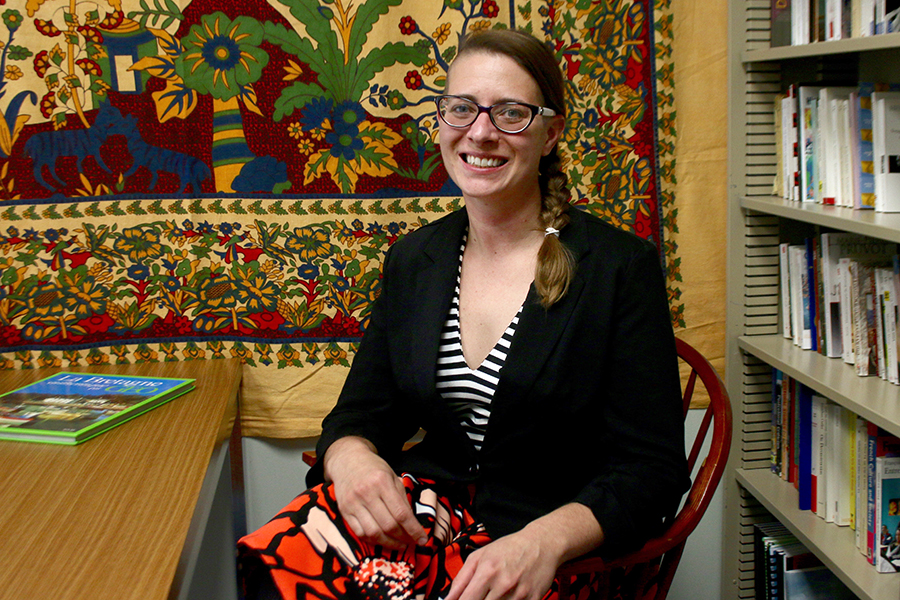 Kiki Kosnick, Assistant Professor of French
B.A., French, Michigan State University
B.S., Physiology, Michigan State University
M.A., French, University of Wisconsin-Madison
Ph.D., French and Gender and Women's Studies, University of Wisconsin-Madison
Kristina "Kiki" Kosnick is thrilled to be joining the Augustana faculty and Quad-Cities area. She looks forward to building strong relationships with her students through literature and community engagement. Most of Kiki's academic work focuses on contemporary literature of the French-speaking world and gender studies.
"I taught English in France for a year after college, and that really reeled me in," she said. "I enjoyed the exposure to cultural difference, other ways of thinking, and of course, the great food!"
Her interests have also inspired community outreach related to LGBTQ+ rights. "I watched difficult things happen to people I loved," Kiki explained. "There's a lot of hate and violence against queer, especially non-cis, people. My passion for reading and writing stems from the belief that narrative can be a useful tool for working through trauma and increasing awareness and connectedness across differences."
Enthralled by Augustana's Symposium Day, she hopes to challenge her classes with similar discussions of privilege and social justice. She also finds the college's urban location a unique opportunity for students to become active citizens.
"Asking questions about identity, vulnerability and oppression is a great start to social change," she said. "Overall, Augustana's mission to nurture the whole student really resonates with me."
In her spare time, she enjoys walking with her rescue dog, Bojangles, and visiting her partner, Amney, in Oshkosh, Wisconsin.
In the Works
Director of Human Resources Laura Ford authors a series of information and wisdom pertaining to employees of Augustana College.
As the academic year shifts into full swing, three exciting things are happening in the coming weeks:
A Day, Sept. 28. One of our favorite events of the year returns on Fall Symposium Day, Sept. 28. Please plan to join us for breakfast at 7:30 a.m. at the PepsiCo Recreation Center. We'll have some fun giveaways, hear about Kathy Jakelski's experiences living in Swanson Commons, and celebrate our service, Jaeke and perfect attendance award winners. We'll wrap no later than 9 a.m., giving faculty colleagues plenty of time to make the 9:15 a.m. advising sessions.
Family Fun at Knowlton, Oct. 7. Join us for lunch and festivities surrounding Vikings football and women's volleyball! Bring your family for lunch 12:30-2 p.m. in the west end zone during the Augustana vs. Illinois Wesleyan football game. We'll also have a bounce house, giveaways, and a punt, pass and kick competition at half-time. The women's volleyball match against Illinois Wesleyan begins at 2 p.m. in Carver. Your Augie ID gets you and your family into the football and volleyball events at no charge.
Performance engagement kicks off. All non-faculty employees will be invited to sessions to overview the college's performance engagement system. The first phase of goal-setting and appraisal category selection will take place until Oct. 16, followed by mid-year check-ins and annual evaluations.
A special thanks goes to Justin McDanel, who designed and built the system based on work completed by the rapid improvement team last spring.
From the Cabinet – President Steve Bahls
We are all students
As president of this college, some of my most rewarding moments are when I am not an administrator or an educator, but a student. And among those, many of my favorites result from those moments when my teachers are the students we are called to serve.
International students come to Augustana to learn, of course. But many also feel a strong impulse to teach us about their cultures. Danny Kim in the Office of International Student Life notes that these students strengthen the fabric of our campus community by adding the richness of their cultures to it, helping us see things differently, broadening the horizons of domestic students. And presidents, for that matter.
Consider Rachel Hecke, who is from Sao Paolo, Brazil. A Global Ambassador, Rachel chairs the Global Engagement team and works hard to create community from which we all benefit. Right now she's helping coordinate plans for Diwali, one of India's most important festivals. In other words, a Brazilian national is helping a Swedish-rooted middle American college embrace a predominantly Hindu celebration of light.
Then consider Shemal Sarma, who is from Sri Lanka. Although 9,000 miles from his home, Shemal is using his positions with Student Government Association and the Multicultural Program Board to advocate for his fellow college students who are currently in the United States under the Deferred Action for Childhood Arrivals (DACA) program. Should that work result in even one student at Augustana College being more securely a member of this campus community, it will have been immensely well worth the effort.
Danny Kim notes that international students challenge us in our inquiry: they make us think about other perspectives than those with which we're most comfortable. And they're also often excited to share their cultures with us. Augustana is very fortunate to be enriched by their presence.
Seen & Heard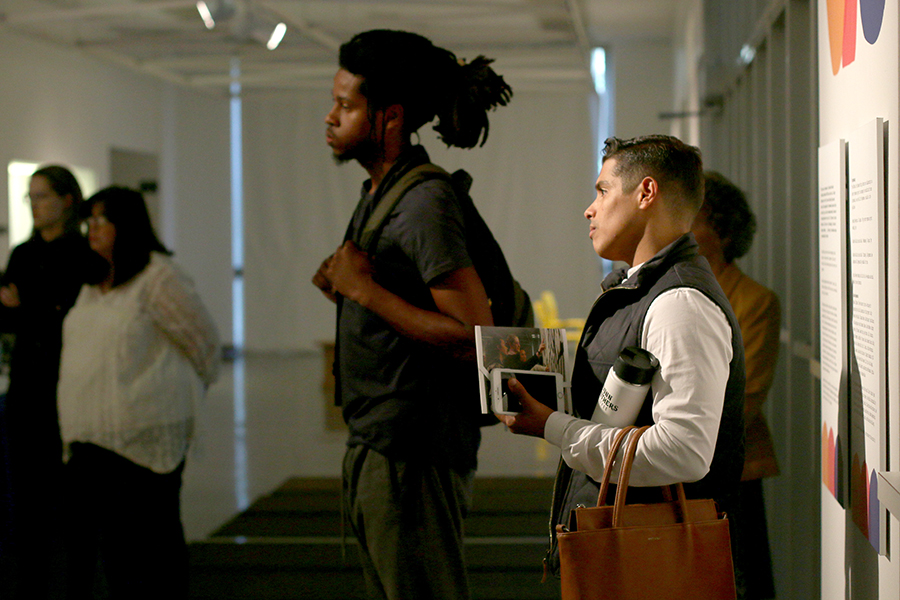 From "Bear Witness" by Mikaylo Kelly '20
White people. How do we bear witness?
White privilege has so many facets
Yet do we actively seek to see
more of them?
But how do we bear witness?
How do we desensitize ourselves to atrocities and injustice?
Thus how do they become our new norms?
How do we decompose our norms?
How do we revolutionize systems?
But how do we bear witness?
What makes you cry?
Acknowledge is published by the Office of Communication and Marketing at Augustana College in Rock Island, Illinois. Contact Beth Roberts, editor. Rachel Reiter '18, Augustana Writers Bureau, is the author of "New Face on Campus." Photos are by Marlisa Barrett '19 and Amanda Moore '18 of the Augustana Photo Bureau, and Paul Colletti.