Augustana Strong: Safely opening this fall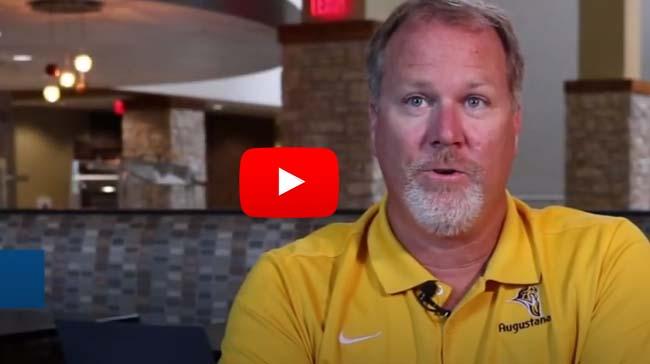 Augustana College classes are set to begin on campus Aug. 31, 2020.
Comprehensive plans for a safe reopening are being developed by the Augustana Strong Task Force.
Students, faculty and staff are asked to check their email for updates from the college. Official updates will come from covid19info@augustana.edu.
Students and families should note the following requirements to be met for those returning to campus for the fall 2020 semester. Some students will need to self-isolate at home for 14 days prior to coming to campus.
Students are encouraged to be tested for COVID-19, where possible, before they arrive at Augustana for the fall semester.
Surveillance testing will start with students who arrive early, and it will continue with the first week of classes and throughout the term. 
Here are details about distance learning options, how classes will operate, and answers to common questions.
Virtual appointments now are available at many campus offices. When possible, students and families should use this service instead of going into offices in person.
Academics
The academic calendar has been revised. Students now have the option not to return to campus after Thanksgiving.
Classes will be held on Labor Day, Sept. 7.
The college will hold classes the day before Thanksgiving, Nov. 25.
The week after Thanksgiving (Nov. 30-Dec. 4) will be a study week for students in semester-long courses.
All classes will meet online only the week after Thanksgiving. Finals (Dec. 7-11) can be completed from a distance.
Residential Life and Dining Services
News
• Navigating campus: Students, faculty and visitors on campus for the fall 2020 semester will see directions and signs on how to keep a safe distance indoors and out.
• Graduation for the classes of 2020 and 2021 will be held May 23, 2021.
• The Augustana Convenient Care will open Aug. 31 in Baldur House near the Gerber Center. 
Information for visitors
• Masks are required in all common areas of campus.
• All visitors and employees  on campus are required to participate in a daily screening. Visit the Office of Public Safety in Sorensen Hall for an in-person screening, unless otherwise directed.
• Most buildings will remain closed until Aug. 1.
• Outside visitors will not be allowed in residence halls during the fall semester with the exception of move-in and move-out day. 
Notification
The college will not automatically send a campus notice if a student or employee is diagnosed with COVID-19.
Augustana will provide information as required by legal and health authorities, and will work closely with the Rock Island County Health Department..