Timely reminders from the Augustana Strong Task Force:
→ Keep your friend group small. While group gatherings can be no larger than 10 people, if you are socializing with many different small groups, you can have daily contact with far more than 10 people.
Even in small groups, the more people you socialize with and dine with, the more likely you are to be at risk for COVID-19 exposure or transmission. Keeping your circle of friends small can help limit your exposure and/or your ability to spread the virus to others if you are asymptomatic. 
→ Use the CampusClear health screening app daily. All Augustana students, faculty and staff are required to use the CampusClear health screening daily. 
→ If you are experiencing symptoms, call your doctor. If the doctor thinks you may have COVID-19, contact Public Safety immediately at 309-794-7711. Notifying Public Safety early allows the college's contact tracing to commence more quickly, reducing community exposure. 
Students asked to stay on campus as much as possible until Sept. 28
(Complete list of new requirements)
Student are asked to stay on campus, as much as possible, until Sept. 28. 
Students can go to restaurants and other public venues only where there are outdoor spaces (and only use those outdoor spaces), while at the same time following the college's masking and physical-distancing requirements.  
The college has added a restriction on students going to The District of downtown Rock Island, because bars there have not shared plans to adequately address the spread of COVID-19. 
Students living on campus may leave to visit family but should not visit domestic hot spots or violate other Augustana COVID-response efforts. This means to continue physical distancing, masking, and complying with the Illinois size gathering limit of 50 (whether in Illinois or other states). 
Limit on student gatherings
Student gatherings not sponsored or approved by the college — whether on or off campus — will be limited to 10 people or fewer.
The restriction applies to gatherings with friends, fellow students and families. All gatherings will require physical distancing and masks.
• • • 
The college is operating under the COVID-19 mitigation plans of the Augustana Strong Task Force.
The college will operate under one of four alert levels:
Level 1 Low Alert/New Normal
Level 2 Moderate Alert
Level 3 High Alert
Level 4 Very High Alert
Movement between these alert levels will be guided by the a number of factors, including the positivity rate on campus and in Rock Island County. Currently, the college is operating at Level 2. (See Augustana College COVID Alert Levels)
Augustana's COVID-19 Testing Dashboard will be updated every Monday.
• Students, faculty and staff are asked to check their email for updates from the college. Official updates will come from covid19info@augustana.edu.
• In addition to seeking medical advice, students who have COVID symptoms, or test positive for COVID-19, or learn that they have been exposed to someone who tested positive, should immediately contact Augustana Public Safety. Call 309-794-7711.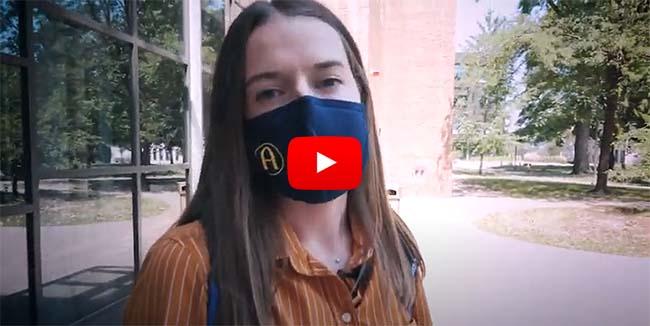 Academics
The academic calendar has been revised. Students now have the option not to return to campus after Thanksgiving.
Classes will be held on Labor Day, Sept. 7.
The college will hold classes the day before Thanksgiving, Nov. 25.
The week after Thanksgiving (Nov. 30-Dec. 4) will be a study week for students in semester-long courses.
All classes will meet online only the week after Thanksgiving. Finals (Dec. 7-11) can be completed from a distance.
Residential Life and Dining Services
Information for visitors
• Masks are required in all common areas of campus.
• All visitors and employees  on campus are required to participate in a daily screening. Visit the Office of Public Safety in Sorensen Hall for an in-person screening, unless otherwise directed.
• Outside visitors will not be allowed in residence halls during the fall semester.
Notification
The college will not automatically send a campus notice if a student or employee is diagnosed with COVID-19.
Augustana will provide information as required by legal and health authorities, and will work closely with the Rock Island County Health Department.