Interlay by Marcos Valella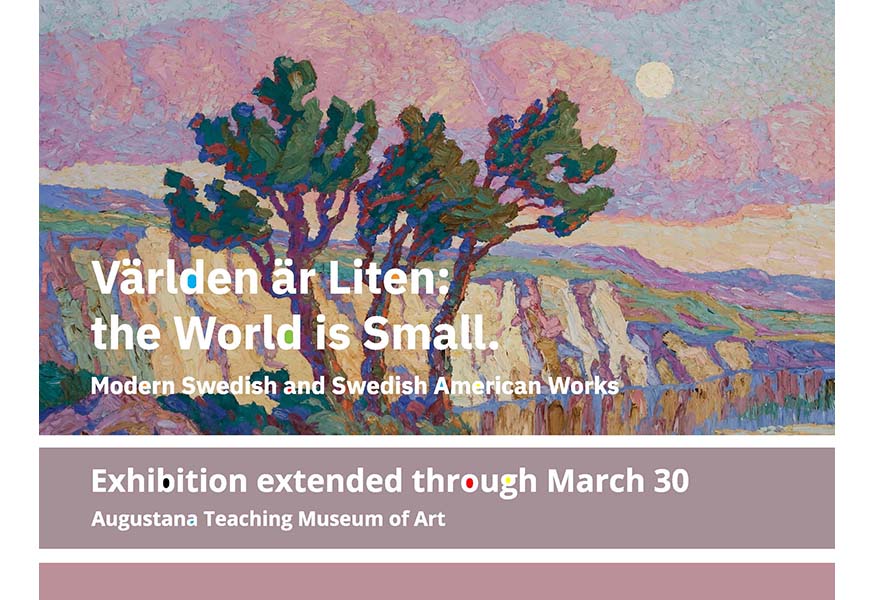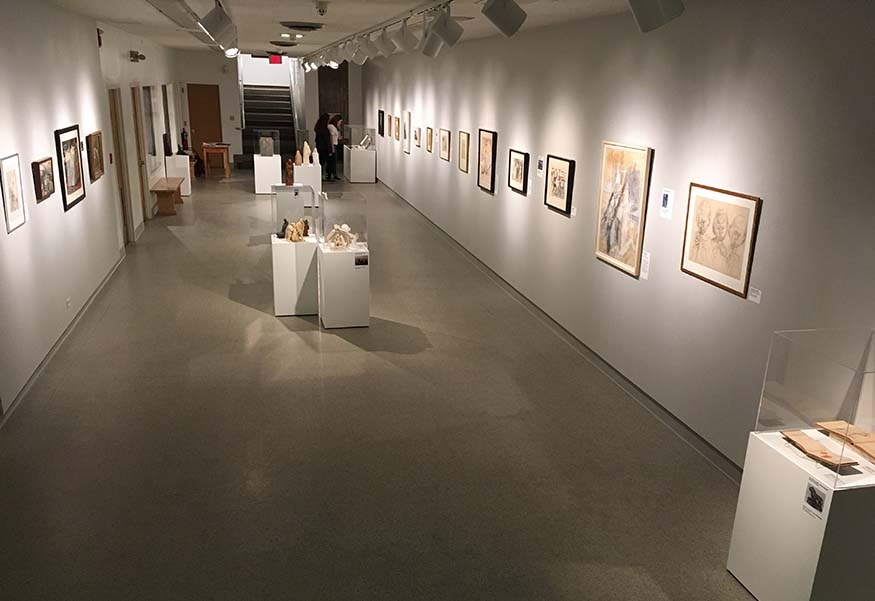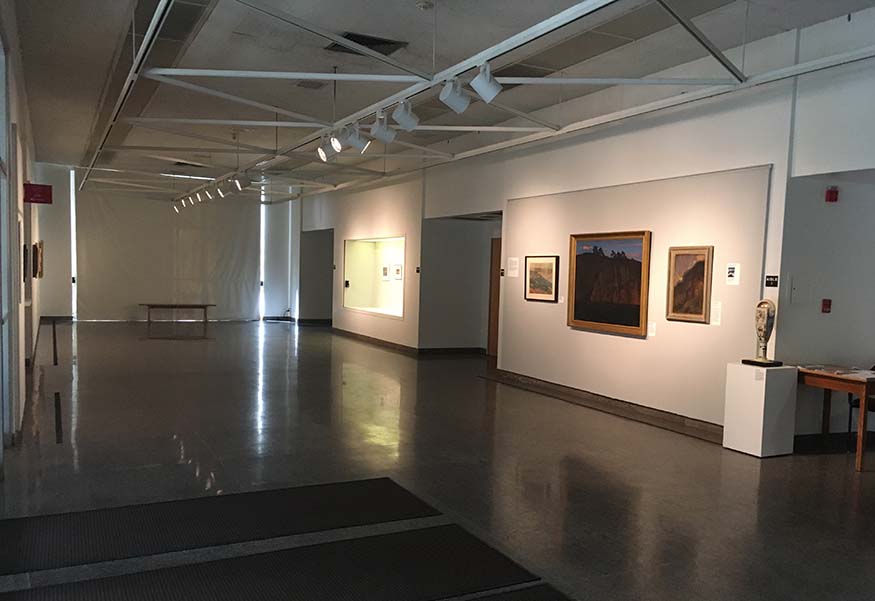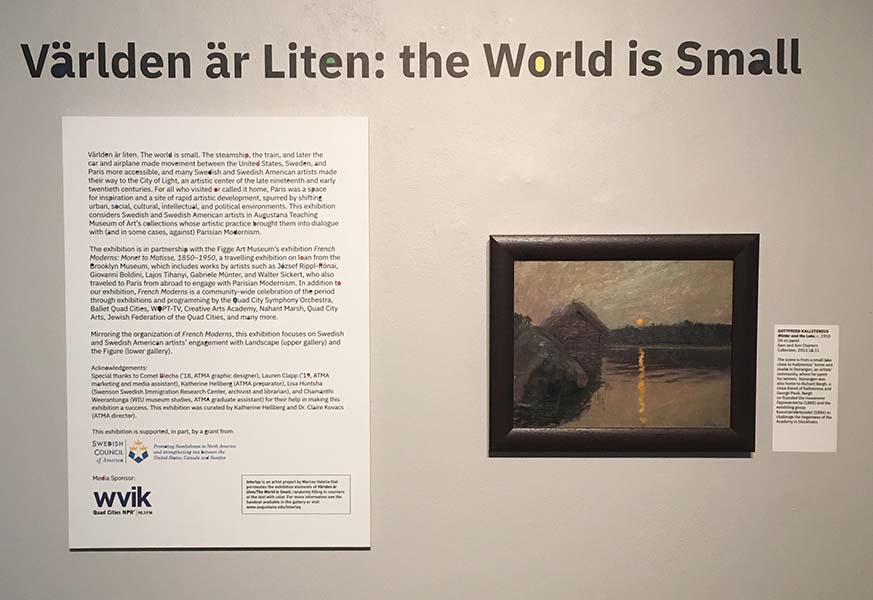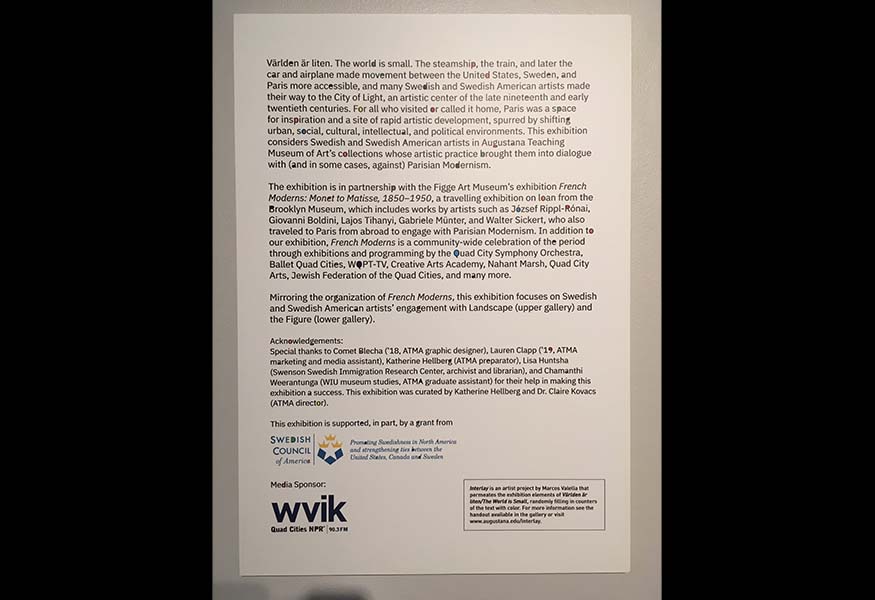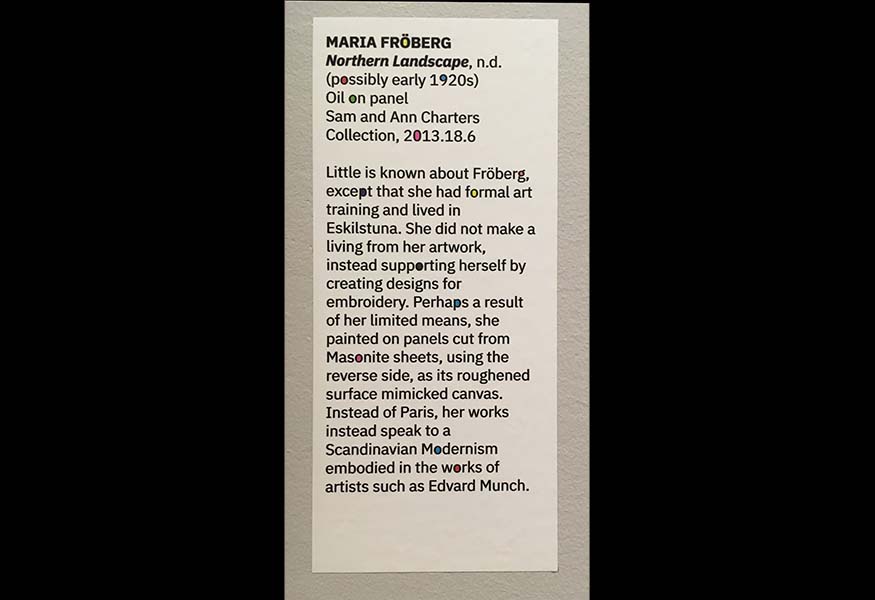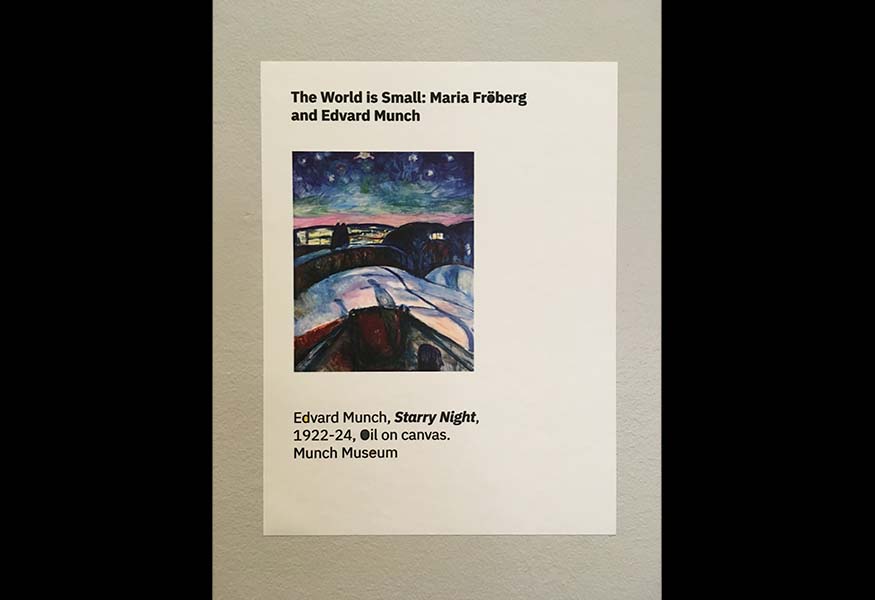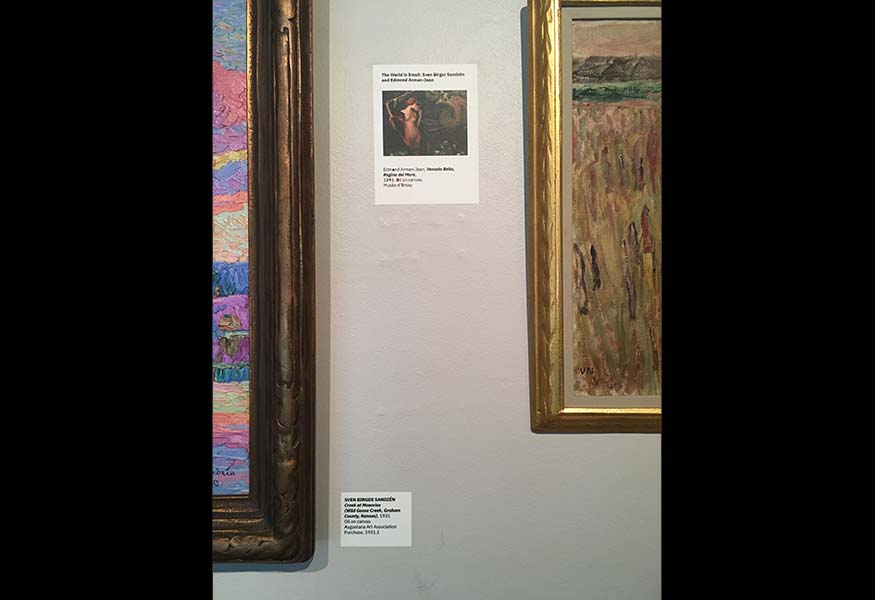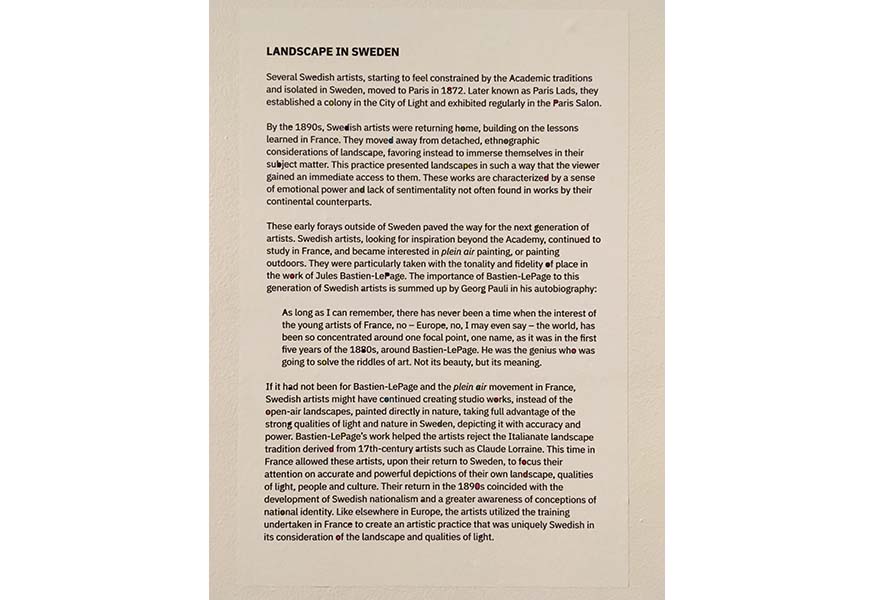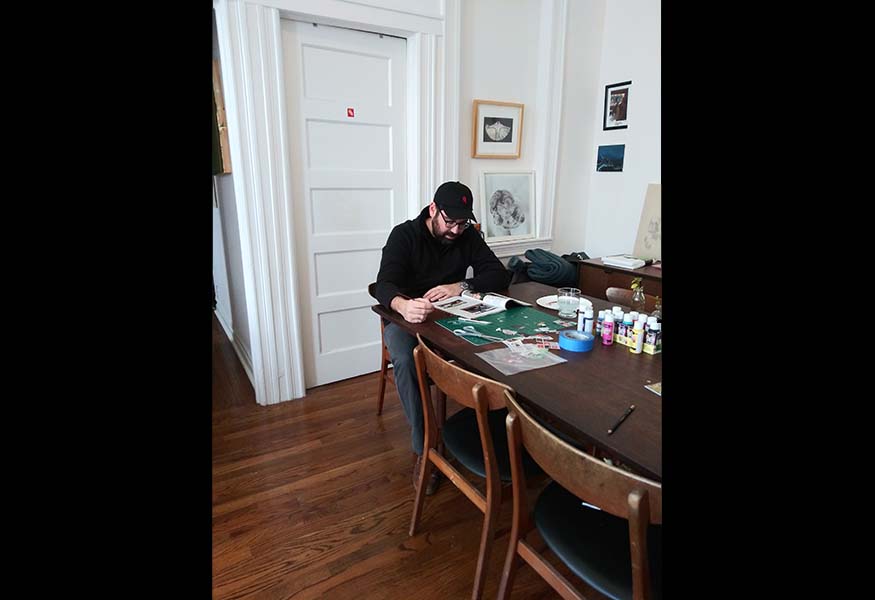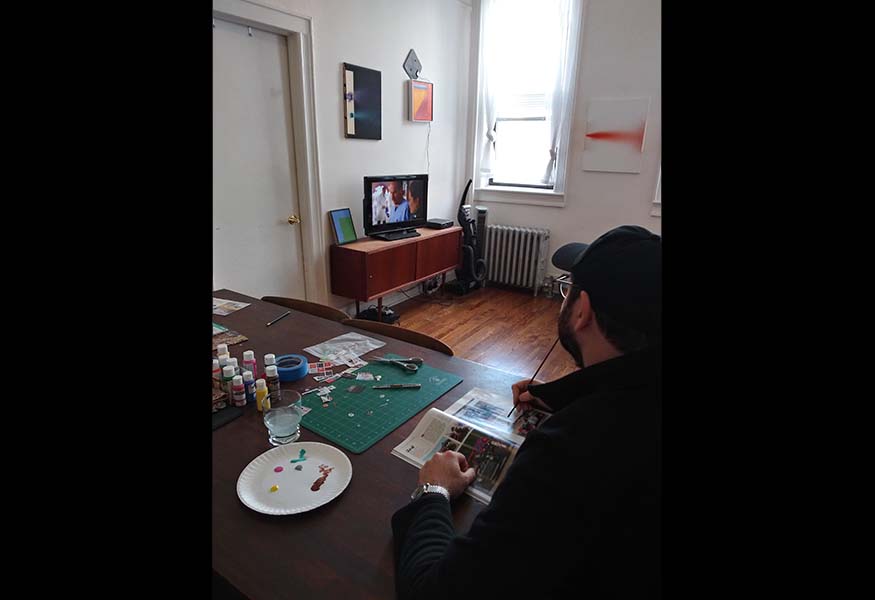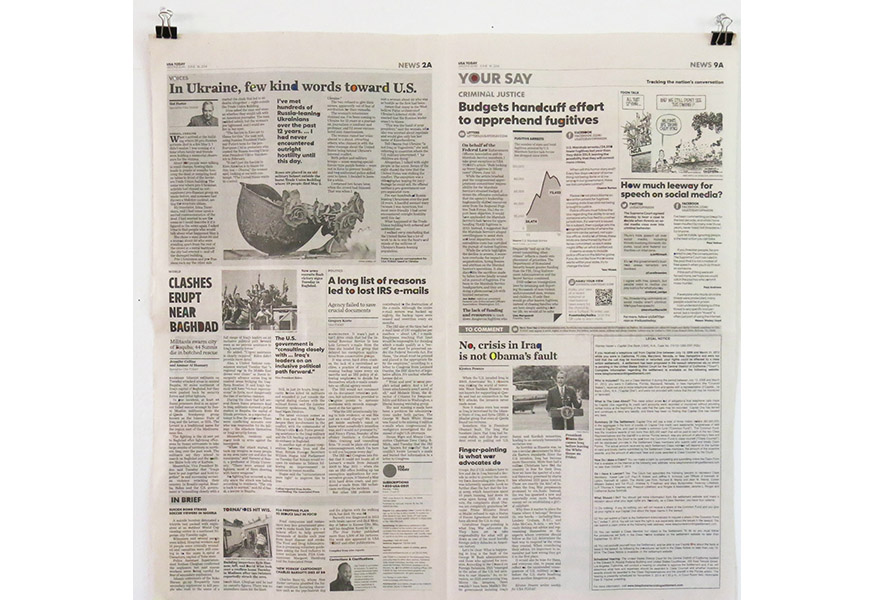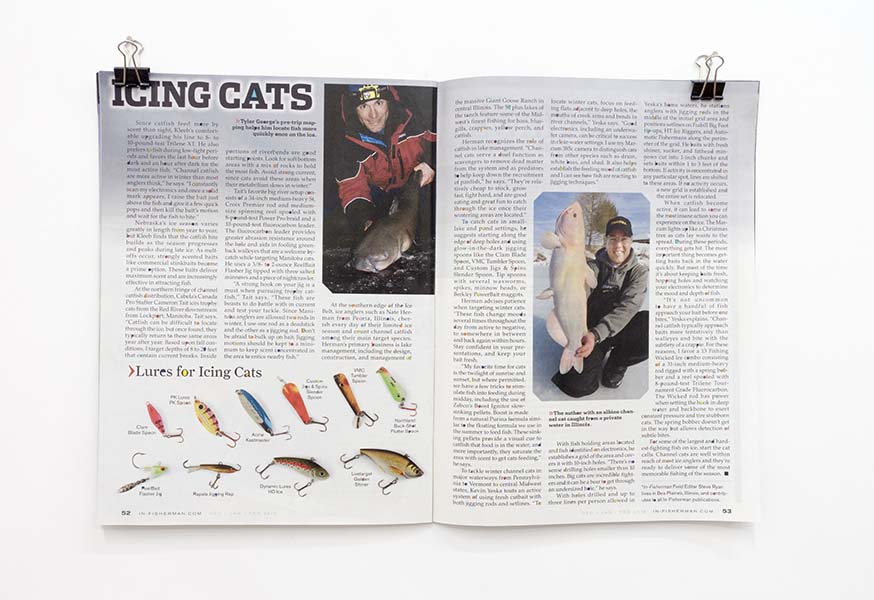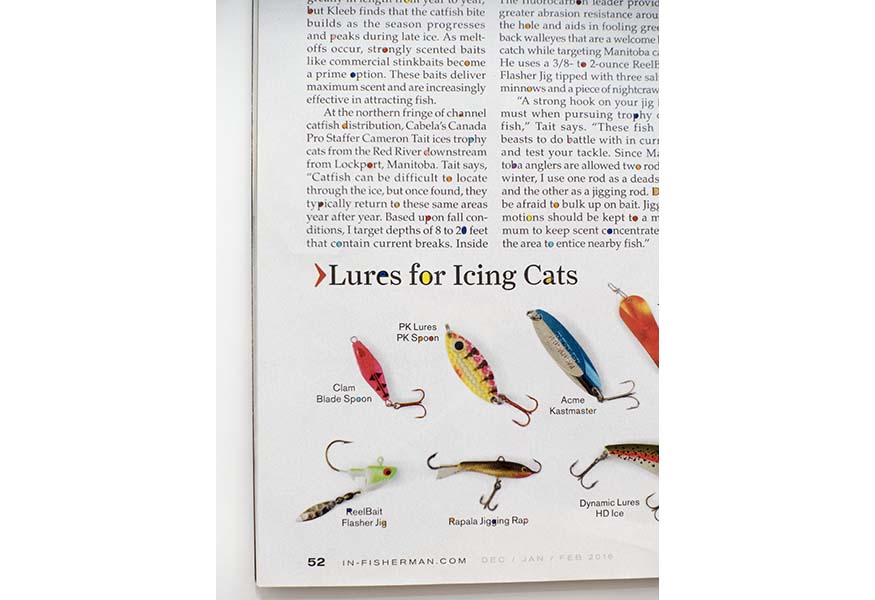 Currently on view in the Augustana Teaching Museum of Art's Centennial Hall galleries is Världen är liten/The World is Small, an exhibition that consists of modern landscapes and figural works created by Swedish and Swedish-American artists in dialogue with Parisian Modernism between the years of 1850-1950, including works by Birger Sandzén, Anders Zorn, Maria Fröberg, and Charles Haag. Contemporary artist Marcos Valella's project Interlay interrupts the viewer's experience of the gallery space by infusing some of the counters — the area of a letter that is entirely enclosed by a letter form — with color. A filter of colored counters is interlaid over all of the exhibition text labels, wall didactics, interpretive text, posters, and all related digital materials. 
Interlay is the most recent iteration of a series of Valella's investigations around the idea of merely occupying a space of painting.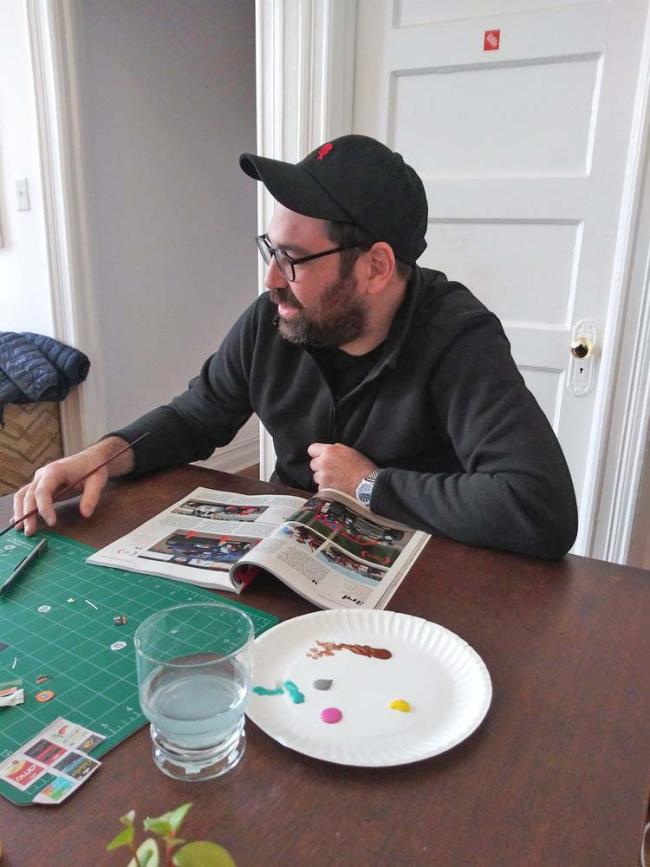 Some mornings begin with a cup of coffee and a newspaper in front of the television. "Sometimes I read the newspaper; sometimes I just watch TV, and sometimes, I fill in the counters of letters in the newspaper with different color paint."
In painting, the idea of choosing a color and placing it on a surface invokes the question of where on the surface to place it. You can either let the process of repeatedly placing marks on the surface determine the structure, or you can start off with a grid such as a newspaper, a magazine, or a page of text: a ready-made grid and graphic. The counters of the letters can be used as this framework. 
This space functions as both proof of labor, as well as the occupation of painting. With no implication of where you put what color, all you are left with is a series of actions upon a graphic ground. Modernism has set up a situation where one can merely just occupy that space. In which no one is wrong and nothing can be affirmed. Full of hypocrisy, meaning can be applied freely between the object and its story. 
Interlay is a 'virus like' action that turns this occupation into a distribution — the 'information of the exhibition' turns into an artwork. A digital filter is placed over all the information, making it flexible, instantaneous, reproducible — a network. The digital form is instantaneously distributed onto the host (i.e. the exhibition). Its state shifts from a grid to a network. Its form is subverted by flux. 
This creates a parallel situation where objects coexist within the same context as this distribution. Take, for example, Maria Fröberg's painting Northern Landscape, where the label text's counters are randomly colored in. The work's individuality is forced to synchronize to the larger context of the project. Labels tend to divorce and individualize the work from the others. But in this case, the painting in a museum context is the occupation, and one of its byproducts is its label onto which Interlay attaches itself. 
This project attempts to see what happens when you turn the occupation of a space of painting into a distributed network. It moves from occupying a physical and historical grid within the Modernist art canon, to a unresolved, open-ended, conceptual space devoid of a discrete physical form.
Biography
Marcos Valella lives and works between New York City and Miami. He received a Master's of Fine Arts in Painting and Drawing from The University of Iowa and a Bachelor's in Fine Arts in Visual Arts from Florida International University. He is the recipient of a Here and There Grant, Bass Museum of Art, Miami Beach; a SOMA Artist in Residence, Mexico City; and a participant in the Dialogues in Cuban Art exchange. His exhibitions include While watching T.V., Windows @ Walgreens, ArtCenter/South Florida, Miami Beach; framekini, Bikini Wax, Mexico City; Grid's World, Locust Projects, Miami; Fish Scales, Michael Jon Gallery, Miami; Practices Remain, Regina Rex, New York; Marcos Valella, Nina Johnson Gallery, Miami; Series 5, Dimensions Variable, Miami; New Work Miami, Miami Art Museum, Miami; Paintings and Palettes, Farside Gallery, Miami; Present, Centro Cultural Español, Miami; and Painting's Edge, Riverside Art Museum, Riverside, CA. Valella's work is in various collections, including the Pérez Art Museum Miami, Nova Southeastern University Art Museum Fort Lauderdale,  and the Patricia and Phillip Frost Art Museum at Florida International University. He is the creator of Daniel Marban Gallery and one of the organizers of The Nightclub and Fall Semester. He has been included in various publications such as Artforum, The New Yorker, The Miami New Times, The Miami Herald, The Miami Rail, and Time Out New York.
See more of his work at his website: www.marcosvalella.com.
Acknowledgements
Valella would like to thank Comet Blecha, graphic designer of the Augustana Teaching Museum of Art, and Claire Kovacs, museum director, for their help in making Interlay a reality. The project is supported, in part, by a grant from the Augustana Institute for Leadership and Service.