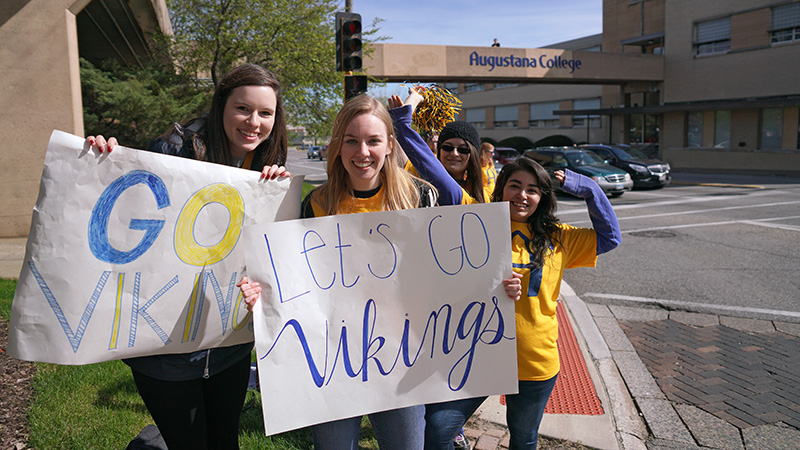 Blog
So you're coming to It Begins with A. . .
Originally published 4/12/2019. Edited 3/10/2020
First off, let me just say WOOHOO! I am so excited you're coming to one of Augustana's biggest visit days of the year.
I hope you're just as excited to come to our campus as we are to have you. Here's what you should expect during this super awesome event, from start to finish.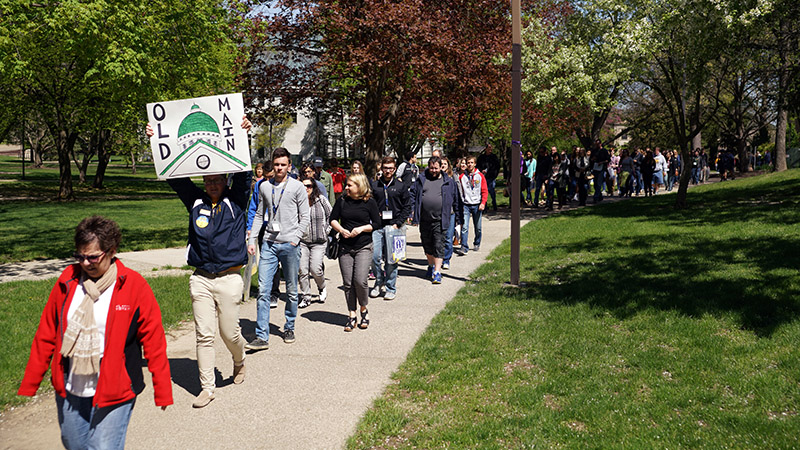 9 a.m. Optional tours
If you want to, you can start your day by taking a campus tour with some of our amazing tour guides. We have two types of tours you can choose from.
1. The full tour
Here's where you'll get to see all of our beautiful campus -- including many of our academic buildings and one of our first year residence halls. This is a great option for anyone who hasn't had a tour of Augustana yet, or anyone who wants a second (or third!) look at everything we have to offer.
2. The residence hall tour
This is the perfect option for those of you who have already been on a full tour, but want to check out your potential living spaces just one more time. 
Tours will begin right at 9 a.m., so plan to be on campus early if you want to take one. If you've already been on campus and don't want another tour, feel free to sleep in and join us on campus at 10 a.m. for check-in.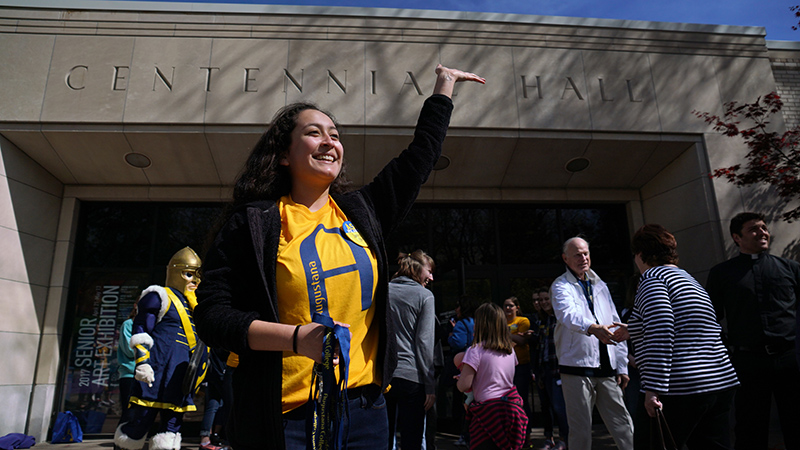 10 a.m. - Check-in
Check-in at Centennial Hall from 10 - 10:30 a.m.. Make sure you have your QR Code ready on your phone when you get there.
Head into the auditorium when you arrive. We'll have Augustana student groups performing and live trivia with chances to win prizes!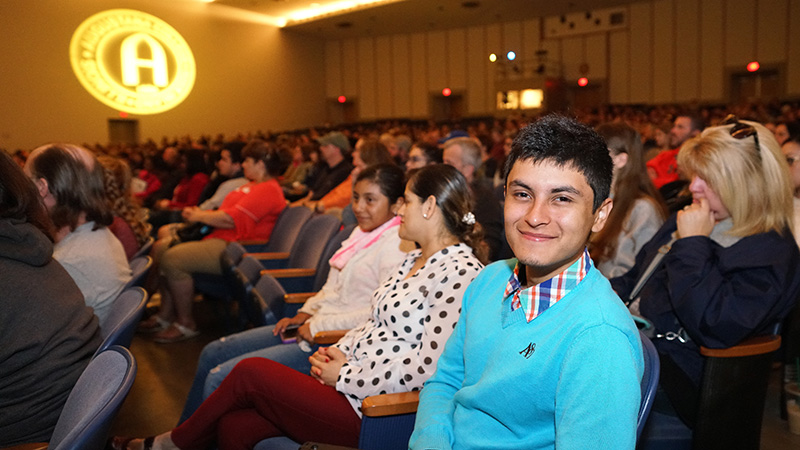 10:30 a.m. - Welcome address
Hear from the Executive Director of Admissions about what to expect from the day.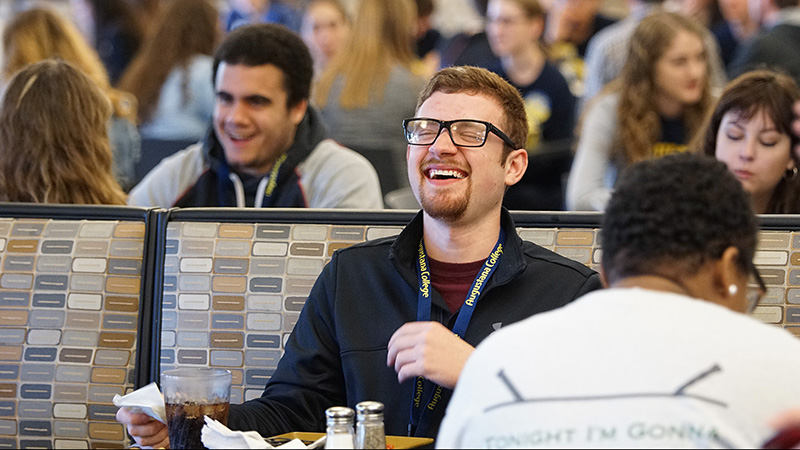 10:45 a.m. - 1:30 p.m. - Sessions and lunch
After the welcome address, you have your pick of sessions on all things Augustana. But don't worry, they're anything but boring. Here's a list of every session we'll offer:
• Advising for transfer students
• Art, biomedicine and well-being: Texas Medical Center internships
• Augie 1st generation
• Balancing athletics and academics
• Career development
• Data Analytics
• EDGE center - learning outside the classroom
• Education programs at Augustana
• Ethical Service Learning Abroad: Cambodia Program
• Housing
• Kinesiology
• Music at Augustana
• Preparing for Orientation & Registration 
• Risk & resilience: learning about childhood in Guatemala
• Student Panel
• Travel for transformation: study abroad in the Camino de Santiago
All sessions will be held in Hanson and Olin.
Feel free to skip session one, two or three to grab lunch in the dining hall. This students-only break is a great time to meet some of your peers who might also attend Augustana with you in the fall. If you haven't eaten at Augustana yet, you're in for a treat. It's amazing.
Worried about where to sit? We know finding a table in an unfamiliar lunch room can be traumatizing, so we made it easy for you. Each table with have a sign with in interest on it.
Choose from the following to get to know like-minded future Vikings:
animals, art, food, gaming/esports, ministries/faith, movies, music, reading, sports, the outdoors, travel or volunteering/community service.
You just might meet your future roommate or best friend!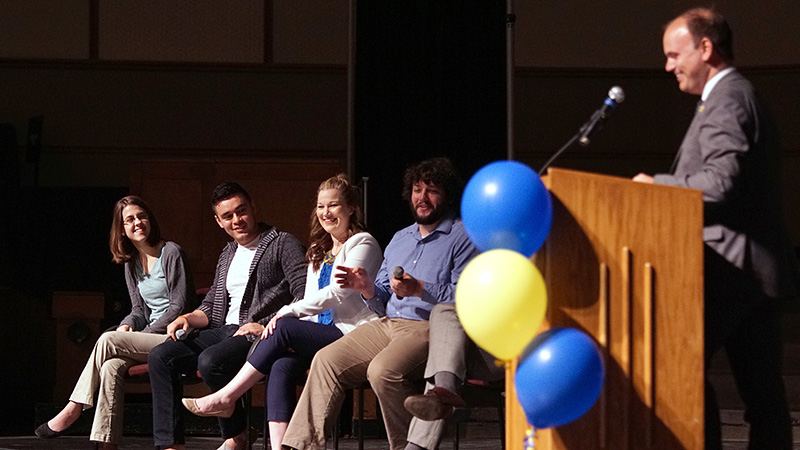 2 p.m. - Closing remarks
After sessions, make your way back over to Centennial Hall to hear from two current Augie students, Lucas Simon and Donovan Ferguson. In some places closing remarks are for goodbyes, but for many of you here it will just be a "see you later", as we'll meet you back here again in the fall.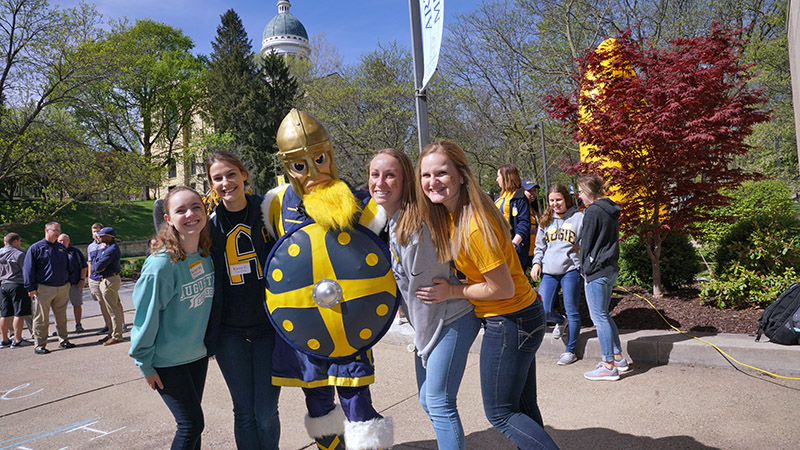 2:30 p.m. - Wrap-up
The wrap-up is a great time to do some of the things you didn't have time for during the day.
Take pictures in front of Old Main, in the Quad or with Gus the mascot, exchange numbers with the people you met during the event or purchase some spirit wear so you can rock your Augie pride back home.
This is also a great time to ring the gong if you haven't yet.
What does "ring the gong" mean?
When someone makes their decision to come to Augustana, they get to join in on the very ceremonious, very exciting tradition of ringing the gong to let everyone know they're the newest member for the class of 2024. If you haven't done it yet, we hope you'll choose It Begins with A to be your gong-ringing ceremony.
And that's what to expect from Augustana's It Begins with A day! It's going to be an incredible day, and I can't wait for your to experience it for yourself.