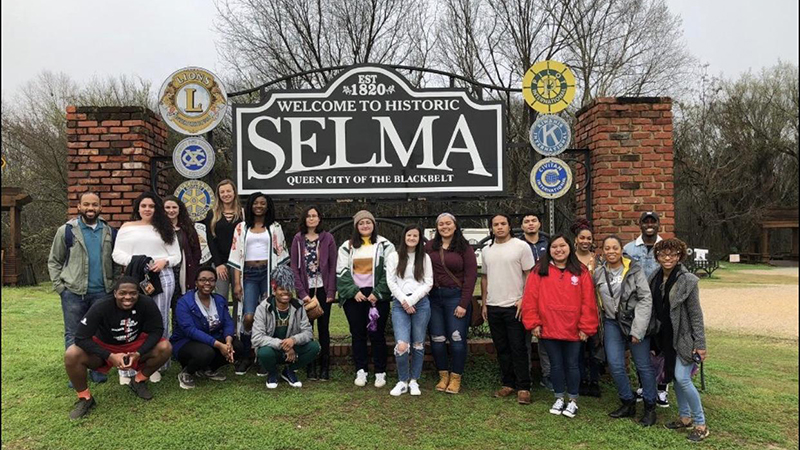 Blog
Travel Journal: How a trip to Selma, AL taught me about America
Martin Luther King Jr, Rosa Parks and Mahatma Gandhi all sound familiar, don't they? What about Hosea Williams, John Lewis, Jimmie Lee Jackson, Annie Lee Cooper and Viola Liuzzo?
These historic names might not ring a bell for many, but these activists were just as important to the Civil Rights movement as King, Parks and Gandhi.
Trust me, I didn't know these names either until I had the great opportunity to take part of the Journey to Selma trip. I never stopped learning the six days that I was on the road.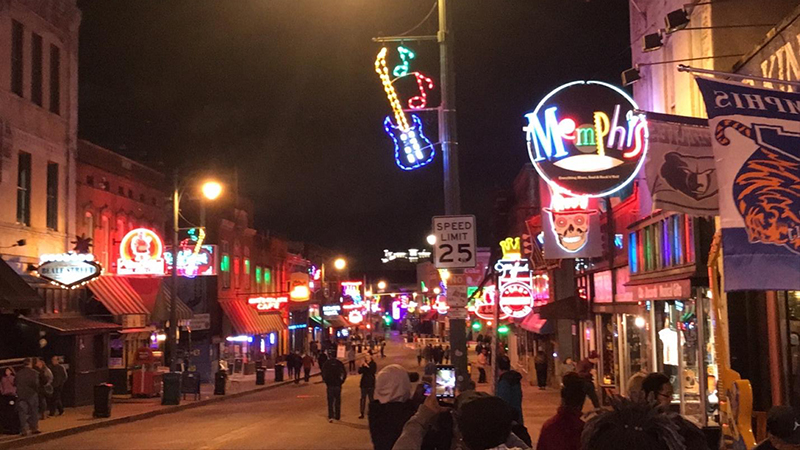 The first day was laid-back. We packed the buses and headed to Memphis, Tennessee. The road trip was long, but I wouldn't say exhausting. The beautiful scenery made up for the long hours on the road.
Seeing the change of the environment was a very beautiful experience. When we finally got there, we rested for a bit then when to eat on Beale Street. All the lights and people on the street made that night amazing. Everything about it was illuminating.
There was jazz music playing everywhere. It was so soothing and so intriguing that I decided to make a jazz playlist on Spotify list and honestly, I never would have pictured myself listening to jazz.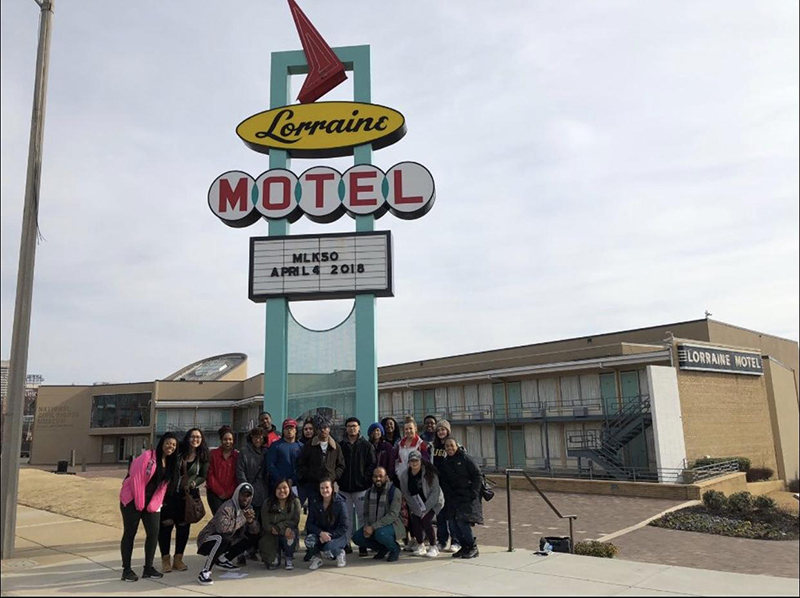 The following day we visited the National Civil Rights Museum at the Lorraine Motel where Dr. King was shot and killed. I learned so much in that museum that I never learned in school.
From the Freedom Riders to Bloody Sunday to the room where Dr. King stayed in 1968, there was so much to see and learn that I wish everybody would have the opportunity visit for themselves. 
Next we went to Withers Photo Gallery Collection. Dr. Ernest C. Withers was a photographer who worked for Dr. King.
The museum had many pictures that Withers had taken during that time. They were so detailed, and I would say perfect. Withers left millions of pictures behind that are still being processed to this day.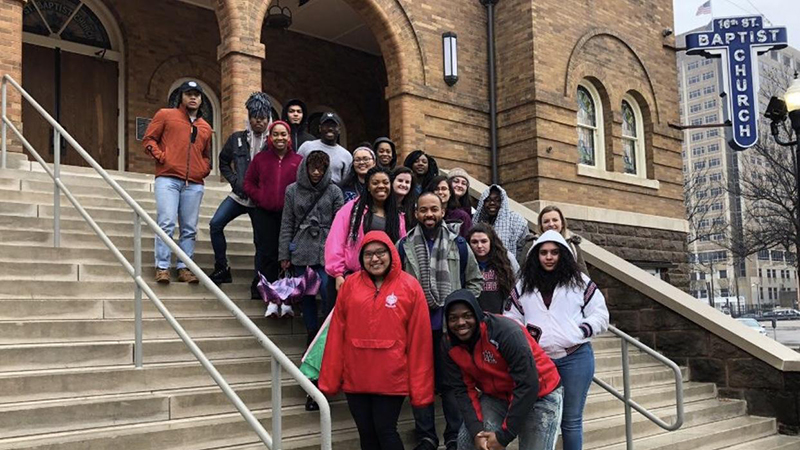 On Tuesday we packed and got on the road to Birmingham, Alabama. First we visited 16th Baptist Church where four little girls were murdered in a KKK bombing. The KKK member responsible wasn't convicted until years later. I never knew this event happened until our tour guide told us about it. 
Next we visited the Birmingham Civil Rights Institute across the street from the church. Here I learned so much about segregation and MLK's marches that I had never learned about before. It was an amazing experience. 
After the Civil Rights Institute we went back to our hotel in Selma, Alabama and ate dinner at Gus's World-Famous Fried Chicken. Let me tell you: that was the best food I have had in a while. I had chicken with a side of macaroni and cheese and beans. My taste buds were out of control. Let me not forget about the sweet potato pie. It was so flavorful I wish I could have taken some to go.  
 
Day four
On Wednesday we toured Dexter Church. It's one of the many places where Dr. King gave his speeches. The tour was beautiful and the people there were so nice and loving. They greeted us with hugs and a huge smile. The lady giving the tour was so passionate. Her feelings were honest and listening to her tell her story was amazing. I wish I could go back and feel that passion of love that she gave just one more time. 
After Dexter Church we went to the house of Dr. King. That to me was an amazing experience because I couldn't believe that I was walking where Dr. King and his family once lived. I saw his office, bedroom, bathroom, kitchen, everything. I will never forget that experience.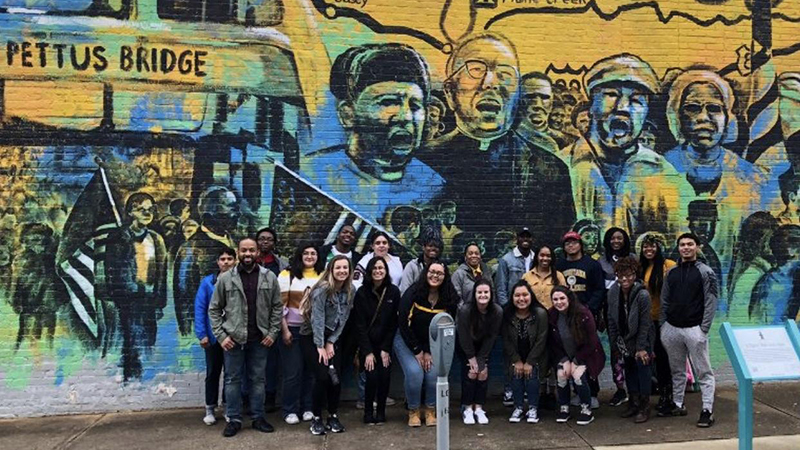 After the Rosa Parks Museum, we headed to the Civil Rights Memorial Center. Outside of the building there was a memorial with the names of those who fought and died for justice. It was absolutely inspiring.
Inside the memorial the names of the victims were there, and it explained in further detail how they were killed simply because they were fighting for justice. It was angering to see the injustices that those individuals faced because of hatred.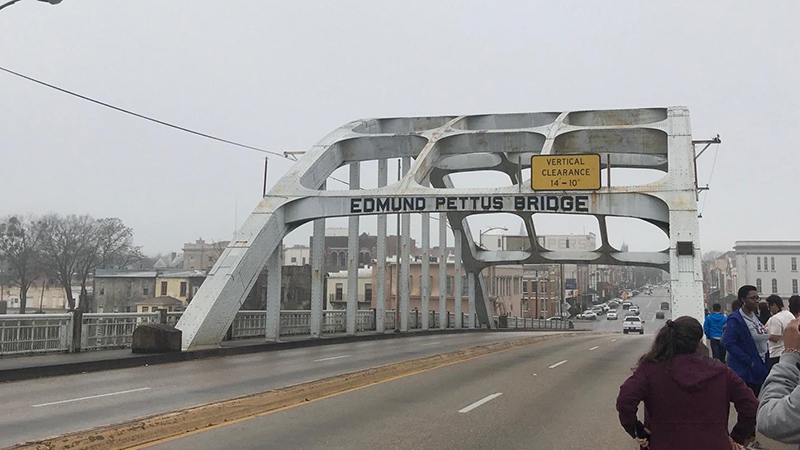 Thursday was the last day of our journey. I was sad because the trip had been so memorable, I didn't want it to end. Also, the weather was wonderful! That day we had a scheduled tour with Joanne Bland who was highly active during the Civil Rights Movement. She was spicy but a good kind of spicy. She never sugar coated anything and always spoke with wisdom and truth. 
She gave us the opportunity to take a walk on the Edmund Pettus Bridge where Bloody Sunday occurred. Talking about Bloody Sunday, do you remember the previous names that I mentioned in the introduction? Well here is where they are very important. That march was led by Hosea Williams and John Lewis. 
Many innocent people lost their lives that day due to police brutality. Jimmie Lee Jackson and Viola Liuzzo both murdered that day after the march. Jackson was shot by a police officer when he tried to stop him from beating his dad to death. Liuzzo was murdered by KKK members for driving African American protestors back to their homes after the march. When Annie Lee Cooper defended an old man from police violence, she was brutally beaten by police officers. As you see, these individuals were just as important during the Civil Rights Movement as those whose names you know. 
After Bland gave us a tour of Selma we had the great honor to have a soul food lunch that was prepared by her sister. That was the home-cooked soul food I have had. As we ate, Bland talked about herself and answered any questions that we had. She gave us so much wisdom. One thing that stuck with me was when she said, "If you want to change the world, educate your children about it." I will forever have her in my heart.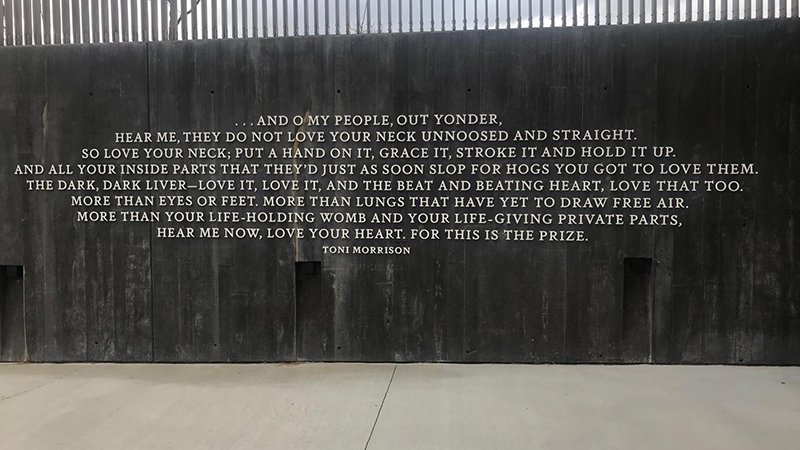 After our lunch with Bland we visited the National Memorial for Peace and Justice. That memorial was beyond heartbreaking. Thousands and thousands of names of African-Americans who were lynched were written on large tombstones. The names seemed endless and I wondered how America allowed this to happen. I was lost for words. 
Last we headed to The Legacy Museum where enslaved people were once warehoused, only a few steps away from where tens of thousands of black people were trafficked. Inside the museum there are very intense graphics and videos that show mass incarceration and what African Americans endured day-by-day in the fields. It was surprising to see that many who were incarcerated for small charges are still in prison today. 
After we left the museum, we visited Montgomery's Slave Market where thousands of slaves were sold during the 19th century. The market has a fountain in the middle which gave it a beautifully evil feeling. 
 
Reflection
This trip completely changed the way I view life. It educated me so much and filled me up with so much knowledge of things that I never knew about. It taught me so much about how America was really built and opened my eyes to the cruel reality we still live in. 
I wanted to learn more about the inspiring movements of people that took place in America in order to get basic rights that every human deserves. I was and still am thirsty for knowledge. 
If you ever have an opportunity like this, please don't give it up. You might think you know the history of America, but in reality, there is still so much to be learned. It was such a memorable experience because I was able to bond with people that were once strangers to me and learn from each other's background. It was something I would definitely do again. 
This kind of experience comes once in a lifetime. It is an opportunity to learn and pass the knowledge of what you learned to others. Please don't give it up. This was the story of my journey to Selma and I hope to hear about yours in the future!