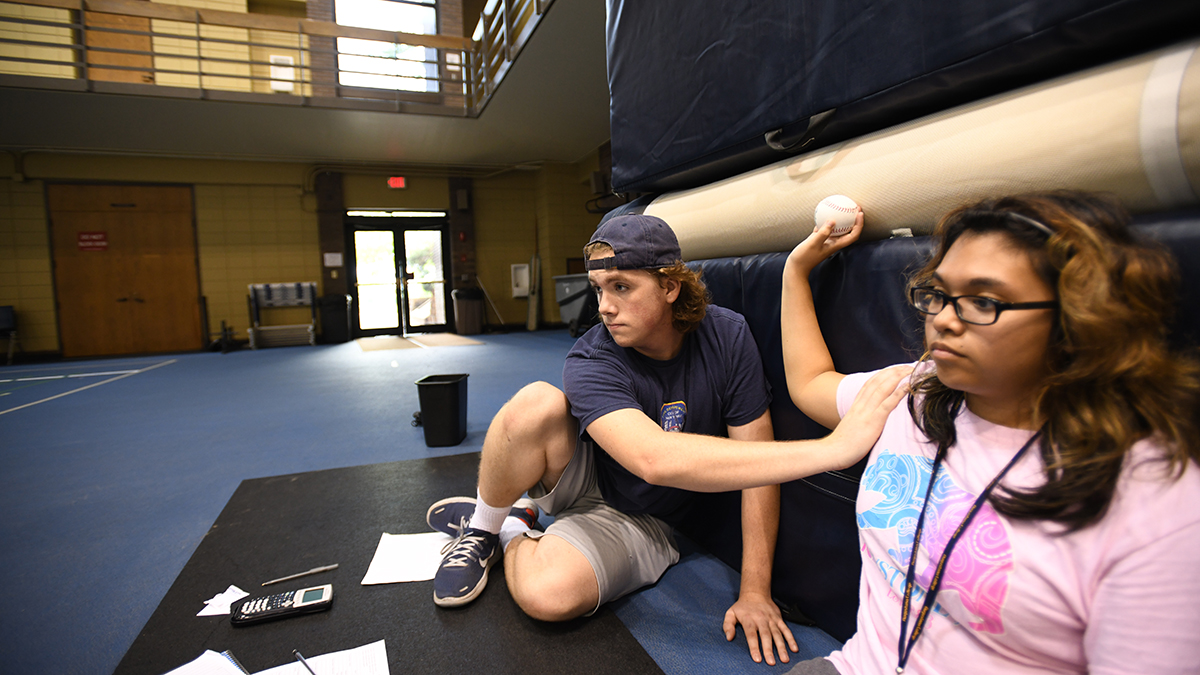 Blog
The ultimate guide to choosing a kinesiology major
Kinesiology has become a buzzword in the last few years, with many schools like Augustana adding new academic majors and programs in the field. If you're wondering what a kinesiology major is, where it can take you after college and what you should consider before declaring, here are some tips.
What is kinesiology? Why should I consider a kinesiology major?
From exercise to injury recovery, kinesiology is the study of human movement. Kinesiology students focus on physical activity and how the human body's movement impacts health, wellbeing and quality of life.
So, if you have an interest in sports, fitness, athletic training or a health related field, kinesiology could be a great fit.
According to the Bureau of Labor Statistics, a kinesiology degree could prepare students to fill five of the 20 fastest growing jobs.
How do I choose a kinesiology school?
If you know you want to study kinesiology, you should make sure the schools you consider will offer the support you need to be successful while you're a student and after you graduate. Here are some things to look for:
Dedicated faculty
Your professors and advisors should be as committed to your success as you are. While looking at schools, schedule a meeting with a professor from the kinesiology department. They should be willing to share with you more information about the major itself, as well as average class size in the department, their teaching style, course/major expectations and details about advising.
Updated facilities
Unlike other majors that may require little more than classrooms and lecture halls, kinesiology needs space for hands-on activities. Because you'll be studying the way the human body moves, you'll need access to labs for classroom activities and research.
Though brand new, state-of-the-art equipment isn't required to learn kinesiology, it doesn't hurt. Take advantage of opportunities to tour labs and facilities open to kinesiology students in addition to a regular campus tour. You should expect to see classrooms, resource areas and exercise laboratories.
Career and internship support
Don't underestimate the importance of guidance opportunities offered by a college. Ideally, any college you consider will offer help finding and landing internships, help preparing graduate school applications, and/or career guidance.
What can I do with a kinesiology degree after I graduate? How much do kinesiology majors make?
One (of many) great thing about majoring in kinesiology, is that it doesn't limit you to just one career path after you earn your bachelor's degree. Graduates with a kinesiology degree have the potential for careers in a variety of industries, including healthcare, education and sports.
Depending on interests and courses taken, students who study kinesiology may be prepared to pursue a rewarding career in exercise science, sports management or health and fitness instruction.
With additional training or a graduate degree, a kinesiology student may also pursue a career as a fitness instructor, strength and conditioning coach, occupational therapist, physical therapist, physician assistant, exercise physiologist or chiropractor.
According to payscale.com, college graduates with a bachelor's degree in kinesiology make an average of salary of $65,179 with a BA or $61,023 with a BS.
Augustana's Kinesiology program
Why should you choose Augustana College for your kinesiology degree?
Augustana's kinesiology students are set up for success thanks in part the college's campus culture focused on mental and physical activity. 
A well-rounded education with a background in the liberal arts deepens students' understanding of the diversity of human needs and behavior.
Augustana's kinesiology program includes a focus on social issues in human wellness, helping students understand real-world applications of the subject and it's effects. 
The college's new Peter J. Lindberg, M.D., Center for Health and Human Performance will include labs, classrooms, and resource centers for Kinesiology as well as a brand new pool and swim performance lab.
One-of-a-kind career and internship support
Augustana has an excellent track record for graduating students in the health sciences, including a 100% acceptance rate for students applying to master's programs in public health and a medical school acceptance rate 50% above the national average. 
Regardless of the major students choose, Augustana is known for hands-on professional and graduate school preparation. 
The multi-talented career mentors and advisors at CORE (Careers, Opportunities, Research and Exploration), Augustana's one-of-a-kind career and exploration center, have helped an average of 150 students find health care-related internships or job shadows each year.
Faculty attention and mentorship
Augustana has an 11:1 student-faculty ratio and professors are able truly get to know their students, regardless of major. The ability to form relationships with professors gives Augustana students unique opportunities to find close mentors and advisors in their field, and many serve as research assistants or co-authors as undergraduates.
Because Augustana professors are focused on student success, teaching is their first priority. There are no teaching assistants at Augustana and 100% of classes are taught by professors.
State-of-the-art facilities
The Peter J. Lindberg, M.D., Center for Health and Human performance is Augustana's newest building, and the future home of the kinesiology department and other athletic and physical activity programming.
Students will have access to the latest teaching and research equipment in classrooms and active learning spaces, including a functional training lab and a human performance lab. 
Now what?
If you're a high school student still searching for the right college, the Admissions team can help you decide if Augustana is a good fit for you. Start by exploring our admissions information, including visits and financial aid, or request more information.
If you're already in college and wish to transfer to a school that offers kinesiology, start by exploring our options for transfer students.