We're popping up in a town near you
We know visiting college campuses is challenging right now, but we still want to connect with you. So, we're loading some of our campus into the Augie-mobile and bringing it to you!
Join us for an event near you
You'll meet with an admissions counselor and learn how an Augustana education can shape your future and help you achieve your biggest, brightest goals. You'll learn about student life, majors and minors, the admissions process and financial aid, and have time to ask questions.
We're on the way to you, but spots are limited. See the schedule to find the most convenient location for you: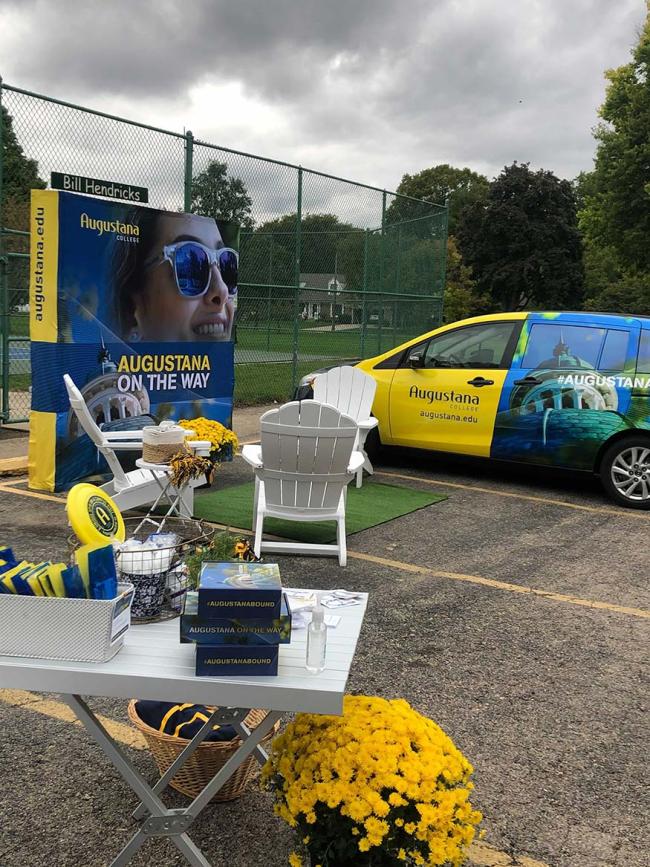 Homewood, Ill, April 20, 4-6 p.m., Richard D. Irwin Park gazebo, 1820 Ridge Road.
Bloomington, Ill., April 23, 12:30-3:30 p.m., McGraw Park, 3202 Cornelius Drive.
Aledo, Ill., April 26, 1-3 p.m., Aledo Flower Shop, 616 SE 3rd St.
Peoria, April 27, 3-5 p.m., Charter Oak Park, 5802 N Orange Prairie Road.
Dixon, Ill., April 28, 12:45-3 p.m., Dixon High School, 315 Lincoln Statue Drive.
Sherrard, Ill., April 29, 1-2:30 p.m., Sherrard High School, 4701 176th Ave., Milan, Ill.
Freeport, Ill., April 30, 2-4 p.m., Higher Grounds Coffee, 1709 S West Ave.
If the date you're interested in is full, but you still want to meet with us, send an email to admissions@augustana.edu and we'll let you know when we're coming back to your town. 
How to prepare for a pop-up session
Unfortunately we can't bring all of campus with us (believe us, we would if we could), so these events will be outdoors.
Dress for the weather. Bring an umbrella, jacket, a hat and/or gloves if the forecast calls for it. 
Don't forget to mask up! We'll be following all the proper social distancing protocols, and ask that you do, too.
Feel free to bring a parent or family member, but know that we're operating in a small space and need to limit the number of people present (so don't bring the whole family).
Be yourself. This is a pressure-free environment where we can get to know each other. There's nothing to prepare and nothing to stress over.